How to Remove the Genuine Microsoft Software Office Countdown Message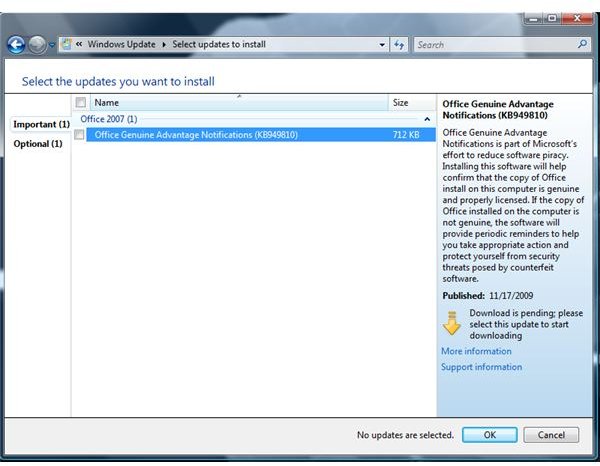 Genuine Advantage Validation and Notification Tools
Microsoft Office users may verify validity of their software if a computer is pre-loaded with a Microsoft Office program or if the Office program was purchased in an online or local store. Customers may also educate themselves on the differences of the licenses that they are planning to use or purchase.
The Microsoft Office Genuine Validation tool (OGA) is not the same as Microsoft Office Genuine Advantage Notification tool (OGAN). Both tools check the status of product keys and license. However, the OGAN is an optional update or download via the Windows Update website or at the Microsoft Genuine website. If the Microsoft Office product key is found to have a problem or is blocked, OGAN will notify the user by displaying a message on the status of the Microsoft Office software license.
What to Do if a Genuine Microsoft Software Office Countdown Message Appears?
You are using Microsoft Office and you received a notice or reminder of the validity status of the program such as, "This copy of Microsoft Office is not genuine. In 1 day(s), Office application will be marked as not genuine."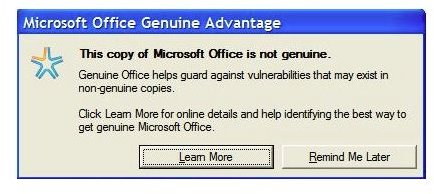 Each time you see the reminder, you will have the option for it to remind you again later or you can immediately find out what is causing the Microsoft Office genuine advantage countdown message. An example cause is the product key has been blocked because it is supposed to be in use by a company and not for home use or the company who owns the license has requested a new volume license keys and/or the software assurance coverage has ended.
What you could do is to follow the advice of Microsoft on how to solve the problem. The recommended action is to contact your system administrator so you can request a new product key. However, if you are no longer working at that company that has the rights to use the volume license, or you purchased the Microsoft Office from a company or online business that is not allowed to sell or distribute a particular product keys, your only option is to buy a valid license for Microsoft Office.
When you choose the option to remind you later, the genuine Microsoft software office countdown message will always appear until the number of days to notify is finished. If the countdown message is finished, you will notice a toolbar or ribbon element in the Office program. If you are using Microsoft Office XP and Office 2003, you will see a toolbar that says, "This copy of Microsoft Office is not genuine. Click here to learn more." You will see the same message in newer versions of Microsoft Office software, not as a toolbar but as a ribbon element.
Note that non-genuine Microsoft Office software will not stop working. The program will continue to work but you will continue to see the said non-genuine notification when using the program.
If your Microsoft Office license or product keys is mistakenly blocked by Microsoft using the validation or notification tools, immediately report to the system administrator or report the problem in the Windows Genuine Advantage forums.
If you are a victim of software piracy, you can report it to Microsoft and then take advantage of the Microsoft Office Genuine Advantage Kit so you don't have to remove the Microsoft Office program, but solve the problem by removing the genuine Microsoft software office countdown message.
If you cannot afford to purchase a license, please remove the Microsoft Office program in your computer and use a free office program such as OpenOffice or Google Docs.
Image credits: Microsoft Office Genuine Advantage Countdown Message from https://www.brighthub.com/computing/windows-platform/articles/72036.aspx__, Windows Update screenshot taken by the author.
Disadvantages of Using Non-Genuine Microsoft Office

Some people might decide to ignore the genuine Microsoft software Office countdown message since the program will continue to run or work. You need to understand that you are putting your computer at risk from malware and data loss when using non-genuine software because the product and security updates for non-genuine software of Microsoft may or may not install. Depending on the type of program or security updates, Microsoft has the right to release or allow the installation of the updates to end-users of their products that is found to be non-genuine. Read more about this in Office and Windows Genuine Advantage Validation Tools: Are These Tools Bad?
You should also note that by using non-genuine Microsoft Office software or any software in general, the functionality of the program is not complete, nor is it secure or protected from known or zero-day exploits. Business or corporate users are putting the data of their customers at risk if the software is not secure, since it is a pirated copy that is not supported by the vendors.
Recommendations

Before making a decision to purchase software from a company that you work with, colleagues or an online or local store, ask the seller to validate the products' license keys. Also, demand proof that they are allowed to sell the software and the product keys. Last but not the least, review the frequently asked questions on Microsoft Software Assurance where it states that a company or business using an Office volume license key may sell or allow the use of Microsoft Office to their employees as long as the employee continues to be affiliated or working with the said business or company. This is a called Home Use Program that allows an employee to use Microsoft software at home, but with limited usage. You can use the Office software while you are an employee or the Software Assurance coverage has not ended.
Avoid buying not-for-resale software (NFR) which is obviously not allowed to be sold but only to be used by the person, group or company that is registered to use such.
When buying secondhand computers that are pre-loaded with Microsoft Office software, you need to ensure that not only the license is valid, but you must also have the installation CD or DVD. Without installation disk and valid license, you are only putting your money and time to waste.
Image credit: Microsoft Genuine website - https://www.microsoft.com/genuine/