Troubleshooting: Windows Media Player Stopped Working In Windows 7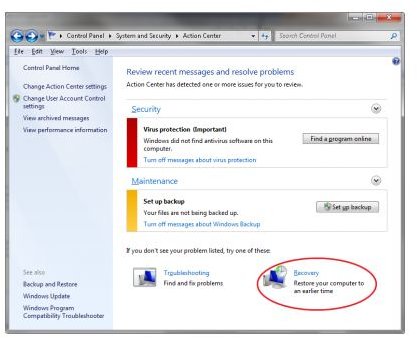 Clear WMP Cache
If your Windows Media Player has stopped working in Windows 7, deleting the WMP cache content can fix the problem. Follow these steps to clear the WMP cache:
1. Exit Windows Media Player (if open)
2. Open the RUN window (Ctrl+R), type %LOCALAPPDATA%\Microsoft, and click OK
3. Locate the Media Player folder and delete all the content inside it
4. You're done. See if the error has disappeared.
Run System File Checker (SFC)
System File Checker (SFC) is a Windows built-in tool that checks that the Windows system files are in the same condition as they were when Windows was installed, and not damaged, corrupted or changed.
If a corrupted, changed or damaged system file is causing WMP to stop working, SFC will find that file and let you restore the original one from your Windows 7 install disc.
To run SFC, follow these steps:
1. Go to Start Menu -> All Programs -> Accessorries, right-click on Command Prompt, and select "Run as Administrator"
2. If prompted for an Administrative password, enter it and then click OK
3. When the Command Prompt window opens, type "sfc /scannow" and press Enter
SFC will start scanning the system files. Note that this process will take some time, so be patient.
4. Once the scan is finished, test WMP and see whether the problem that you're experiencing is resolved.
Remove Third-Party Codecs
One of the main causes of WMP problems is the use of third party codecs that you might have installed on your computer. If you installed Divx, CCCP, K-Lite, or any other codec, uninstall it from your computer and check WMP again.
You can try updating the codec to the latest version before uninstalling it. Often, a codec becomes corrupt or conflicts with WMP settings, which causes WMP to stop working. Either update or remove the third party codec from your system and see if this fixes the problem.
Add Windows Service to the Administrators Group
Granting the Windows Local Service account administrative rights might also fix the problem. The instructions for this procedure are below:
1. Go to Start Menu -> All Programs -> Accessories, right-click on Command Prompt, and select Run as Administrator
2. In the Command Prompt, enter the following command and press Enter:
net localgroup "Administrators" "NT Authority\Local Service" /add
3. Restart Windows and test Windows Media Player.
Use System Restore
System Restore is one of the best methods for getting rid of Windows problems. You can use System Restore to restore Windows to a previous state before you had problems.
To restore your computer to a previous state, follow these steps:
Go to Control Panel
Click on System & Security
Click on Action Center
Click on Recovery at the bottom-right side of the window
Click on Open System Restore
Click Next
Tick the Show more restore points checkbox
Choose a restore point
Click Next and then follow the onscreen instructions to complete the restore process
You're done
Install a Fresh Copy or the Latest Version of WMP
If none of the methods described above work, the last thing you can do is install the latest version of WMP or a fresh copy of the current WMP version that you are using.
You can download any version of WMP from internet. If you go to the internet to download WMP, make sure that you download the program from a reliable download website. The best websites for a WMP download are Microsoft.com and Download.com. Once you've successfully reinstalled WMP, reboot your system and then check WMP again.
Image Credits - Screenshot by Author of System Restore Panel