How to Change Windows Server Name or Domain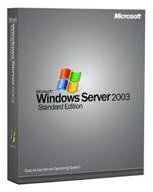 Introduction
This article takes a brief look at how to change your Windows 2003 Server name and join a new domain or workgroup. You will need an administrator account and password to make these changes. You will also require a local administrator account for changing the domain or workgroup that your server is connected to.
Renaming Your Windows 2003 Server
This 'how to' guide is based on Microsoft Windows 2003 Server, but these steps will also work under the Windows XP environment to change your workstation name or to join a domain or workgroup.
To rename your Windows 2003 server you will need to execute the following steps:
Login to your Windows 2003 server using your administrator account and password.
Right click on My Computer.
On the drop down menu, select Properties.
Click on the Computer Name tab.
Click on Change.
Under computer name, you can rename your server name.
(Image credit: Microsoft)
Naming Convention Suggestions
When naming your Windows 2003 server, it is worth bearing in mind the following points:
Include the location of the server in the naming schema. This can be useful on large networks and makes locating and troubleshooting a bit easier. For example, if your location is the United Kingdom and your city is London, you could use the following naming convention:
UKLONFP01
If your server is a dedicated file and print server, it would be beneficial to include this as well. In this example the country is the United Kingdom (denoted by "UK"), the city is London (denoted by "LON") and the type of server is a file and print server (denoted by "FP"). The "01" identifies that it's the only file and print server in this location or number one in a series.
How to Change the Domain or Workgroup
To change the domain or the workgroup that your Windows 2003 server is on you will need to perform the following steps:
Right click on my Computer and select properties.
Go to the computer name tab and click on change.
Enter the new domain name and you will be prompted to enter your administrator username and password for the changes to take effect. You can also enter the name of a workgroup in this window.
Once you have entered the required domain or workgroup name, you will need to reboot the server for the changes to implement.
After rebooting, you can select the new domain name from the login window.
Things to Bear in Mind
If you have profiles that access this server you will need to notify them of the time that you are going to make such changes to avoid data loss. Better yet would be to perform such changes outside of regular working hours when there is no access required to the server.
After joining a new domain or workgroup, you will need a local administrator account in order to log back onto your machine.
For additional information, be sure to check out the pros and cons of Windows Server 2003.