How Do I Install MS Onenote On My Computer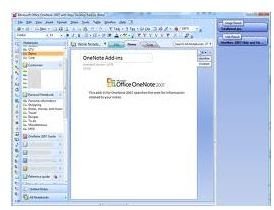 What is Microsoft OneNote?
Microsoft OneNote is a virtual notebook that is used to store and share notes, pictures, capture text, and videos in one location. You can share your notebooks with other people in the same network. Write down your notes or your idea for the next big thing and easily share it with someone else.
You can keep Microsoft OneNote open on the side of your screen at all times to reference your notes or make new ones. It doesn't matter if you have Internet Explorer open, Microsoft Word, Excel or Powerpoint, etc. your Notebook will be available to you. If someone else in your network makes changes to the notebook those changes will be highlighted so when you look at the Notebook you will know what changes were made.
Install Microsoft OneNote
When you first try to use a feature that is not yet installed, Microsoft Office 2010 usually installs the feature automatically. Below are the instructions on how to manually install Microsoft OneNote on your computer.
Close all programs you have open. Click Start and then Control Panel. Click Programs then click Programs and Features. Look through the programs listed and click on Microsoft Office and select Change.
If the Control Panel is in in Classic View click Programs and Features and then click Microsoft Office then click Change.
Click Add or Remove Features in the Office 2010 Setup box and click Next.
Click the installation option you want. Click the plus (+) sign next to each one and a folder will expand showing you more features that are available There is a symbol next to each feature indicating how the feature will be installed by default. If you want to change this click the symbol then select another symbol from the list. The installation options you have are listed below:
Run From My Computer:
The feature will be installed on your computer and saved to your hard drive, but the subfeatures won't be installed to your hard drive.
Run all from My Computer
The feature and all subfeatures will be installed to your hard drive.
Installed on First Use
This feature will be installed on your hard drive when you use it for the first time. You may need the Microsoft Office CD with this feature.
Not Available
The feature is not available and won't be installed.
You will see an Upgrade button if their is an earlier version of Microsoft Office on your comptuer. You will see Install Now if there is no earlier version of Microsoft Office on your computer. Click Upgrade or Install Now and the feature you selected will be installed in Microsoft Office. When it is finished you will have Microsoft OneNote on your computer.
You can also download Microsoft OneNote from the Microsoft website.