The Best Free Excel Spreadsheet Alternatives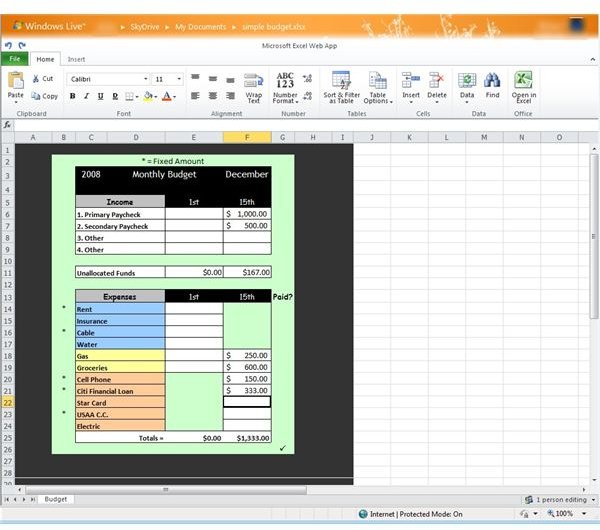 Microsoft Web Apps - Excel
As the world progresses towards cloud-based computing and greater availability of free basic software Microsoft has been left out in the cold. In an attempt to regain traction, Microsoft has released Microsoft Office Web Apps, a version of Office that is available online through the Windows Live website.
Microsoft Office Web Apps includes a free version of Excel. The interface of the web version of Excel is impressive. It looks almost exactly like an Excel spreadsheet opened on a local copy of Microsoft Office 2010. The only indication that it is different is the lack of options.
That's because the functionality of this free version of Excel is very limited when compared to standard Excel. You can create documents, format them and even use basic formulas, but more advanced features such as graphs, pictures and advanced formula editing are not included.
Despite these drawbacks, Microsoft Office Web Apps can be a good free alternative to Microsoft Excel if you need to have perfect Excel compatibility but you don't need, or have not yet learned to use, advanced Excel features. It is also cloud-based solution – your files will be saved to your online Live account – making it very flexible for people who are constantly on the go.
OpenOffice.org
A long time free competitor to Microsoft Office, OpenOffice.org is a full suite of office applications. Although the name suggests that it is a website, OpenOffice.org is not actually a web-based solution. It is in fact a full suite of office applications used much like a local installation of Microsoft Office.
The OpenOffice.org equivalent to Microsoft Excel is Calc. OpenOffice.org Calc will be very familiar to users of Office who have not updated to the 2007 or 2010 versions. The interface is a bit old school, but very effective. Openoffice.org Calc can also be improved using extensions, third-party applications that plug in to the software.
The functionality of OpenOffice.org Calc is competitive with that of Microsoft Excel. Not everything works in exactly the same way – for example, some formulas are different – but by and large, you can otherwise do just about anything in OpenOffice.org that you could do in Microsoft Excel.
Overall, OpenOffice.org is one of the best free alternatives to Microsoft Excel and one of the best free Office programs, period. OpenOffice.org also has the benefit of being on multiple platforms. You can use it with Windows, OS X and Linux. The only real drawback to OpenOffice.org is file compatibility with Microsoft Excel. You can save files in .xls format, but the compatibility with Microsoft Excel is not always perfect. A document that looks great in OpenOffice.org may look confusing when it is viewed in Excel.
Google Documents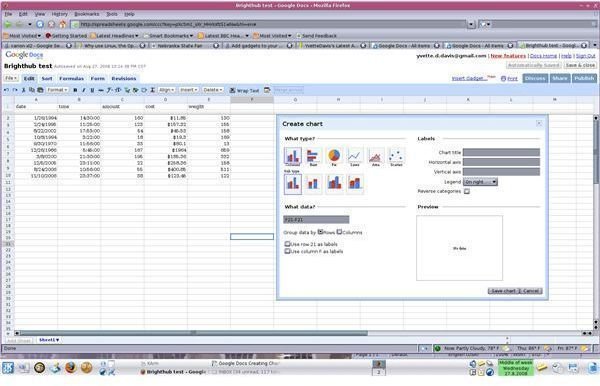 A well-known web based free Excel spreadsheet alternative, Google Documents is a suite of web-based programs. One of these program is Google Spreadsheet, and as you might expect from the name, it is Google's free spreadsheet alternative.
Google Spreadsheet uses Google's interface, which is not substantially similar to the interface of any other office application. It is web-based, so it opens up in your browser. The interface is not as slick as Microsoft Office Web Apps, but users on slower computers have reported that the Microsoft Office Web Apps do not run well, whereas Google Spreadsheet has no problem on slower machines.
Google Spreadsheet includes all the basic functionality you'd expect. You can format spreadsheets and enter formulas. Spreadsheet also includes some advanced features that you don't find in Office Web Apps, like the ability to include charts and images. These features are less detailed than in a full version of Office or OpenOffice.org, but they're impressive nonetheless.
Collaboration is also a major feature included Google Spreadsheet. It is possible to share files easily with other Google users so that data can be quickly exchanged. Alternatively, you can share a file as read-only. This is useful because it lets people view data in a browser, free of file format compatibility issues.
Zoho Sheet
Another free Excel spreadsheet alternative that is web based, Zoho Sheet is part of an incredibly detailed suite of web based office and collaboration software. Collaboration is in fact the name of the game at Zoho, perhaps even more so than at Google. You can make spreadsheets open for others to view and edit and you can see who is currently editing the spreadsheet and message them if you need to talk about something.
The interface of Zoho Sheet is closer than an older version of Excel than to Google Documents. The interface is not as compact overall, and can be customized to an extent. In addition to the basic features of formulas and formatting, it is possible to add very detailed graphs. However, it doesn't appear possible to add images, which is a disappointment.
The overall experience of using Zoho Sheet is only slightly different from using Google Documents. Those who are considering a web-based free Excel alternative should take a look at both options and then decide which seems better.