How to Add Sound to Slide Transitions in Your Microsoft PowerPoint Presentation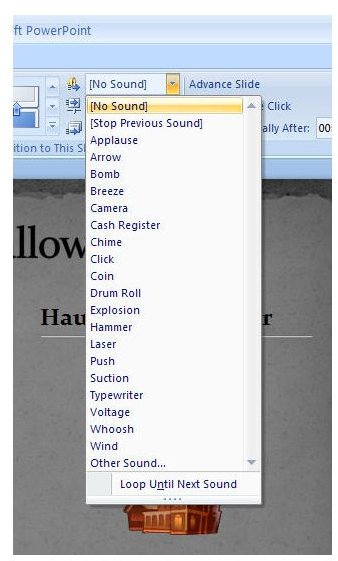 Make a Little Noise
The visual effects of an animated transition in a PowerPoint presentation provide one way to capture the interest of your audience, but why stop there? If you really want to grab their attention, you can enhance the transition even more by adding a sound snippet or two.
As with web page design, you do want to exercise a little caution when adding sound to your presentation. It's usually a bad idea to add any type of audio simply for the sake of wanting to include another special effect. Try to make sure that whatever sound you're adding "makes sense" in relation to both the animation effect that it is being applied to and the general purpose of the slide itself.
There are several sound effects for slide animations that come prepackaged with PowerPoint 2007. We'll restrict our attention to that group for now. Later in this series, we'll take a look at how you can find and download additional audio effects to use in your presentations.
How to Add Sound to a Transition
Begin by going to the slide in your presentation that you want to modify, and select the Animations tab. Click the arrow on the Transition Sound drop-down menu to expand the selection area as shown below. (Click any image in this article for a larger view.)
Holding the cursor over any of the sounds in the list will let you preview the selection.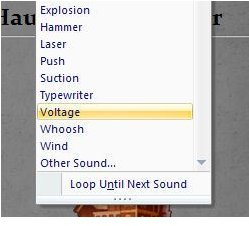 When you've found the sound that you want to use, click on it, and it will be added to your slide transition. You can then click the Preview button to see how the slide along with the animation and sound will be presented in your slide show.
If you want the sound to continue to repeat itself for as long as the slide remains the focus of your presentation, select the Loop Until Next Sound option from the Transition Sound menu.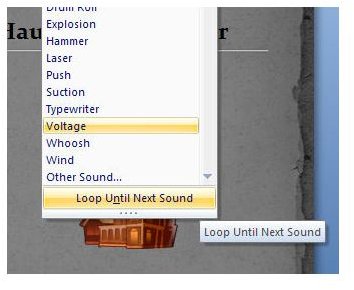 If you do choose this option, make sure to view your entire slide show before your presentation. It doesn't take much for an audio special effect to become extremely annoying to your audience. The last thing you want is for all your viewers to leave your presentation with nothing but the memory of an aggravating, repeating noise stuck in their heads.
For more tips and tricks, be sure to browse through the other selections in Bright Hub's library of Microsoft PowerPoint tutorials and user guides. New and updated articles are being added all the time, so bookmark us and check back often.
In addition, if you're a regular user of PowerPoint, you may want to take a look at these tips that will help make presentation creation more efficient. Here, you can find sources that will detail how to create macros, how to use the same slides for multiple presentations, and more.
This post is part of the series: PowerPoint Special Effects
In this series, we take a look at the different types of special effects that come packaged with PowerPoint 2007 as well as offer up some information where you can find more resources to add to your creative arsenal.