How to Add Animated Transitions in Microsoft PowerPoint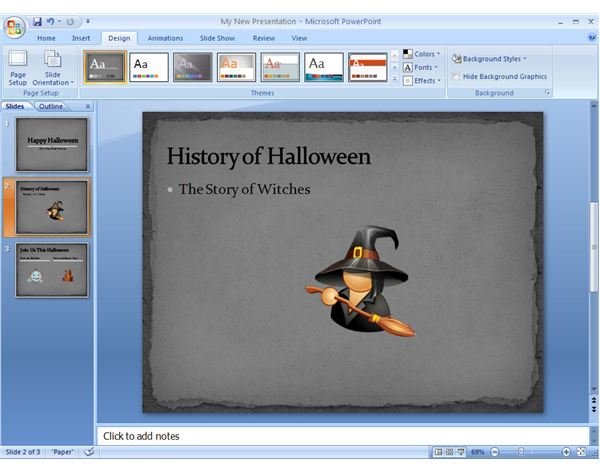 How to Add a Transition to a Single Slide
Step 1: Open up the presentation in PowerPoint, and display the slide to which you want to apply the animated transition. (Click any image in this article for a larger view.)
Step 2: Select the Animations tab. Scroll through the animations to take a look at the available options.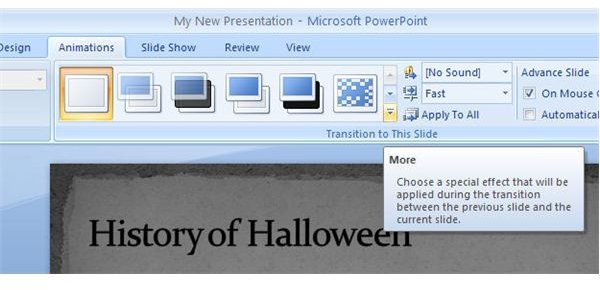 If you click on the More button, a larger window of the available transitions will appear on your screen.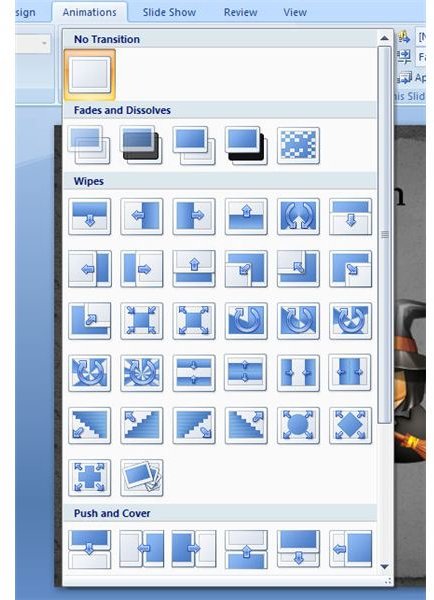 If you let the cursor hover over a particular animation, you'll be able to see a preview of that transition in the background. This is a great tool that lets you test a variety of animations without having to constantly use the Undo option.
Step 3: Once you've found the transition you want to apply, click on it to return to your slide. You can now modify the animated effect by choosing Fast, Medium, or Slow from the Transition Speed drop-down list. At any time, you can pause for a moment and see how your transition will appear by clicking the Preview button.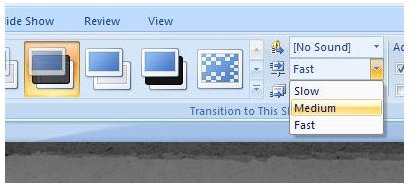 Applying the Transition to Every Slide in a Presentation
Although many people like to use a different type of animation for each slide in a presentation as well as include some slides with no transitions at all, there are times when you want to use the same effect for each slide. Instead of going through each slide and applying the same transition over and over, PowerPoint offers a shortcut for this option.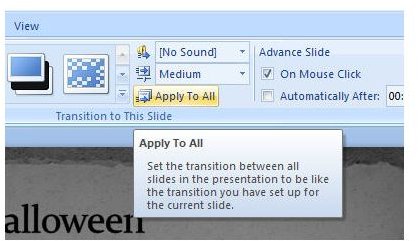 After you've finished creating your transition animation for a single slide, all you have to do to add this transition to every other slide in your presentation is click on the Apply To All button on the Animations ribbon.
This is a good trick to use even if you just want a large percentage of the slides in your presentation to have the same animation. After you apply the animation to all slides, you can go back and choose the slides that you want to display a different animation (or no animation at all, for that matter) and modify them individually.
For more tips and tricks, be sure to browse through the collection of PowerPoint user guides available here on Bright Hub's Windows Channel. New and updated articles are added on a regular basis, so check back often. In particular, have a look at these sources for free PowerPoint templates that you can use to build your own presentations.
This post is part of the series: PowerPoint Special Effects
In this series, we take a look at the different types of special effects that come packaged with PowerPoint 2007 as well as offer up some information where you can find more resources to add to your creative arsenal.