Advice on Making a Hit Counter in Microsoft Word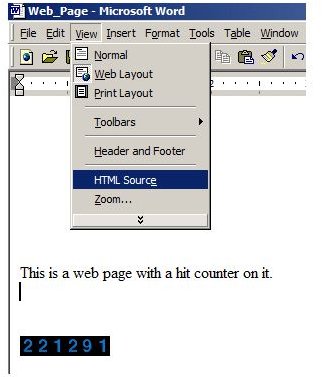 Better Options for a Page Hit Counter
Microsoft Word is a great tool for making documents. In many ways, it goes well beyond what used to be considered word processing. Its graphic, table, hyperlink, and html conversion capabilities actually do make it possible to create simple, basic websites. However, to add hit counter functionality, Microsoft Word is not the best tool for the job. Free services are widely available on the web that can easily be implemented, and provide far more information about website visitors than a simple counter that tracks page hits can.
Free Hit Counter Services Online
Digits.com is a service that offers a free hit counter for your site. All you need to do is fill in the form with the necessary information, such as your website's location (URL) and what number to begin counting from. The site will provide you with HTML code that you can copy from the site and paste into your webpage. The code you select will depend on whether you want to count visitors to one page or all of your pages, and track total unique page views or all page hits. The difference is that "unique page views" exclude repeat page hits from the same visitor.
If you've been creating web pages using the 'normal' view in Word, you may notice that if you try to paste any code into it, it will only be processed and displayed on the screen as text. In order to add HTML to your word document, you need to go into the View menu and select HTML Source, as shown in the image here.
Microsoft Development Environment in Word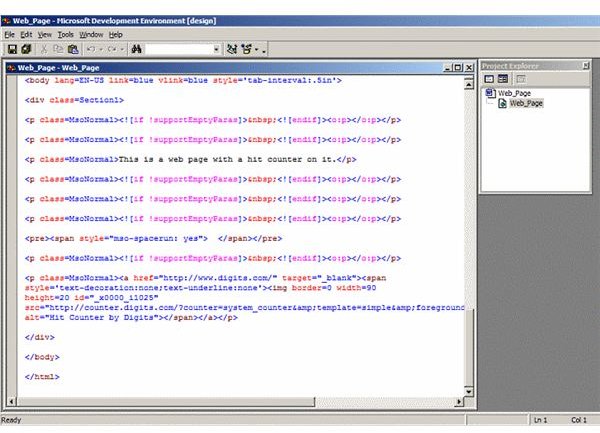 This example shows the HTML code using Word 2000's Microsoft Development Environment. If you've never viewed a web page's HTML source code before, you need not be concerned about the number of lines displayed in the screenshot. When you paste the code from digits.com, just make sure that you paste it above the tag. In this screenshot, the tag is located near the bottom of the page, just above the tag, which is the final bit of code for the page.
It's a good idea to get a general understanding of HTML. It's not as complicated as Word makes it appear; Word inserts many lines of code into HTML files that they wouldn't need if they were not being edited in Word. There is a great introductory article right here on Bright Hub that will show you How to Make Web Pages Using HTML.
Moving Beyond Counting Page Views
Getting basic information about how frequently your site is visited is just the beginning of understanding how users interact with websites. More powerful tools, such as Google Analytics provide statistical information about length of visits, referring sites, geographical location of visitors, and much more.
Just as Google Analytics is several leaps beyond using a hit counter, Microsoft Word can be replaced as your editing tool by learning HTML, and taking advantage of far more powerful web-based applications. It takes some time to develop proficiency, but becoming familiar with more sophisticated tools and methods is always advantageous.