The Ten Best Windows 7 Tips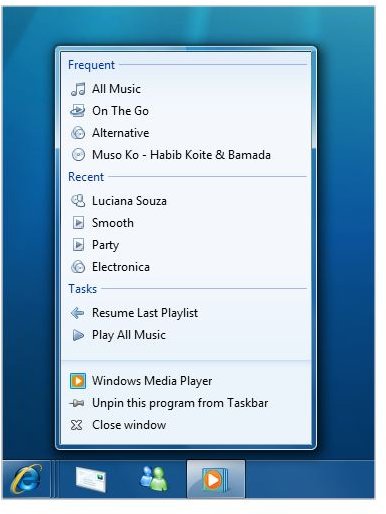 If you've upgraded to Windows 7 you're probably enjoying the new features. The better taskbar, upgrades to Aero, and improved performance all result in a silky-smooth experience which is far better than what was available in Vista.
But perhaps you'd like more. Perhaps you want to trick out Windows 7 as much as possible and know all of the shortcuts for getting around the operating system. If so, this guide is for you. Here you will find the ten best tips for Windows 7. These tips will improve your productivity and make you look smarter to your friends.
Windows 7 Tip #1: Use Shortcuts to Open Taskbar Programs
The new Windows 7 taskbar provides the ability to "pin" programs to the task bar. This makes it easier to access those few programs which you open most frequently, such as web browsers. However, if actually moving your cursor to open those programs seems troublesome you can easily open them by pressing the Windows button on your keyboard and a number at the same time. Win+1 will open the program furthest to the left on your taskbar, Win+2 will open the next to the right, and so on.
Windows 7 Tip #2: Access Jump Lists the Cool Kid's Way
The jump list - a list of related options which can be accessed when you right click on an item pinned to your taskbar - is a useful way of quickly access an item's options. But did you know that right-clicking was the old fashioned way of doing things? Instead you can simply left click on a pinned item and then drag it upwards, as if you were going to drag it to your desktop. The jump list will open automatically!
Windows 7 Tip #3: Add a Folder to Favorites
Windows 7's Windows Explorer now has a favorites feature which is similar to that found in Internet Explorer. Simply right click on the Favorites icon in Windows Explorer and then click Add Current Location to Favorites. The folder you were exploring will be added under the Favorites column in the navigation pane on the left side of the window. This makes it much easier to navigate to folders you frequently use.
Windows 7 Tip #4: Pinning the Control Panel to the Taskbar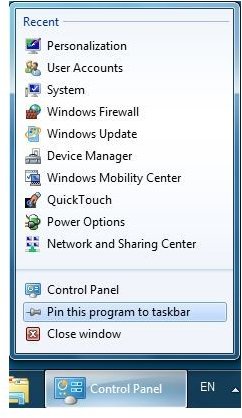 You can't pin the Control Panel to the taskbar using the normal method of dragging and dropping. The only way to pin it to the taskbar is to have the Control Panel open and right-click on the icon on the taskbar, then click Pin this program to taskbar in the jump list. Once you have the Control Panel pinned you can use the jump list to access Control Panel functions without opening the Control Panel window.
Windows 7 Tip #5: Turning Windows Transparent
If you are working on a lot of things at once it can become difficult to remember where all the Windows you are using are located. You can makes things clearer by pressing the Windows and Spacebar keys at the same time. This will turn all windows transparent, but their borders will still remain so that you can see where they located and their current size.
Winodws 7 Tip #6: Change Text Rendering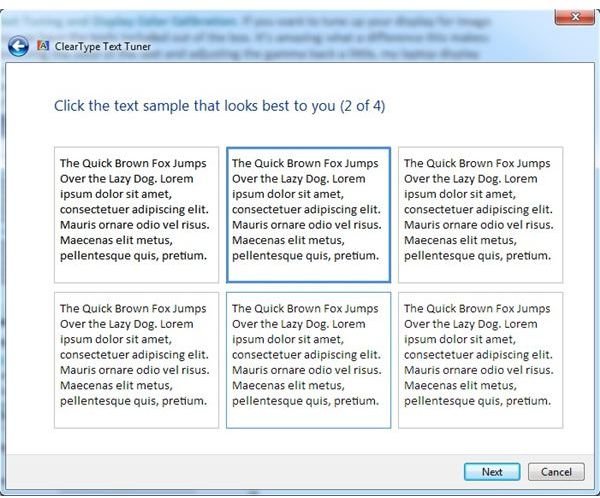 The way text is rendered on your computer can actually have a major effect on the usability of your computer. If your text appears too small or is hard to read it can cause your eyes to strain, resulting in a less than pleasurable experience. You can tune your text by typing "cttune" in the Start Menu search field. This opens the ClearType text tuner. This runs you through a series of tests similar to an eye examine where you will be asked to compare text and pick the one which appears the easiest to read.
Windows 7 Tip #7: Change Text Size
Is your text still hard to read even after you've used ClearType calibration? Then you might want to simply make your text bigger. Type the word "display" into your Windows Search field and click on the Display option which appears to open the Display options in Control Panel. You will see the options of smaller, medium, or larger. Smaller is chosen by default, so try increasing the text to medium to see how that feels.
Windows 7 Tip #8: Snazzy Windows 7 Calculator Features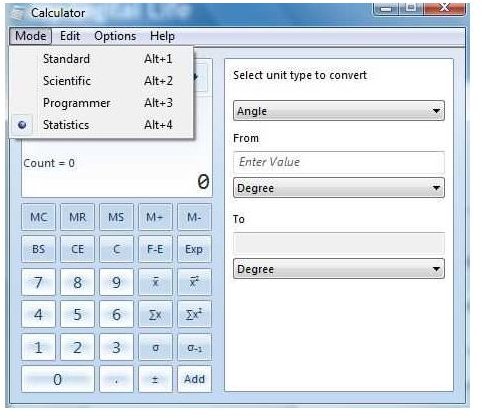 Calculator has been upgraded in Windows 7 and now has some very useful features. Open Calculator and then click View. In the resulting menu navigate down to Worksheets. You'll find the new mortgage, fuel mileage and vehicle lease calculators here. The Windows 7 calculator also can be used in Scientific, Programmer, and Statistics modes.
Are you unhappy with the default Wallpaper options in Windows 7? Then you'll be happy to know that there are actually other wallpapers available on your computer which are hidden. You can find them by typing C:\Windows\Globalization\MCT into your Windows Search box. There will be folders named MCT and then an abbreviation. Open one and you'll inside find a folder with a country name. That folder contains the hidden wallpapers.
Windows 7 Tip #10: Change the Power Button Functionality
The easiest way to shut down your computer is using the big red power button in the Windows Start menu, but what if you prefer to hibernate your computer instead of shut it down? Then you have to click on the menu which opens to the right, another step which shouldn't be necessary. And isn't.
You can change the power button functionality by right-clicking on your taskbar and clicking Properties. In the menu which opens click on the Start Menu tab. You'll find here a section labeled Power button action. You can choose to change the power button so it results in hibernate, sleep, lock, restart, or log off.