Bright Hub Review of Apple's iTunes 8 - Genius Sidebar, HD Video, New Grid View, and Slick New Visualizer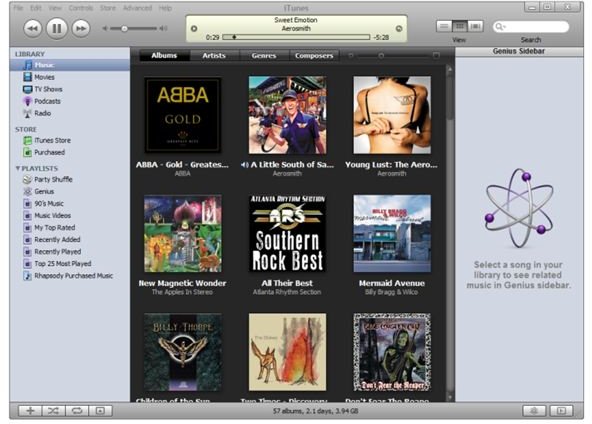 Let's Rock
Introduced at Apple's "Let's Rock" event in San Francisco yesterday, iTunes 8 arrived on my and thousands of other PCs today. As avidly as a Mac user, I Immediately started snapping screen shots and trying it out.
Fortunately, I received the corrected version. Vista users who downloaded the early version right after the keynote speech soon discovered a problem. In certain cases, it was possible to lock up the PC with the "blue screen of death" whenever an iPod or iPhone was connected. This proved to be due to a problematic driver. The solution is to uninstall both Apple Mobile Device Support and then iTunes, redownload them both, and reinstall. Please see Apple Technical Support bulletin TS2280 if you're experiencing blue screen errors.
ITunes 8
Itunes 8 does not look very different from the previous version that we've been looking at for the last couple of years, but what's that circling atom icon in the right sidebar?
iTunes Windows Version
The Genuis Sidebar
That's the "Genius sidebar." If you opt in to share your iTunes library (anonymously) with Apple, Genius will analyze your music and suggest playlists and other music that you may wish to purchase. This took a few minutes, but it found music on my system purchased from Amazon and Rhapsody as well as my iTunes music.
Let's see the Genius sidebar in action. Here I'm playing music from the movie "Evita" and it's suggesting Celine Dion, Rod Stewart, Olivia Newton John, Bruce Springsteen, Sonny and Cher, Whitney Houston, Barbara Streisand, Tina Turner, and other Madonna songs. I already have the Rod Stewart and Sonny and Cher songs in my library, and I have Eric Carmen's version of "All by Myself" where they're suggesting Celine Dion's. Although I'm familiar with all the other artists suggested, there are no hits in this list that I would really want to purchase. (I'd like some other Springsteen, though.)
Genius Sidebar Recommendations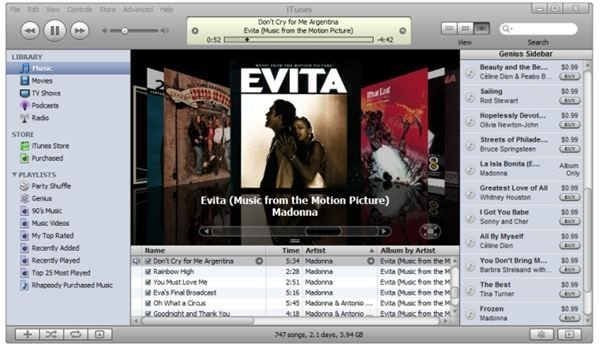 Geniusbar Stumped
When I played "Highwaymen" by Johnny Cash, et al, the Genius Bar was stumped. It read, "Genius sidebar could not find matches for your specific selection, but here are the Top Songs and Albums in Country. "
Stumped!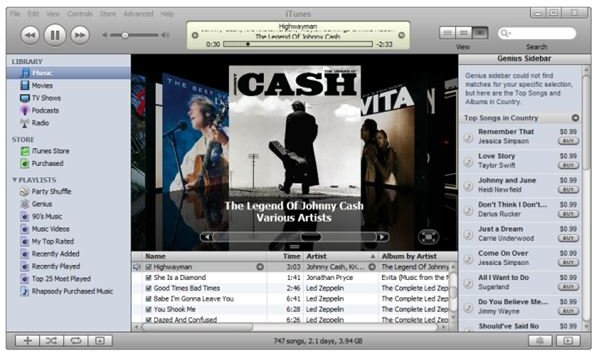 Whoops
Now that was a big miss. Country and I parted way years ago. Apparently, if all else fails, Johnny Cash = Country Music.
Grid View
"Grid view" is a new feature of iTunes 8 that replaces the previous "Album view." It reflects the more current emphasis of iTunes in movies and television shows. The first image above shows the album grid mode. Here's what it looks like in TV grid mode.
Grid mode also works for movies and TV episodes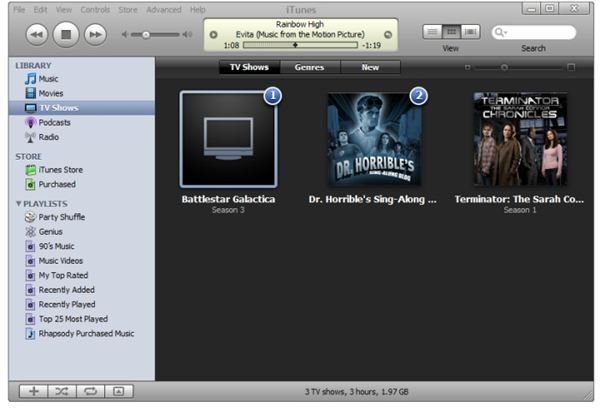 Consulting an Expert User
I called my 16-year-old niece and asked her what her favorite new feature was in iTunes 8. She immediately said, "That sidebar thingy." She also liked the grid view, but she thought that the new visualizer would "grow old fast." Querying the boyfriend (they were going out for dinner while I was busy writing for Bright Hub), she got endorsements for the Genius bar and the visualizer.
Here's what the visualizer looks like.
Bongo New Visualizer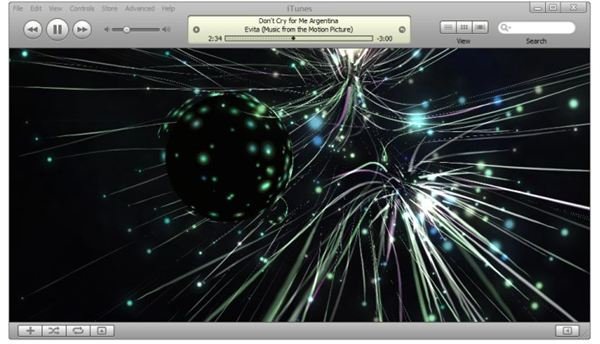 iTunes 8 also adds support for HDTV ($2.99 per episode). I'll be testing that tonight.
Conclusion
Although off to a rocky start for Vista users, iTunes 8 for Windows is a worthy upgrade to a venerable application. It's all things connected – music, movies, tunes, and TV – from Apple to us, and just for a few of our bucks.
As for the big miss in thinking that a Johnny Cash song means that I love Country Music, when the cloud kicks in – when Apple has consumed and analyzed a few million users' musical tastes and actual listening patterns – we can expect the recommendations to improve.
And that's truth before commerce. Thanks for reading this.
Further Reading:
How to Create Free Ringtones for Your iPhone using iTunes in Windows Vista - Using an iPhone with Windows Vista? If you want to avoid the buck that Apple charges to convert a song you already own to a ringtone, you can record the song from any source, including iTunes, import it as an MP3, and convert it to a ringtone for your iPhone for free. This article shows you how.
How to Fix Crippled Stereo Mix on Your Vista Laptop - Have a nice new Vista laptop? Did the laptop manufacturer leave out the "stereo mix" feature to prevent you from recording nasty old big content's copyrighted music? Did it also BREAK your karaoke and legitimate usages of stereo mix? Here we look at using Virtual Audio Cable to get stereo mix back.
How to Make a Bootable Disk in Vista - Need a backup method to start a Vista PC? Creating a bootable disc in Vista is not as easy as in previous versions of Windows, but it can be done. This article tells you how.
How to Test High-Definition Video on Your Vista PC or Laptop - Want to find out what high-definition video looks like on your current Vista or high-end XP PC without spending any money or buying any additional equipment? You'll find out quickly if your PC can handle 720p or 1080p video. All you need is a fast Net connection and Windows Media Player 9 or 11.