Does the Office 2010 Home and Business Edition Have What You Need?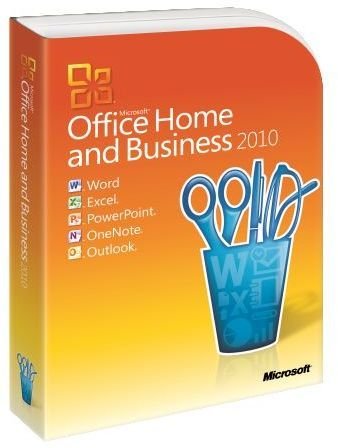 What Applications Are Included In Office 2010 Home and Business Edition
Microsoft Office 2010 comes in four retail versions, and two versions that are only available for businesses with Microsoft licensing agreements. The most common question when anyone hears about the different editions of Office 2010 is what products come inside each edition. A comparison chart of every Office 2010 Suite is available on Microsoft's website. However, one of the best Office 2010 versions for home users with a home office and for small businesses is Office 2010 Home and Business Edition.
The Home and Business Edition of Office 2010 comes with three of the core Office apps, Word 2010, Excel 2010, and PowerPoint 2010, as well as Outlook 2010, and OneNote 2010. Although OneNote is not a new application, it was included only in less popular editions of previous Office Suites like Office 2003 and Office 2007, so many users may be coming across it for the first time when they buy Office 2010.
For those of you unfamiliar with Microsoft OneNote, be sure to check it out. OneNote 2010 comes with all editions of Microsoft Office 2010. This time around, the company figured that more than just students could use a robust note taking and more importantly, notes organization platform. As a professional freelance writer, I have fallen madly in love with OneNote and can no longer imagine living without it. When was the last time you said that about a new Microsoft product? (Windows Live Writer is pretty solid and better than anything else out there, but it has limited applications – blogging – and even though it is the best, it is far from lovable.)
Once you know which applications are in the Home and Office edition of Office 2010, the next thing you will want to know is what is in the other editions. Are you missing out on something great? Is there a cheaper Office 2010 version that would work just as good? Is it harder to learn Office 2010 Professional?
Answering those questions depends upon which products you think are "extra" or which products you think are "missing."
For those of you who don't need Microsoft Outlook 2010, you can drop down to the Office 2010 Home and Student edition which has the same programs as Home and Business except that it does not come with Outlook 2010.
For those of you who are thinking, "Hey! Wait a minute. Where is Publisher 2010 or Access 2010?" you will need to move up to Office Professional 2010 which comes with both Publisher and Access.
As always, if you are a student, grab your student ID and head down to your bookstore to pick up a much discounted version of Office 2010. This time around, the student version (also for teachers, by the way) is called Office Professional Academic 2010, and as the name implies, it comes with all the software applications that come in Office Professional 2010.
Is Office Home and Business 2010 Best For You?
What it really comes down to with this release of Microsoft Office is whether or not you need Outlook 2010. If so, you'll need at least the Home and Office edition. If you do not need Outlook, then save the hundred and thirty bucks (list price) and buy the Office Home and Student 2010 edition instead.
Obviously, if you need Access or Publisher, there is no option for you. You have to buy Office Professional 2010.
Of course, if you are undecided or just aren't ready to shell out the cash for Office 2010 yet, hurry up and grab the Office 2010 Technical Preview. It was very stable and widely used when the last update was made, and although you can't download it any more after April 30th, the software installed on your computer won't expire until late 2010, and you won't have to wait for the retail release of Office. By then, maybe you'll have a better idea of which version is right for you.