Microsoft Office 2010 Technical Preview Features and Full Release Details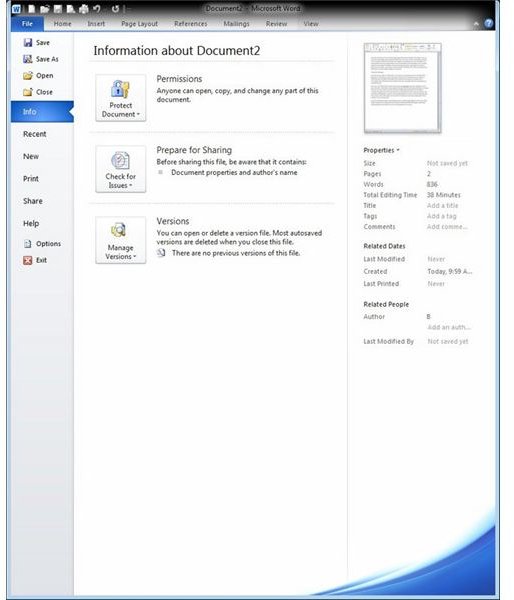 Technical Preview
After hitting over 7.5 million downloads for Office 2010 beta, Microsoft rolled out the Office 2010 Technical Preview to millions more in July, 2009. According to Microsoft, millions of users have been using the 2010 version of Office as their main productivity suite ever since. In April, the latest version of MS Office was released to manufacturing, and developers and administrators got access via MSDN and TechNet subscriptions near the end of April. The company has announced a June, 2010 release date for customers looking to purchase the full retail product at stores like Best Buy and Wal-Mart, as well as at online retailers like Amazon or NewEgg.
The Technical Preview Office 2010 program comes to an end on April 30th, however, that just means that the technical preview software can no longer be downloaded after that date. For computers with Office 2010 Technical Preview already installed, the software won't expire until late 2010. That means customers can continue to use Office 2010 for free.
New Features
Microsoft Office 2010 is packed with new features. However, just how big the major upgrades are depends a lot on what version of Office you are upgrading from. For users upgrading from Microsoft Office 2007, the changes will be far less dramatic. Those upgrading from Microsoft Office 2003 or Office 2000 are in for major differences in the way familiar Office products like MS Word, Outlook, and Excel look and feel.
In Office 2010, all applications have been given the Ribbon interface which debuted in some Office apps in the 2007 Microsoft Office release. Microsoft has said that the impetus for the user interface redesign was two-fold. First, the company's designers and programmers felt that they had reached the limits of the familiar drop down menu system. The Office 2000 version was designed around the concept that the most commonly used functions of any Office app should be at the main-level of the menus, with lesser used functions moved into second and third levels of the menu tree. However, the number of features in programs like Word 2010 required first-level menus that were too long, and some functions would have been nested five or six levels deep in the menu tree.
Secondly, the company improved its ability to track and report customer service inquiries. With better data, the company realized that a large number of users were asking for features that already existed in the products they were using. It seemed that the menu structure kept those features hidden from all but the most advanced users.
To address these issues, several of applications in Office 2007 got an interface makeover. The new interface was dubbed "Ribbon" by Microsoft and consisted of nixing the traditional text-based nested menus for collections of icons and feature groupings within tabs that based on the original menus. As usual with any redesign, users complained loudly at first. Over time, however, that reaction subsided once users learned to use Office 2010. Users were able to better find what they were needed. As an added bonus, much of the Ribbon was customizable so that users could put their own most used features front and center. Soon, the major complaint was not about the Ribbon, but about it being confusing for some programs to have the Ribbon, like Word 2007, but not others, like Outlook 2007. With Office 2010, Microsoft puts that issue behind with a consistent Ribbon design on all products.
Web Apps
The other big news feature in Office 2010 is the inclusion of web-based versions of the Office 2010 applications. These versions can be used online from anywhere via computer browser. While not endowed with the complete functionality of their desktop counterparts, the web apps have a surprisingly broad set of features that will satisfy most users, especially those who use web apps as a secondary tool set.
What Else Is New in Office 2010?
Also, new in the Office 2010 Technical Preview is the new Backstage screen which replaces the well-known File Menu. Office 2007 and the original Office 2010 beta versions had the Office logo in the upper left-hand corner as a button to access the functions traditionally associated with the File Menu. Ironically, the ubiquitous file menu has become so commonplace that users were lost without it. They assumed the Office graphic was just for looks and groped about for where to find commands like Save, Print, and even New. Office 2010 technical preview remedies the situation by bringing back File and sticking it on its own colored tab.
However, clicking File brings up something entirely new. Called the Backstage View, this screen finally brings consistency to the behind the scenes functions of Microsoft Office. No longer is switching to Landscape Mode to print different from one Office application to the next. The large graphical version of the File menu is more user friendly while still being very much "the same" as users are already used to. As an added bonus, Microsoft was able to include newer features like sharing and collaboration without increasing the complexity of the menu structure or displaying features users expected to find under the File tab.
Is Office 2010 Upgrade Worth It?
Whether or not the upgrade to Office 2010 is worth it depends a lot on how much you use the various applications and in what environment. Improving collaboration and sharing features make Office 2010 a smart upgrade for business. However, for home users who seldom leave Microsoft Word and have no need for anything more advanced than bold and italics, upgrading to get Word 2010 might not be as great of value for those running Word 2007.
For those running Office 2003 and earlier, the newer document formats, docx for Word, for example, are only going to get more common as users and companies upgrade past Office 2007. Start looking for a great deal once Office 2010 is released to avoid the day when features in the docx files you get from clients or friends don't function in your version of Word. Or, hurry up and download the Office 2010 Technical Preview. Then, you can have Office 2010 for free for the next six-months or longer.