Understanding Excel 2007 Viewer - Open Excel Files for Free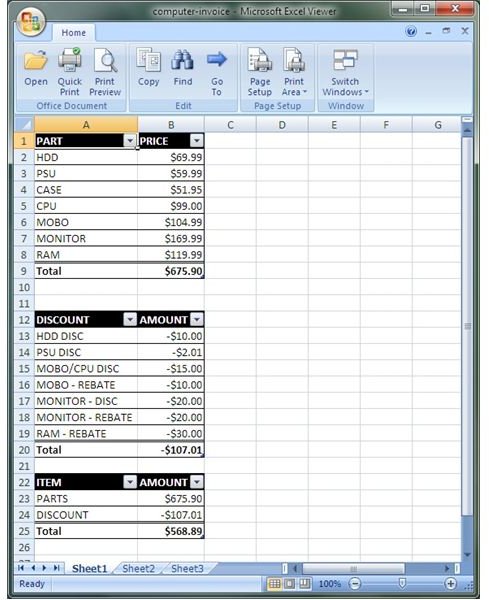 About Excel Viewer 2007
If you merely need to open an Excel workbook to view it, or even to print it out, there is no need to dig up or purchase a copy of Office. Microsoft provides a free tool that lets you open Excel workbooks, even the new .xlsx Excel 2007 files. Excel Viewer 2007 provides all of the functionality of the standard Excel program, but with all of the editing capabilities stripped out. Don't fret, though. You are still able to copy data within an Excel workbook and use it in another program, if you wish. Even better, you can print Excel spreadsheets as if they were in the full version of Excel.
Using Excel Viewer 2007
Viewing Excel files in Excel Viewer 2007 is simple. First, download the Excel Viewer 2007 installation program and run it. It will guide you through the installation process. To open an Excel file, all you must do is find the file and double click on it. This should launch Excel Viewer, where you can view all of the spreadsheets in the workbook. Along the top of the program window are all of the options available for the Excel file. You can access most of these options by opening the Excel Viewer menu by clicking on the Office button at the top left corner of the window. As you can see, Excel Viewer 2007 is limited in functionality.
Since Excel Viewer 2007 is intended only for viewing and printing Excel files, no changes can be made to the workbook itself, including sorting and filtering the data within the spreadsheet. Clicking the Office button at the top left and then "Open for Editing" will lead you to a website where you can review product information and purchasing options for editing Microsoft Excel files.
Limitations of Excel Viewer
Since this tool is provided for free, some features that are found in the standard version of Excel are not available. For instance, you cannot edit any of the data within the Excel workbook. There is no function to save the workbook or to create a new workbook. The primary purpose of Excel Viewer 2007 is to open Excel workbooks for viewing and printing, and that is exactly what the software does.
Third-party alternatives do exist, however, that allow you to open and edit Excel files, along with many other Microsoft Office files. OpenOffice.org, Google Docs, and Zoho.com are a few examples of programs and websites that allow you to edit common Office files. While these programs are useful, they may not display Excel files (especially Excel 2007) in exactly the same format that Excel does. For this reason, Excel Viewer 2007 is superior if you only need to view files.