Overview
If you want to manually run or schedule tasks to run at the end of your workday, you can also schedule a Windows 7 auto shutdown so that your computer does not keep running until you return to your desk. This can save money and energy as well as protect your computer to a certain extent. If you simply want a quick way to shut down your computer, you can create a Windows 7 auto shutdown desktop shortcut.
Schedule an Auto Shutdown
To schedule Windows 7 auto shutdown, you will need to open the Windows Task Scheduler. Opening the Task Scheduler in Windows 7 is quick and easy, thanks to the Instant Search feature. Click the Start button and begin typing schedule into the search box at the bottom of the Start Menu. Select either Task Scheduler under Programs or Schedule Tasks under Control Panel in the list of results. Either option will instantly open the Task Scheduler.
Click Create Basic Task in the right pane of the Task Scheduler window. The Create a Basic Task Wizard will open. Type Windows 7 auto shutdown or any other name you want to give the scheduled task into the Name box. Enter a description into the Description box, such as This task will perform a W****indows 7 auto shutdown at 2am. Click Next.
The next step in the wizard is the Task Trigger. If you want the Windows 7 auto shutdown to occur every day, select Daily. Otherwise, select the option that suits your need. Click Next again. Enter the date you want to start performing the Windows 7 auto shutdown, and the time that you want the shutdown to occur. Click Next.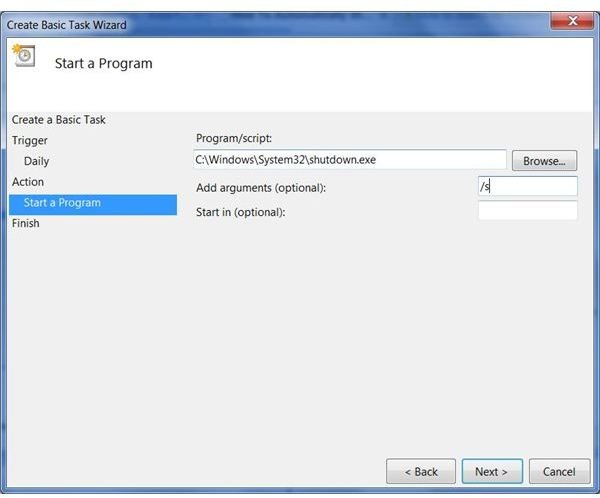 Select Start a Program under What action do you want the task to perform. Click Next. Enter (or copy and paste) C:\Windows\System32\shutdown.exe into the Program/Script box and /s into the Add Arguments box. Click Next.
Click Finish. The wizard will close and the Windows 7 auto shutdown will appear in the list of scheduled tasks.
Create a Desktop Shortcut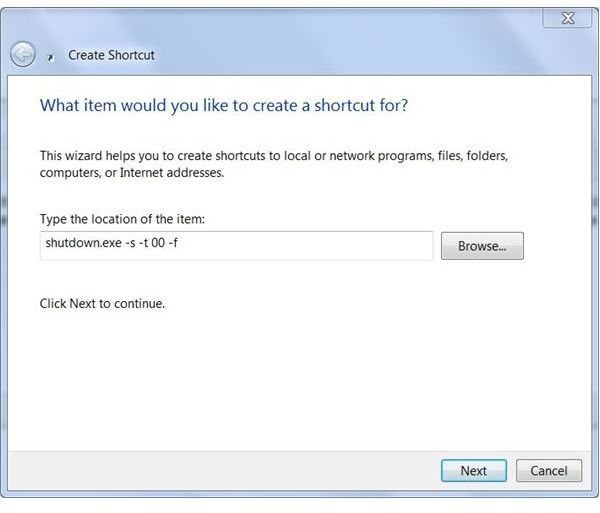 If you want to create a desktop icon that you can click to quickly perform a Windows 7 auto shutdown, start by right-clicking any unused area of your desktop. Point to New and select Shortcut. Type (or copy and paste) shutdown.exe -s -t 00 -f under Type the Location of the Item. Click Next. Type a name for the shortcut, such as Windows 7 auto shutdown. Click Finish. The shortcut will appear on your desktop.
You can customize the icon as well. Right-click the shortcut and select Properties. On the Shortcut tab, click the Change Icon button. If an error pops up, informing you that the shortcut location has no icons, simply click OK. Click on the icon you want to use and click OK.
To shut down your computer, simply double-click the icon.