How to Optimize Windows Mail (Windows Live Mail) for Everyday Use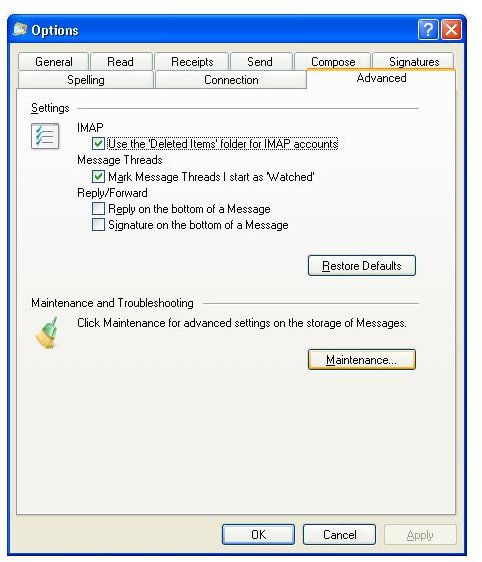 Optimizing Performance: Changing the Windows Live Mail Database Location
This is a professional tip that will improve your performance if you are using more than one physical hard disk. Moving the Windows Live Mail database to another physical disk improves read and write performance of the application, improving your overall usage experience. To do this, go to Tools (if you cannot see the "Tools" menu item, hit the Alt key and the menu will appear at the top of the screen), Options, switch to the Advanced tab and at the bottom part, titled Troubleshooting and Maintenance, click the Maintenance button. In the newly opened window, at the top part named Cleaning Up Messages, click the Store Folder button. Click the Change button and select the disk on which you want to store your Windows Live Mail database.
Optimizing for News Reading
We do not want all our e-mails reduced to one place and then have to think endlessly to determine which message arrived from which account. Windows Live Mail helps us at this point by adding each e-mail account in a separate mailbox with its own Inbox/Sent/Drafts/Trash folders. Here, we can go one step further and utilize the Quick Views for optimizing Windows Mail for news reading. Quick views are especially useful if you are watching a conversation and do not want to lose the exchange in the midst of tens or hundreds of messages in a newsgroup. Simply add a watch to the conversation that you don't want to miss and select "Unread Watched News" in the Quick Views.
Optimizing for the "Nerves": Fighting Spam
If you are using Windows Live Mail with the popular online e-mail services such as Hotmail/Windows Live, Gmail or Yahoo, you will receive a fair amount of spam filtering. However, for the other e-mail accounts, you will probably need a spam filter. If you are using commercial antivirus applications, many of them have spam filtering which is enabled by default. If not, you will need a spam filter on your computer. Christian Cawley checked out three great spam filters in his article and J.S. Holland checked Mailwasher. You can download and install the one you prefer. My personal choice is Mailwasher if you ask.
Optimizing for Online and Offline Access to Your Personal Information
Since Windows Live Mail is designed to work with the online services, it means that you can combine all of your personal information at one place that is highly available: the Internet. To do this, you have to be using Windows Live otherwise you will not have the option to synchronize other calendars –such as Google or Yahoo Calendar- with Windows Live Mail. Windows Live Mail, for the time being, supports only one-way sync with other calendar providers, meaning that you can update your calendar in Windows Live Mail, but it will not be updated on the web, making the whole point useless. The choice you will have to make as of today concerning this issue is whether to move your personal data to Windows Live platform to use them in coordination with Windows Live Mail or use multiple providers.
References
Author's own experience.