Top Windows 7 Disk Utilities - For Data and Disk Maintenance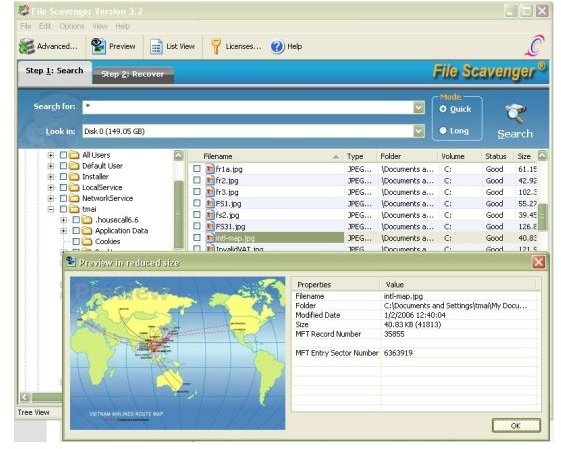 Top Windows 7 Disk Utilities for Data Maintenance
These top Windows 7 disk utilities are based on the number of downloads and ratings by the users of the CNET portal. This section covers tools that deal with the data on your disks.
File Scavenger Data Recovery Utility 3.2
**
The File Scavenger Data Recovery Utility helps you recover the files that you may have deleted accidentally or on purpose. When you delete any file in Windows, the data is not lost. The file stays there and Windows removes only the reference to the file from the Windows File Allocation Table (FAT). Your data is safe as long as you do not overwrite that portion of your hard disk by saving any other file over the data.
While Windows does not offer you any GUI option to recover files that are not present in the Recycle Bin, this utility helps you recover the data on your disk by reading it sector by sector. The publisher of this software says that you can use the utility to recover data from formatted disks as well. This may seem hype but is possible if you performed only a quick format and not a full format. With an easy to use GUI, this file and data recovery software comes at $49. You can download and use it free for 30 days.
R-Wipe and Clean
R-Wipe and Clean supports Windows 7 64-bit version as well. In contrast to File Scavenger, this Windows 7 disk utility helps you delete and erase files so that no data recovery software can find any data. As explained earlier, Windows just removes pointers from the File Allocation Table (FAT) instead of physically deleting the data. R-Wipe and Clean has different algorithms that help you erase the data by filling in the space with special characters, thereby making the recovery process impossible.
In addition, the R-Wipe and Clean also serves as a privacy protector. It helps you delete tracks of your computer usage – recent files, URLs, cache, cookies, and more. It also contains a Boss Key to hide all open Windows. The Windows 7 Disk Utility is priced at $29 and offers you a 15-day trial period.
Macrium Reflect – Free Data Backup Software with Rescue Disk
One of the top Windows 7 disk utilities for data management, Macrium Reflect is a free software product that allows you to back up and restore data. To create a rescue disk, you need BartPE but the Reflect plugin adds more functionality to the disk allowing you to restore your computer to any of the data backups. To know more, please read our article on Macrium Reflect.
Top Windows 7 Disk Utilities for Disk Maintenance
This section lists two top Windows 7 Disk Utilities that help you maintain your hard disk by defragmenting it and by organizing your hard disk.
Smart Defrag – Free and Auto Disk Defragmentation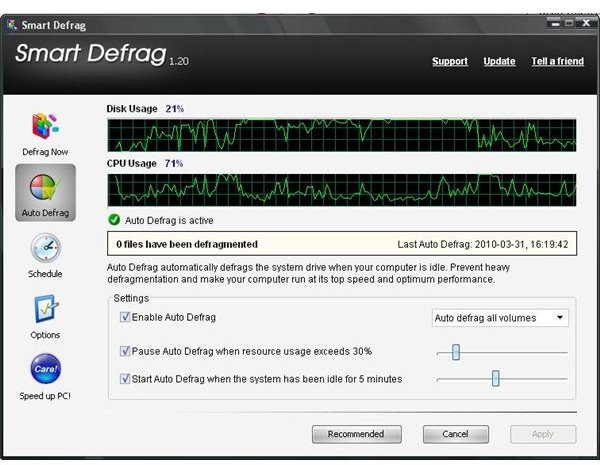 Though the Windows 7 built-in Disk Defragmenter is also good, I recommend Smart Defrag from IOBIT for two reasons. It is a free tool, which does not take up many resources thereby allowing you to work without getting stuck every now and then. Personally, I do not like Windows' Defragmenter because it creates hiccups when I am working on any other software while defragmenting. The second reason is that you can set Smart Defrag's mode to Auto and just forget about defragmentation.
The Smart Defrag Disk Utility loads with Windows but is not hard on Windows so you don't even know that it is running until you look at the system tray. After a scheduled idle time, it runs automatically if any of your disks needs repair.
CNET editors gave it five star rating and it stands at second position among the "disk utilities" downloads from the portal.
Glary Utilities 2.21.0.863 – Free Tool to Clean up your Disk
CNET ranks Glary Utilities at #1 under system utilities. Both users and CNET editors give it a four star rating. The Windows 7 Utility helps you clean your hard disk of all junk with just one click. It also contains a RAM optimizer and includes a startup manager.
After checking out these top Windows 7 disk utilities, you may also want to take a look at the top freeware for Windows XP.