How to Add Sound to a Web Page with Microsoft Expression Web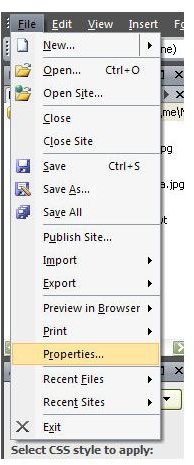 Sound and Expression Web
There are times when adding audio to a web page can greatly enhance the goal you are trying to achieve with your design. For these situations, Microsoft Expression Web has a built-in method that allows users to quickly and easily attach a sound file to a web page.
The following types of sound files are recognized by and can be added to a web page in Expression Web.
Wave Files - .wav extensions
Midi Sequencer Files - .mid extensions
RealAudio Files - .ram extensions
AIFF Sound Files - .aif, .aifc, and .aiff extensions
AU Sound Files – .au and .snd extensions
If the sound file you want to use is in a different format, you may be able to convert it to one of these accepted types by using a free online file conversion program like Media-Convert. On the other hand, if you're looking for a special sound file, check out some of these sources for free audio downloads.
How to Add a Sound File to a Web Page in Expression Web
Open the web page to which you want to add sound in Expression Web. From the File menu on Expression Web's main toolbar, choose Properties. See the first figure below for a screenshot of this process. After doing this, the Page Properties dialog box will appear on your screen as in the second screenshot below. (Click any image for a larger view.)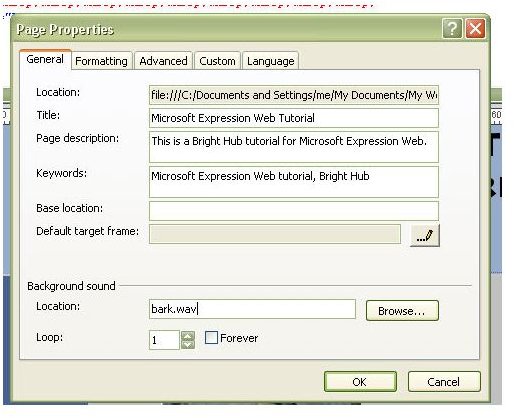 Navigate to the General tab in the Page Properties box. Click on the Browse button and locate the sound file that you wish to add. After adding the sound, turn your attention to the Loop option. If you leave the box in front of Forever checked, the sound file will continue to play over and over for as long as the viewer keeps the web page open. If you don't want this to occur, uncheck the box and enter the number of times you want the sound to be repeated.
Don't forget that while sound can be an interesting addition to a web page, many viewers find too much sound annoying so use it sparingly!
Looking for more tips and tricks? Be sure to browse through the rest of Bright Hub's collection of Microsoft Expression Web user guides and tutorials.
This post is part of the series: Multimedia in Expression Web
Want to add sound, music, video, or other multimedia effects to a web page using Microsoft Expression Web? This series will explore some of the available options.