User Guide To Install Microsoft Outlook
Installing Microsoft Outlook
In the previous article, we looked at what Microsoft Outlook does, as well as taking a peek into the past to see how it first established itself as a popular email tool. This article continues the Understanding Microsoft Outlook series, looking at how to install MS Outlook
Microsoft Outlook comes either as a single unit (and there are several of these, with Microsoft providing different versions for corporations and students, for instance) or as part of Microsoft Office.
Installation of the application is on the whole straightforward; however it isn't unheard of for difficulties to arise when confronted with the range of options that are available when you install the email and organization tool.
How to Install Microsoft Outlook
To install, insert the disc and wait for it to auto-load (if this doesn't happened, go to My Computer, right-click on the CD drive and select Autoplay).
You will then be given an option to install Outlook (or if you're installing from Microsoft Office, the option to install the entire suite or Outlook) – click this, and agree to the EULA (end user licence agreement).
You should at this stage agree to install Microsoft Outlook at the default location, unless you have other requirements.
Installation is a case of agreeing to all of the default options - if you would prefer to have all Outlook tools and options available at all times, make sure you click the drop down arrow and select Run all from my computer to install all components.
After Installation
With your Microsoft Outlook application installed and a shortcut on your desktop, you should now be ready to use the email and organization tool. Simply double click to get started!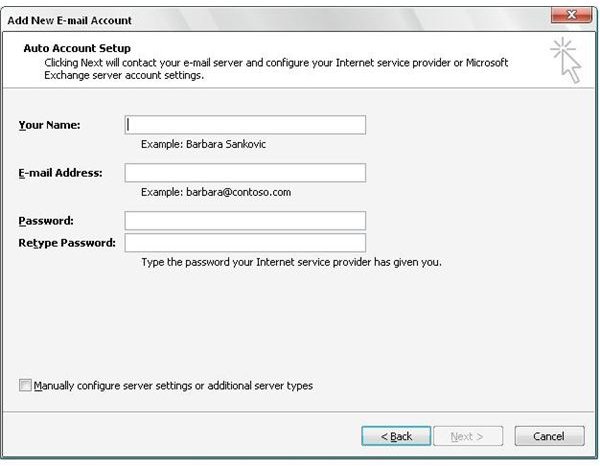 The next step is configuring Outlook to pick up your emails. This can be done via Tools > Accounts, where you can click on the New Account button to begin a help wizard to talk you through the required steps. There's also an automated option that will search for your email details, and requires you only to enter your email address and password – this option is recommended for Outlook novices.
Alternatively if you know all of your account details and want to enter these rather than letting Outlook connect to Microsoft's list of mail servers, tick the Manually configure server settings or additional server types box. From this point, click Next to proceed and enter your username, password, incoming mail server and outgoing mailserver details.
Completing this step ensures that Outlook has a datafile created and ready for use, as well as allowing you to start investigating the application and trying out its many features.
Note that if you chose to install Microsoft Outlook with the default options, some functions will not be immediately available. You will need to keep the disc handy as it will be needed to update the application should you choose to use those functions.
This post is part of the series: Understanding Microsoft Outlook
Microsoft Outlook explained - background, installation guide, how to organize emails and calendar information and add-in enhancements to get the most out of the world's most powerful desktop organization tool.