Top 5 Free Email Programs for Windows 7 - Alternatives to MS Outlook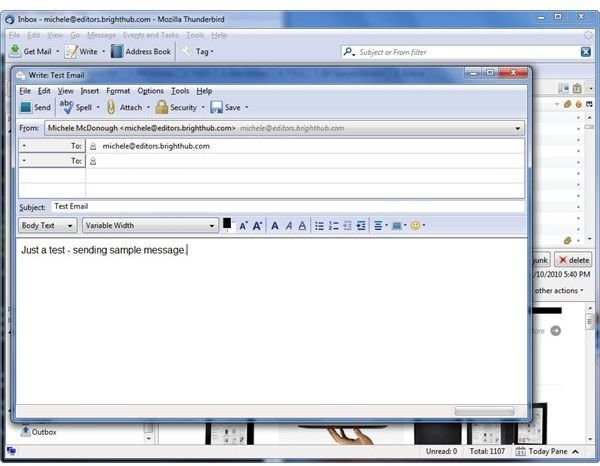 Windows 7 and Email
Although Microsoft was pretty open about the fact that Windows 7 would not come with a default email program installed, not everyone reads the tech blogs and news sites. So, as a result, a lot of people aren't finding out about this lack of pre-installed email software until they get home and set up their new Windows 7 PC. If you have a copy of MS Office, you can always set up Outlook as your default email client, but that's not the only alternative.
While it may seem a little disconcerting at first, this situation actually opens a lot of doors and gives Windows 7 users the chance to try out new email programs to find one that really does exactly what they need. With this list, we'll take a look at some of the top email programs compatible with the Windows 7 operating system that are completely free.
1. Mozilla Thunderbird
In terms of easy download, installation, and set up, it's hard to beat Mozilla Thunderbird. The latest version of the product, Thunderbird 3, now supports tabbed email windows and a new search interface that make organizing and managing your email quick and simple. The base application is lightweight and doesn't have all the clutter that a lot of other email clients have, but you can easily add all of the functionality you need with free add-ons and extras available through the Thunderbird web site.
In addition to Windows 7, Thunderbird 3 is also compatible with older versions of Windows as well as Mac OS X and Linux.
2. Windows Live Mail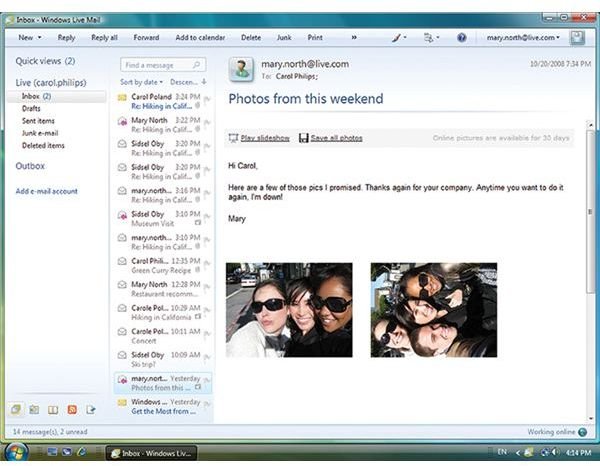 If you want to stick with a Microsoft product, you can download Windows Live Mail for free from the Windows Live web site. Like Thunderbird, Windows Live Mail lets you manage multiple email accounts, and the download and installation of the application is a straightforward process.
You can also find a number of other free downloads of applications missing in Windows 7 from the Live website, including Photo Gallery and Movie Maker.
3. IncrediMail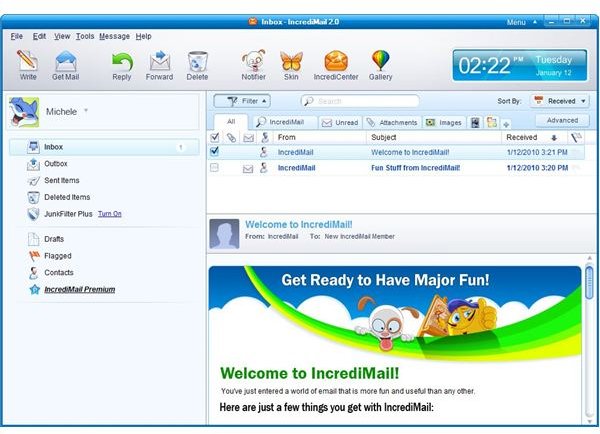 Another email client that is rapidly gaining in popularity is the free version of IncrediMail. With its colorful user interface, animations, and wide variety of email backgrounds, IncrediMail can be a lot of fun. Despite its flashy style and animated features, IncrediMail is very capable of handling business and professional accounts – you just may want to be careful which background you choose.
The installation and setup of IncrediMail is quite simple. The download file includes an installation wizard that walks you through all the steps needed to set up your email accounts. If you do have trouble, there are a number of well-written tutorials that you can access at the IncrediMail web site.
4. Opera Mail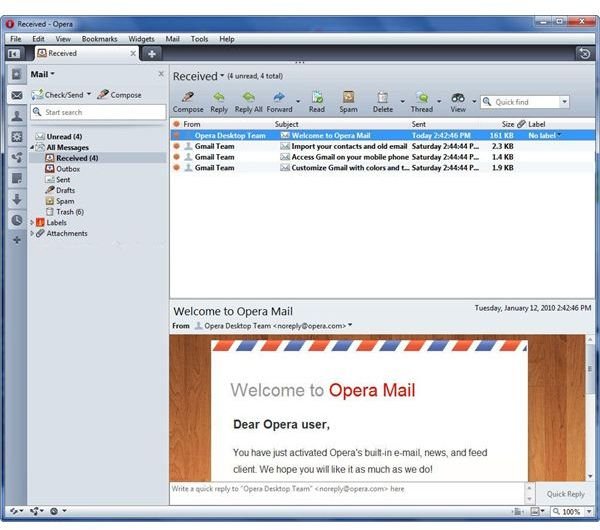 If you like the idea of an email program that's integrated with your web browser, you may want to consider trying out Opera Mail. Even though it is built into the Opera web browser, Opera Mail is a full desktop email client that you can use whether you are online or offline. The application supports multiple accounts and includes a setup utility that makes it easy to add or remove any email account.
Opera Mail includes a smart spam filter and an advanced search utility among other nice features. The Opera web browser itself is a pretty nice application, so if you're looking for a new browser, this software could kill two birds with one stone.
5. SeaMonkey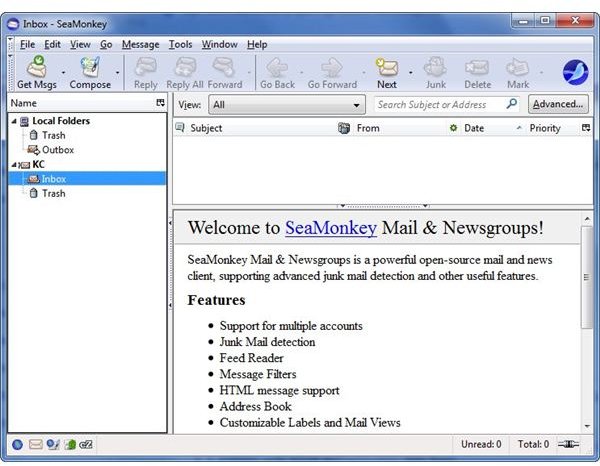 Like Opera, SeaMonkey is actually a full Internet suite that includes a web browser, email program, and other utilities. The SeaMonkey email client (like the other applications in the suite) makes use of Mozilla source code, so Thunderbird users should find the software very familiar. Like Thunderbird, SeaMonkey's functionality can be expanded through add-ons that are freely available for download from Mozilla.
The entire SeaMonkey suite can be quickly installed after downloading a single file. If you're a current Thunderbird user, you can transfer your data to SeaMonkey fairly easily – complete instructions are available on the SeaMonkey web site.