Using Microsoft Outlook's Contacts Tools Effectively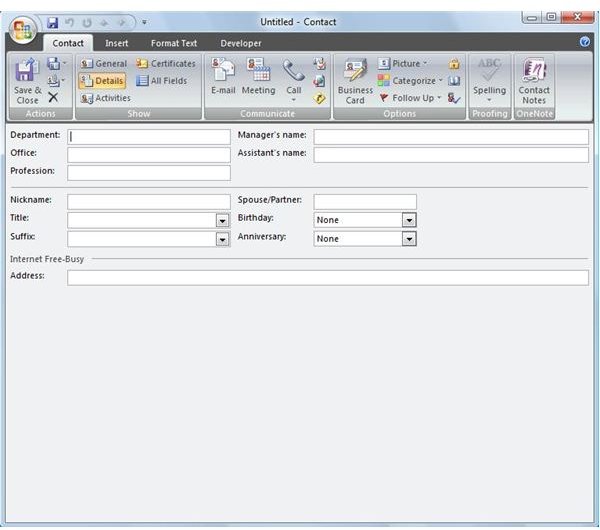 Contacts Folder Basics
You may have email addresses and names stored in your contacts folder within Microsoft Outlook - perhaps you've even gone so far as to enter a phone number or two - but have you been using contacts as powerfully as you can? When you open Outlook, you can add new contacts in the following ways:
Control+Shift+C from any screen in Outlook
Control+N in the contacts folder
Manually entering the contact in from the contacts folder by entering in a name and company on the first line. You can then double click this line to enter the rest of the information in.
Once you have opened the new contact file, you should take a moment to get acquainted with the different fields. The fields are:
Full Name - if you click on this, you can enter in all name details including title, first, middle, last and suffix.
Company - This can be helpful, especially for clients
Job title
File As - Select how you want the contact's information to appear in your contacts list
E-Mail - You can enter up to three email addresses for each contact
Display as - The name you want to see when you receive or send email to this contact
Web page address
IM Address - unfortunately there's only space for one.
Phone Numbers - you have four slots here and several different options to track multiple numbers
Addresses - you have options of business, home, and other and you can select which address is the mailing address
Notes - We'll come back to some uses for this section later
Business card
These are the fields on the first contact page. You might not use all these fields for every contact, but you should aim to fill in as many as you can (and go through and update these fields should contact information change).
Tracking All Contact Information
You can track a lot of contact information using Outlook's contact folder. The second page of your contact form includes additional information:
Department
Office
Profession
Manager's Name
Assistant's Name
Nickname
Title
Suffix
Spouse/Partner
Birthday
Anniversary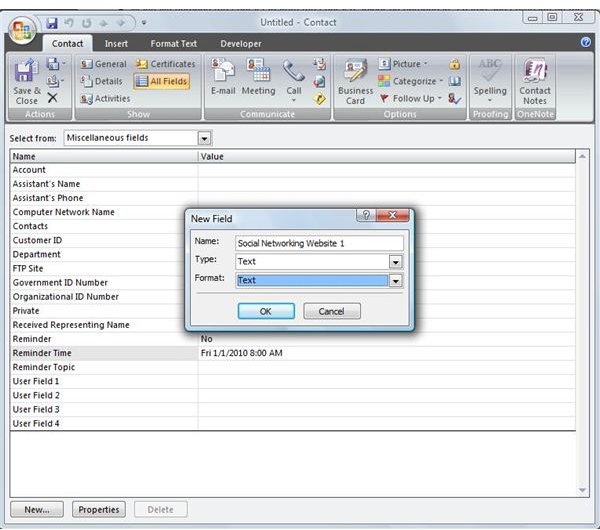 By filling in this additional information, you can make your follow up emails more personable, know who to contact in case of a referral, and enter birthdays and anniversaries automatically on your calendar (so you don't forget these important dates again). But this isn't all, you can also keep track of your contact's social networking websites. Here's how:
Open a new contact window
Click on the option, "All Fields" just to the left of "Details" in the ribbon
Click on "New" at the bottom of this page
Enter the name of a social networking website
Enter the contact's social network address
Save and close
You can also add this new field to the contact list view. To do this, make sure you're viewing the contact list in one of the list views (i.e. phone list, company list, etc.). Right click on the titles bar. Select "Field Chooser" and scroll down to "User-created fields." Drag and drop the field into the field bar. Now you can view the social networking information on the list view.
Organizing Your Contacts
Now that you have a long list of contact information, you can organize your contacts. First, you must determine your categories. I have several different categories including:
Family
Friends
Current Clients
Past Clients
Prospective Clients
Cold Call List
Networking List
Former Professors and Colleagues
Holiday Card List/Year
Newsletter List
Some of these categories overlap. For example, if I send a holiday card or a newsletter to a contact, that contact has dual categorization.
When categorizing contacts, it isn't necessary to use the color coding system unless you want to. I just have all the categories for my contacts appear as white - but I do place a period in front of the name of the category, so I don't have to spend a lot of time searching through the category list for the right category for a contact. To create new custom categories, click on "Categories" then "All Categories." Choose "new" and title your category. Repeat for the categories you wish to create in Outlook.
Using the Contact Notes Field
During all of this, you may have noticed the contacts notes field in the bottom right hand corner. What do you do with this field? Here are some ideas:
If you attend lots of networking events, record how you met the contact and a few relevant pieces of information to help you when you follow up.
You can use this field for automatic journaling - it will track all activities associated with this contact and provide links to the activities
Gift ideas
Date of last follow-up
Additional contact information
Names of projects you've worked on with contact
Resume information regarding the contact if a client
The notes field is unlimited in size. What you put in this field is literally limited only by you. One suggestion: If you are going to use this field and you find yourself recording similar information for each entry, you may just want to create a new field as discussed on page one when discussing how to track social networking sites - go to all fields and click new. Enter in the new field.
Distribution Lists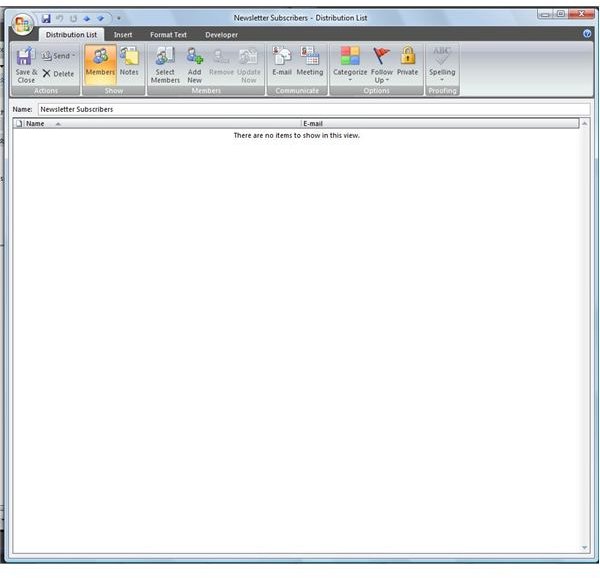 Distribution lists are a great tool when you communicate with a certain group of people on a regular basis. To create a distribution list either click on "New" in the ribbon and scroll down to distribution list or use control+shift+L as a shortcut.
Next, you are going to add contacts to your list. You can do this two ways. Either click "Select members" and scroll through your list of already added members or click "Add New" and add new members. To send an email to the distribution list, you can either click "Email" or you can add the distribution list to an email by typing the name.
Finally, you can track when you last sent a newsletter, or information to the distribution list by using the notes section. Check out your notes to see when you last sent information to the distribution set so you can set when the next information should be sent.
This post is part of the series: Microsoft Outlook Study Guides
This series covers the different features Microsoft Outlook offers users. Find out tips on using your email effectively, how to manage tasks and small projects, and how to keep on top of your contacts in Outlook 2007.