How to Keep Windows 7 from Going to Sleep - Disabling Sleep and Hybrid Sleep State in Windows 7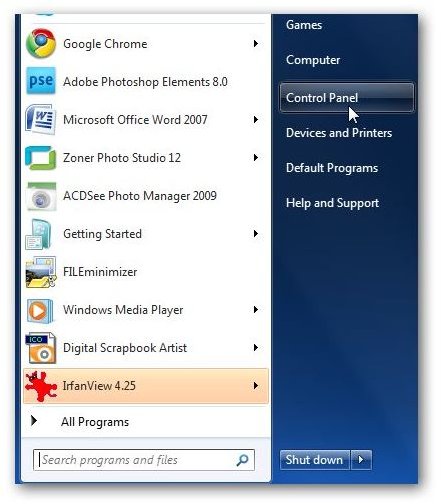 Modifying Sleep Settings
Even though the sleep mode found in Windows 7 is supposed to be a helpful power-saving feature, sometimes it can be quite annoying. If your computer is going to sleep at all the wrong times or if it is having trouble coming out of sleep state, you may want to adjust your PC's sleep settings or disable sleep altogether. In this guide, we'll take a look at how to modify the sleep options in Windows 7. We'll also describe how to change the setting that requires a password to be entered in order to resume activity when Windows 7 wakes up from sleep state.
Standard Sleep Options
Step 1: Click on the Start button and open the Control Panel. (Click any image in this article for a larger view.)
Step 2: Once in the Control Panel, change your view to either Large icons or Small icons. Look for and click on the Power Options setting.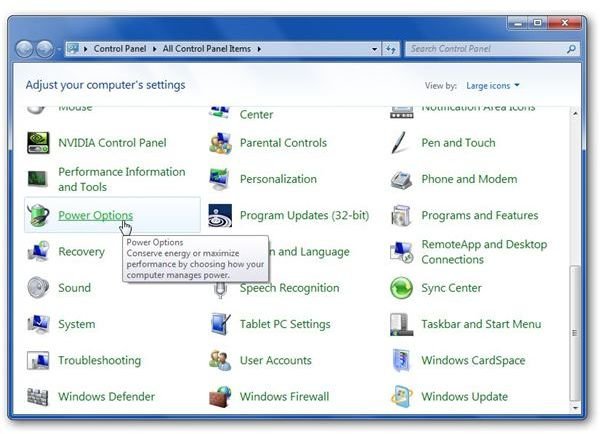 Step 3: From the list on the left hand side of the Control Panel window, select Change when the computer sleeps.
Step 4: From the drop down box next to Put the computer to sleep, select the amount of time you would like Windows 7 to wait before entering sleep state. If you don't want Windows 7 to ever sleep, select Never from the list – this basically disables the sleep function.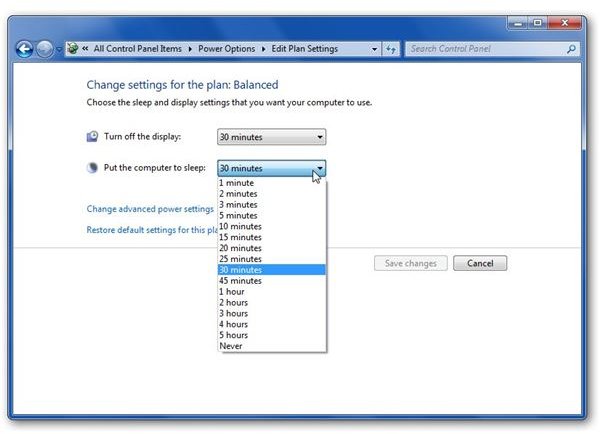 Step 5: When done, click the Save Changes button to exit. You can then close the Control Panel unless you want to make other changes.
Change Sleep Password Settings
By default, Windows 7 will require you to enter your password again when waking up the computer from sleep. If you want to disable this feature or if it has already been disabled and you want to re-enable it, follow these steps.
Step 1: Again, go to the Control Panel and select Power Options as shown in Steps 1 and 2 of the prior section.
Step 2: From the list on the left, select Require a password on wakeup.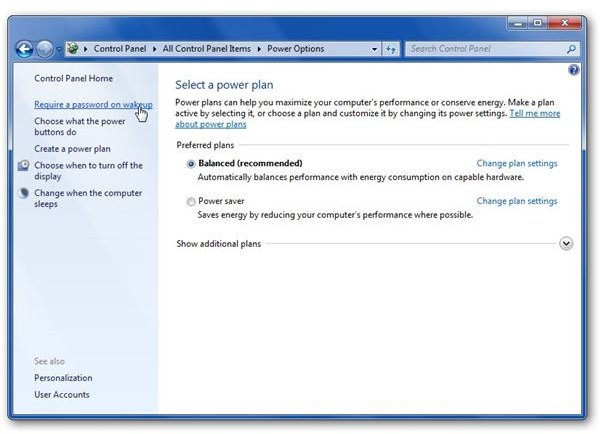 Step 3: In the lower half of the window, there is a section that allows you to decide whether you want to require a password on wakeup or not. If the radio button next to Require a password is selected, you'll have to enter your user account password whenever the PC comes out of sleep mode. Selecting the button next to Don't require a password will let you resume activity without entering your password again.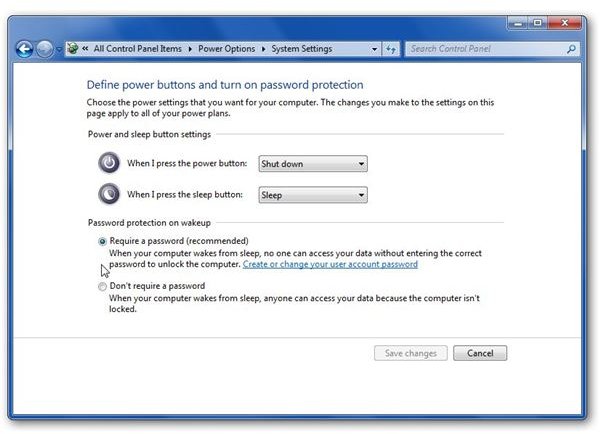 Changing Hybrid Sleep Settings
If you're having trouble with Windows 7 waking up from sleep state, the problem may actually be with hybrid sleep settings. We'll take a look at how to disable and re-enable this feature.
Disable Hybrid Sleep
Step 1: Open the Control Panel and go to Power Options.
Step 2: Select the Change when the computer sleeps option from the list on the left. (See Step 3 in the Standard Sleep Options above.)
Step 3: Click on Change advanced power settings.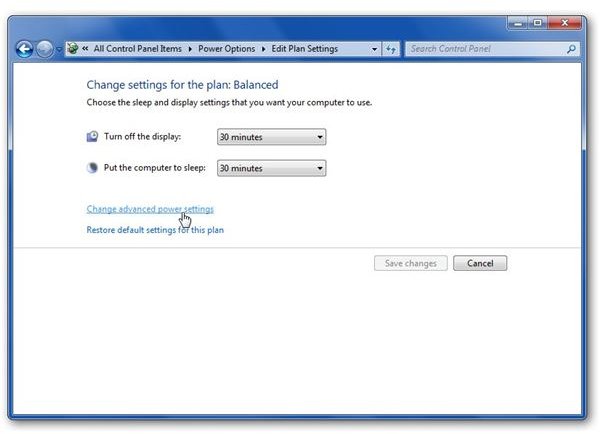 Step 4: In the new Power Options window that appears on your screen, expand the Sleep selection by clicking on the + sign preceding the word Sleep. Click on the + symbol next to Allow hybrid sleep to further expand that selection as well. Then, click on the word On next to Setting. This will turn the word On into a drop down box containing the selections Off and On.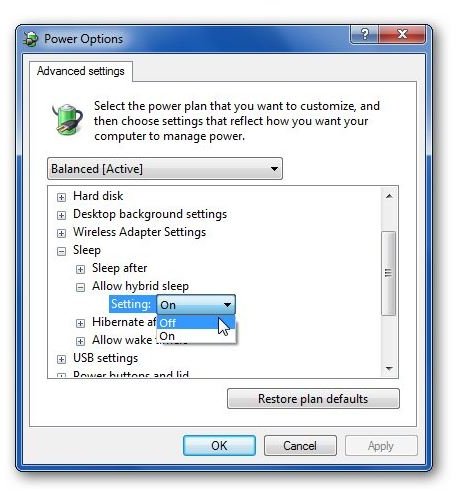 Selecting Off will disable hybrid sleep.
Step 5: Click Apply and then click OK to exit this window.
Re-enabling Hybrid Sleep
If you should want to re-enable hybrid sleep, walk through the same steps as above and select On instead of Off in Step 4.
No Option for Hybrid Sleep?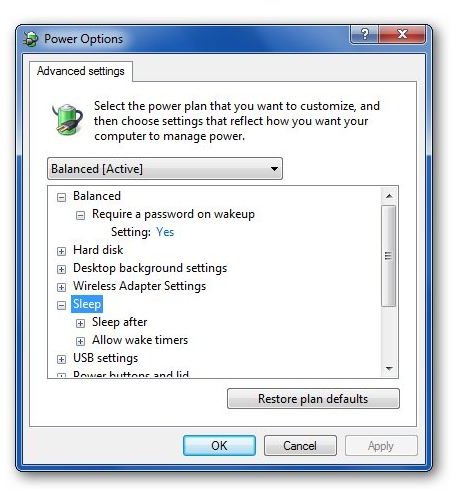 When trying to re-enable hybrid sleep using the steps in the previous section, you may find that the option for changing hybrid sleep settings no longer exists as shown in the screenshot to the left. Then what do you do? Although there are a few things that may cause this to happen, one of the most common reasons for this occurrence is that hibernation has been turned off.
So, if you run into this problem, first check to make sure that hibernation is enabled. For more details on how to do this, please see Enabling and Disabling Hibernation in Windows 7.