Quick Guide to Learning How to Use IE8 | Internet Explorer New Features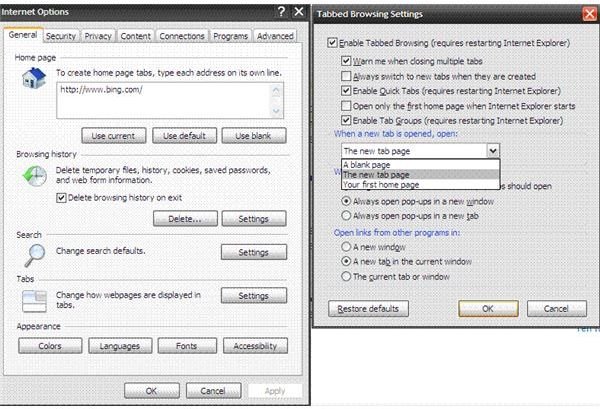 Optimized Internet Explorer 8
Internet Explorer 8 has new features aplenty. With IE8, Microsoft hopes to recover the 7% browser market loss that they suffered because of the poor performance of Internet Explorer 7.
Even though Microsoft says this is the most stable browser to date, there are several problems associated with the browser. The primary causes for Internet Explorer 8 problems appear to be (a) too many add-ons, (b) built-in feature for developers, (c) inappropriate upgrades, and (d) incompatible programs that attempt to use Internet Explorer. We will discuss these as we talk about each new feature in IE8.
To sum up, in an attempt to recover lost market share, Microsoft added so many features- that are useless to average people- and extensibility to the browser that it became complex for users. Because of the lack of proper support information for IE8 on the MS websites and other forums, IE8 quickly got even more negative publicity than IE7.
Soon after, several search engine companies worked on IE8 to release three more "optimized" versions: IE8 Optimized for Google (tweaked by Google), for MSN (optimized version from MSN), and for Yahoo (by Yahoo). Out of these, I found IE8 optimized for Google to be more stable than any other browser. I do agree with MS that IE8 is the most secure and stable browser (provided you use it properly). We will also discuss some tips so that you can avoid IE8 problems and use it easily.
Favorites Bar, Suggested Sites, and Web Slices
One of the most interesting features of Internet Explorer 8 is its Favorites Bar. Though borrowed from Google Chrome, it serves the purpose of accessing your most favorite web-pages using minimum clicks. You can create folders on the Favorites Bar and subfolders as well. This helps you organize your favorites for easy access.
Suggested Sites is another interesting new features. Though very few people use Suggested Sites, its concept is simple: to offer you with pages similar to ones you are viewing frequently. On the down side, if you turn ON the Suggested Sites, you initiate another process that scans the Internet for websites with matching META descriptions. Thus, your Internet Explorer is slow when you turn on the Suggested Sites.
IE8 also includes Web Slices. This is similar to RSS feeds that you bookmark for obtaining fresh information from a web-site. Several sites have slices or feeds that you can right-click and add to your Web Slices Link on the Favorites Bar. An example can be a web slice related to stocks. When the stock rates are updated, the Web Slice bar starts flashing and you can check out the latest information. For others, it is just another feature that slows down IE8. As with Suggested Sites, when turned ON, the Web Slices initiate one more process that keeps on looking for updates.
Note: The Favorites bar can be turned ON/OFF from View -> Favorites bar or by right-clicking on an empty space on the bar. To turn OFF Web Slices, open Internet Options -> Content tab -> Slices. Uncheck all check boxes to turn off Web Slices/Feeds in IE8.
Tabbed Browsing
Internet Explorer 8 new features include multiple tabs to browse different pages within a single window. You can have a different webpage open in different tabs. This saves not only on the taskbar space but also affects the overall memory usage to some percent. You can setup Internet Explorer tabbed browsing using the Tab section on the General tab of Internet Options. You can also set what to display when a new tab is opened. Plenty more options are available for your convenience (SEE FIG).
Note: It is not feasible to open more than five tabs as it may interfere with base ixplore.exe process - causing instability - leading to a crash. Though there is crash recovery option in IE8, it does not always work for all tabs that closed due to a crash.
Compatibility View
Another interesting new feature is the Compatibility View. The option allows you to view older websites. If you experience misplaced text and graphics, it means the website is not yet optimized for IE8. For such sites, IE8 automatically displays a compatibility button next to the address bar.
Note: IE8 automatically displays some websites in compatibility view. It has a database of websites not compatible with Internet Explorer 8. If you want to add any website to the compatibility list, you can add it using Compatibility View Settings in the Tools menu.
Accelerators and Add-ons
This feature of Internet Explorer 8 is the root cause of many problems. However, the bright side is that unlike the previous versions, you can add, disable, or remove add-ons that you do not need. The browser comes with several add-ons and accelerators. These accelerators include the facility of sending a web-page or portion thereof to your blog or as a mail attachment. You also have Internet Explorer new features in form of add-ons that allow you to discuss and research different topics. Most of these accelerators are not used by everyone.
In addition, as you install programs such as download accelerators, Adobe products, and others, they tend to add their own add-ons to your copy of Internet Explorer 8. Not all add-ons are compatible with Internet Explorer 8 as the copy of program you are installing may not be the latest version or may not be supported by IE8. Under such cases, you may face problems such as Internet Explorer crashing often, Internet Explorer startup problems, IE8 closing without any message, and many more.
Hence, it is recommended that you keep a check on the add-ons in the Internet Explorer 8. You can access the list of add-ons and accelerators using Tools -> Manage Add-ons. I would recommend keeping only one search accelerator. Turn off the accelerators that you will seldom use: discuss, research, and search with Live etc. For those you are keeping, make sure they are the latest versions.
References
Screenshot by author
Microsoft Knowledgebase: https://msdn.microsoft.com/en-us/library/cc288472(v=vs.85).aspx
This post is part of the series: How to fix IE8 Problems
Though IE8 is one of the top browsers for Windows, it has its share of problems too. This series aims to pinpoint the most common Internet Explorer 8 problems. While discussing the cause of IE8 problems, it also aims to help you fix IE8 problems.