PowerPoint Quick Reference Guide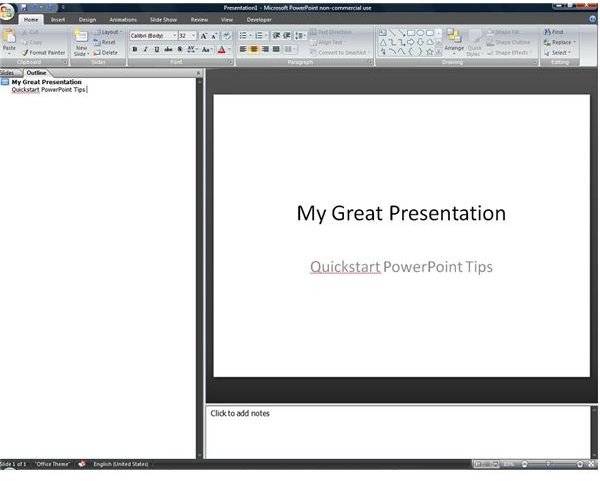 Getting Started with PowerPoint 2007
When you first open PowerPoint 2007, you are faced with a blank slide. On the left hand side of the screen, you will see a number "1" next to an empty slide. This is where all of your slides will be indexed as you create them. You can view either thumbnails of the slides or an outline of the presentation. If you like to outline first, you can simply outline your presentation in this view. To do this, click the "outline" tab. Then, place your cursor next to "1". Type in the title for your presentation. Hit enter. If you type now, you will create a second slide, but if you hit "tab" then enter text, you will enter a subtitle.
Before getting too much into how to create slides, we should take a tour of your tool bars.
Toolbars
In PowerPoint 2007, you have what's known as the Ribbon. It stretches across the top of your work area. The different tabs for the ribbon are:
Home - This is where you will find your fonts, shapes, and basic tools for navigating and creating slides.
Insert - This tab is where you will find the tools to insert pictures, shapes, clip art, charts, hyperlinks, word art, movies and sound.
Design - Allows you to choose from different pre-created templates for your slide layouts, the orientation of your slides, and slide effects.
Animation - Here is where you will control the way that slides change from one to another, how objects and text move across your screen, and how the slides will advance.
Slide Show - Preview your presentation here, present from here, record narration if you need to, rehearse, etc.
Review - Check your spelling, complete research, use the thesaurus to find better words, make comments on PowerPoint collaborations (or take notes on a presentation you have downloaded).
View - Change the way your slides look on your screen.
Developer - Create Visual Basic programs and macros for your PowerPoints.
Creating Your First Slideshow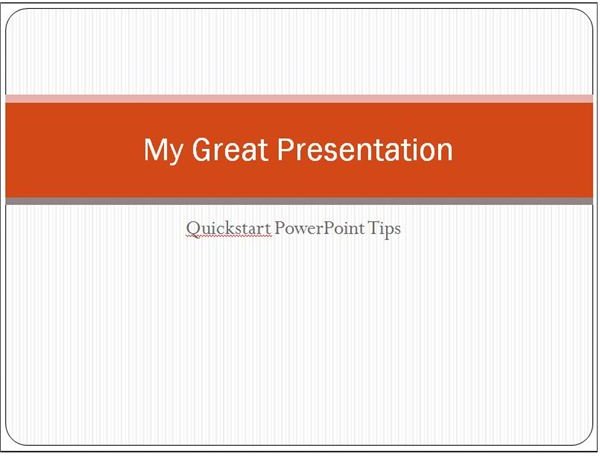 Now that you have seen the different toolbars, it's time to play around a little bit in PowerPoint to get the hang of how to use the program. Once you've been working in it for a few minutes, it will begin to be more intuitive. Follow these steps to create your first slideshow:
Click on "Design." Now, select one of the prefabricated designs that are available to you. I chose the one titled "Equity," but you should choose whatever design you feel would be best.

Title your presentation. Give it a short descriptive subtitle. Your slide will prompt you as to where your title and subtitle will go.

Click on "home" and on "New Slide." By default, the program will create an information slide, but you can choose from different options.

Just to get started, choose the option "Section Header." Add a title to the new section, and then create some text describing what your audience can expect to hear from you.

Perhaps you still have that text slide floating around. If you are in outline mode on your left side tab, click and drag the section header slide until it is the second slide in your presentation.

Do you want to add pictures or clip art to your PowerPoint presentation? Let's create a slide for that. Go to "New Slide" in your home ribbon and select "Picture with Caption." Click on the center icon and select a picture when prompted. Create a caption.
Adding Animation and Transitions to Your PowerPoint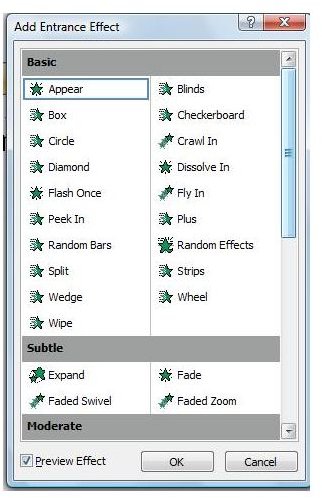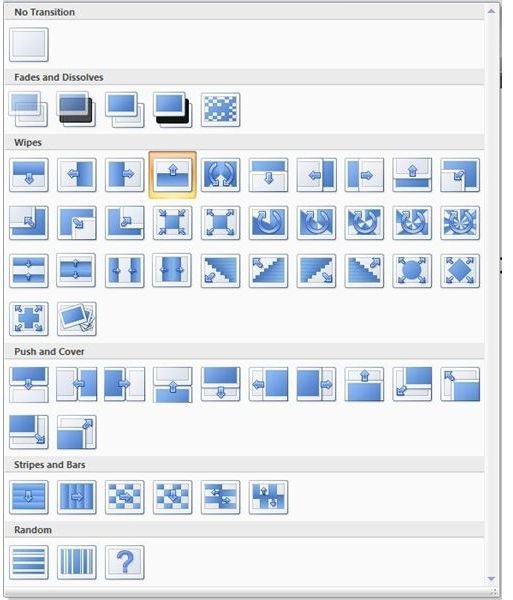 By adding animation and transitions to your PowerPoint, you can make the presentation pop. To determine the types of animations you would like to add to your presentation, think about the theme. If you are giving a serious presentation, try to keep your animations and transitions subtle. If you want to highlight a certain page, you can create a different transition animation from the other pages. Likewise, if you want to highlight a line in your presentation, you can create an animation that is different from the other ones on the slide.
To create a transition in PowerPoint, follow these steps:
Click on the slide you want to transition to.
Click on the Animations tab.
Select the transition you like from the available transitions.
Select the transition speed - located to the right of the transitions box.
If you want to apply your transition to all of the slides at once, select "apply to all."
To create an animation in your PowerPoint presentation:
Highlight the list to be animated.
Click on the animations tab.
Either select "animate" and the sort of animation you would like or "Custom animation"
If you select custom animation, you can determine when the animation will occur, how it will occur, and in what order it will occur
When creating transitions and animations for your do not let these details detract from your presentation.
Adding Sound to Your PowerPoint
Sound can make a good PowerPoint presentation a great PowerPoint presentation. If you are giving a presentation, for example, on Martin Luther King Jr., it might be neat to include his speech in your presentation. You can add his speech to the presentation easily. Here's a quick overview of how to add sound to your PowerPoint.
During transitions, a sound could play. Be careful with this though, you do not want to distract your audience too much from your presentation. To add sound to the transitions, click on the animations tab. Select "transition sound" (it's located to the right of the transitions). Now choose the sound you want to play when your slides change.
You can record a narration for those times when you will be showing a presentation, but not speaking. To do this, click on the "Slide Show" tab, and select "Record Narration." After recording the narration, you can then preview the narration and determine whether you want the sound to play automatically or when you click on it.
Finally, you can add music to your presentation. To do this, click on the "Insert" tab. Choose "Sound" and select the appropriate option for your sound. Select the file or CD.
Again, make sure your sound does not detract from your presentation. It is a delicate balance between sound that adds to your presentation and sound that detracts from it. Don't use any music with potentially offensive language.