Setting up Windows Live Mail with the Best Newsgroups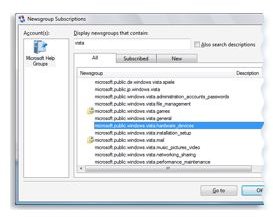 Benefits of Newsgroups – The Difference between Newsgroups and Mailing Lists
You must have seen different forums on the Internet where they discuss something specific, say Windows, computers, or health etc. These forums, however, require you to register before you can participate and are generally closed and limited when searching for solutions to your problems.
Unlike those forums, newsgroups are forums that are meant for discussions. You need not register with the newsgroups as most of them are public – meaning anyone can subscribe to them. Some newsgroups are local. You'll need an ID and password to get through. You can opt for newsgroups on your favorite subjects – politics, lifestyle, health, and, literally, anything.
Newsgroups are very different from mailing lists. When you send a message to a mailing list, only the people listed in the mailing list get your message in their individual inbox. On the contrary, when you post to a newsgroup, any person subscribed to the newsgroup can view your message, either online or using a newsreader.
A newsreader is a program that helps you read the newsgroup posts in a better way without you having to stress out on navigating through different posts. Your Windows Live Mail newsreader carries a feature whereby you can choose some or all of the posts in any topic of the newsgroup.
IMPORTANT: To keep people interested in your newsgroup posts, do NOT reply directly to each and every person in the discussion. Your response will always be visible in the group. Most people do not want unwanted and duplicate information. In such cases, people prefer going to the website instead of having spam in Windows Live Mail.
CAUTION: If you are feeling down (due to depression, alcohol, or anything else), keep off newsgroups and networking sites. You never know what you will post and you may ruin your reputation and goodwill.
Setting up Windows Live Mail for Newsgroups – Selecting the Best Newsgroups
Finding a reputable newsgroup can be a tough task. You need to know that the group members are active and are serious about the topics and discussions dealt in the newsgroup. As we are setting up Windows Live Mail for newsgroups, let us also check out how to select the best newsgroups.
Setting up Windows Live Mail for Newsgroups:
Open Windows Live Mail.
Click on the Tools menu and select Newsgroups.
This will open the Newsgroup Subscriptions window.
To find the newsgroups that interest you, search using the Display Newsgroups that Contain: text box on the top of the Newsgroup Subscriptions dialog box.
Once the results are returned, you may wish to preview newsgroups before subscribing.
To preview a newsgroup before subscribing to it, click the newsgroup and then click GO TO. This will take you to the newsgroup. Once you are done with the preview, you can come back where you may check for more or subscribe to the newsgroup.
To subscribe to the newsgroup in Windows Live Mail, click the newsgroup and click Subscribe. You can always use the same procedure to unsubscribe. The Subscribe button will be replaced by Unsubscribe button once you subscribe to the newsgroup.
You may select CTRL key to select multiple newsgroups. However, the preview method is the best answer on how to select the best newsgroup.
Once you are done subscribing, click OK and close the window.
TIP: If you are not sure where to begin, search for Usenet. Usenet offers a range of newsgroups and is often considered the best source of newsgroups by many.
NOTE: You can also set your MSN Live Settings for Newsgroups so that they work in offline mode. This means that once in a while, the mail service will connect to the Internet to see if any upgrades are available and downloads them before disconnecting. This feature is especially useful if you are using a dialup broadband connection. You may find Windows Live Mail Newsreader better than Google Reader: it is easier on the eyes!