How to Improve Windows System Performance - The Best Ever Apps for Windows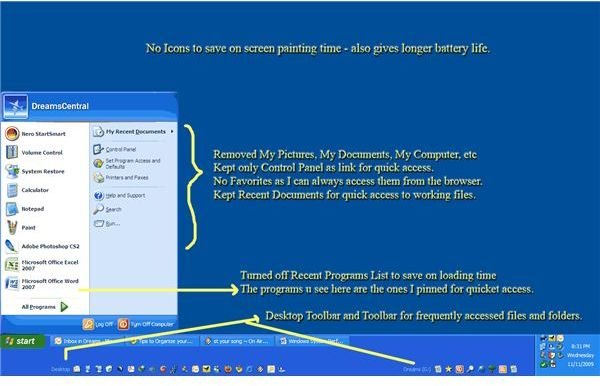 Microsoft System Performance – What all Comes into Picture?
Microsoft system performance does not mean simply hard disk defragmentation, disk cleanup, and optimizing the Windows registry. There are several other factors that need to be considered: from the desktop to the Start menu to the taskbar to the appearance to the system tray before considering complicated processes such as the Windows System Registry.
Wondering how the Windows desktop affects your system properties? As an Internet user, you must have uploaded several pictures or videos to the Internet or sent them through email. You must have noticed that the speed of uploading or sending email reduces considerably with the size of the picture or file. The same issue slows down your computer.
If you have a high resolution image set as desktop and have different web slices on the desktop, Windows system performance goes down. Personally, I do not keep anything on my desktop, not even the icons to save time on screen painting.
Changing the desktop wallpaper (to a lower resolution) or removing it completely, improves Microsoft system performance slightly. You can always have a desktop toolbar on the taskbar so that you need not minimize the applications to get to an icon. This way, you can speed up computer tasks as you have shortcuts right in front of you.
The items you select to appear on your Start menu also degrade Windows system performance. For example, if you set My Computer to appear on the Start menu as a cascading menu, your computer will need to search all the drives on your computer before offers you access to the Start menu. On similar lines, imagine how long it will take if you opt for Control Panel as a menu on Start menu.
Similarly, options including "Highlight Newly Installed Programs" under "Start Menu Properties" and "Group Similar Task Buttons," "Auto Hide Task Bar," "Hide Icons," etc under "Taskbar Properties" can degrade or enhance Microsoft System Performance. This is just because each of this command, when enabled, triggers an additional process that further delays access to desktop.
Note: The above Windows XP tweaks help improve Windows system performance by a significant percent while also increasing battery life in laptops.
Check out the Screenshot section below to see how I've arranged my desktop and taskbar to save time and to improve Windows XP system performance. In the coming sections, I will share some of the tools on my notebook that help me improve Microsoft system performance.
Tips for Improving System Performance - A Look at My Desktop and Start Menu
Microsoft Security Essentials - Low Resource Antivirus to Enhance System Performance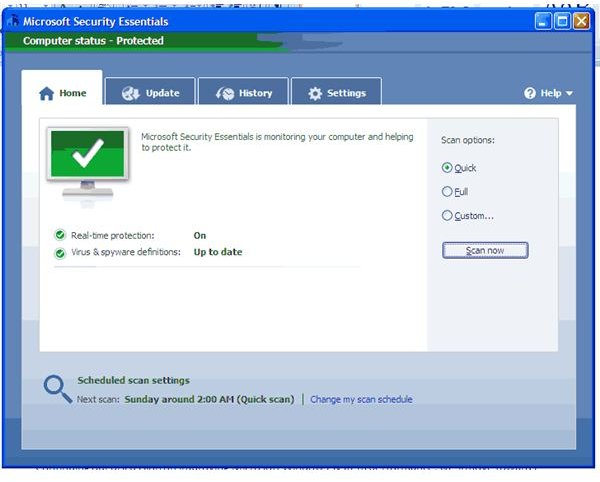 Speaking of Windows XP system performance, or the lack of it, the first thing that comes to mind is the antivirus and firewall suite. Though there are several antivirus suites in the market, most of them either take up too much of your computer resources and/or are costly to purchase. For example, if you are using F-Secure, one of the best antivirus suite with firewall and real-time protection, you have minimum of seven processes running– degrading Windows system performance.
Prior to Microsoft Security Essentials, Microsoft has a paid antivirus suite: OneCare. I would still have recommended OneCare as it was a low cost anti-virus with an exceptional firewall, yet low on system resources. Unfortunately, MS has discontinued OneCare and replaced it with MSE, which you can download from the MS website without paying anything.
Among several FREE antivirus available on the Internet, I found Comodo AntiVirus and MSE to be the best. However, the problem with Comodo AV is it takes too long to scan your computer while also reserving a fair share of computer resources. On the contrary, MSE is low on resources and helps you improve Windows system performance. The only disadvantage is that MSE does not include a firewall. Still, we have a workaround in the next page: get one of the best firewall for Windows to enhance Windows system performance, Comodo firewall.
Comodo Firewall - Light Firewall for MSE to Further Enhance Microsoft System Performance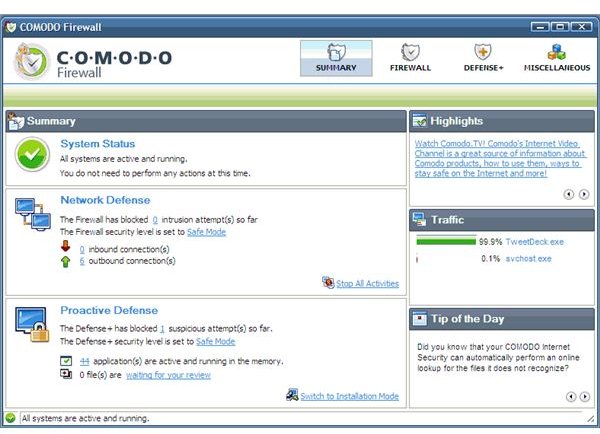 Though Windows default firewall is good at blocking unknown incoming connections, it fails the "leak test" for outgoing. This means Microsoft Firewall is incomplete and you need better security when working on networks.
Comodo Firewall is one of the best firewalls available for security. Comodo Firewall offers you greater safety, hence you may find it slightly frustrating initially (with too many alert screens). A "setup and forget software" can NEVER be a good firewall. Though there is a Comodo CIS package available too, it integrates Comodo antivirus into the bundle. This slows down and affects Microsoft system performance adversely. I recommend you download Comodo Firewall. This gives you the option of installing Comodo antivirus, Comodo Firewall, or both. Install only the firewall as you already have MSE on your machine**.**
TIP: To avoid conflicts, turn off default Windows Firewall using Security Center (Control Panel). I also recommend you subscribe to Threatcast rating during installation. It comes handy when you are not sure about which connections to block/allow when prompted.
PageDefrag - Tweaking Pagefile for Optimizing Windows Performance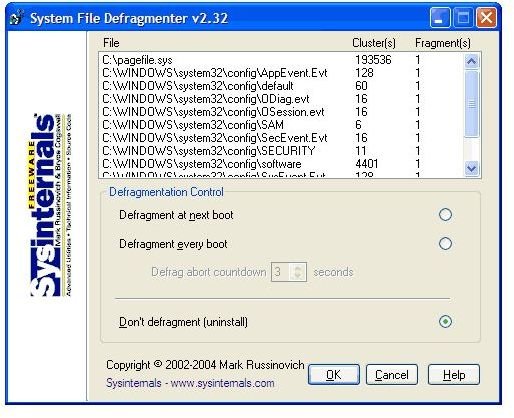 One of the Windows essentials is its Pagefile. Windows Pagefile is a virtual extension to the computer's RAM. Based on the memory requirements of an application, Windows reserves some space in RAM, system cache, and Pagefile beforehand. FreeRam XP helps you analyze real-time usage of resources.
Pagefile is cluttered at a rapid pace as Windows uses it constantly. PageDefrag offers you options to defrag and even create a fresh Windows Pagefile. This helps improve Windows System Performance. Among the different options to optimize Windows Pagefile, select "Don't Defrag (Uninstall)" for best results. A contiguous Pagefile offers better computing experience than a fragmented one. PageDefrag is also free to use.
TIP: Most people rely on the Windows default Pagefile that keeps on changing its size. This slows down your computer as Windows process has to locate free clusters on Hard Disk. Using "System Properties", you can set a fixed size for Pagefile**.** This saves on frequent changes to Windows Pagefile size. Open the "Advanced Tab" of "System Properties" and click "Settings" (under "Performance"). Switch to "Advanced Tab": under "Virtual Memory", click "Change". Select primary partition, and enter equal values in the "Custom Size" text boxes. For a computer with RAM of 512MB, I suggest 768MB for both Min and Max values. For each additional 512 RAM, add 256MB to Pagefile**.** This ensures you save time on constant resizing of Windows Pagefile - improving Microsoft Windows system performance
SmartDefrag - Forget HDD Defragmenting to Optimize Windows System Performance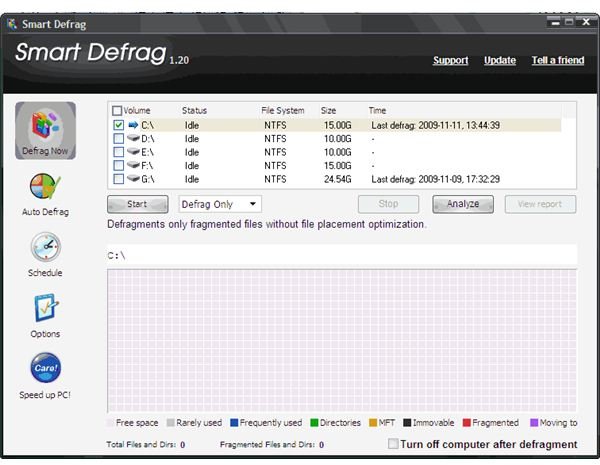 SmartDefrag is an excellent tool that allows you to forget defragmenting your HDD(s) yet keep it well-maintained. The program runs silently in background and is light on system resources. Under the auto-defrag mode, it starts defragmenting HDD to enhance Microsoft system performance. You can also schedule SmartDefrag to run at specific times. Unlike Windows' default defragmenter, you can continue working with significant loss of computing speed**.** SmartDefrag watches CPU usage: if it is idle for the specified period, it wakes up - to defrag and to optimize your HDD - enhancing Microsoft system performance. The best part is – if you wish to defrag multiple HDDs and do not wish to stay by the computer – you can set SmartDefrag to shut down after HDD optimization.
Though there are several other tools that are light on memory, yet enhance Windows XP system performance, I will wrap up with information on SmartDefrag. You already know about different registry cleaners and using Registry Optimizers to increase Windows speed. For more information on increasing Windows XP system performance, please use the comments section below.
Are These Tools Necessary?
If you take a second look at the previous page, you know that improving Windows System Performance depends on how you use your computer. From the moment you turn ON the computer to the moment you turn it OFF, each activity either helps or degrades Windows performance. These are just some tools that offer you ease of system maintenance in certain areas. Working on different Windows components (such as Accesibility, Mouse options etc) can save you a lot on resources. Just remember to create a Windows System Restore Point before making the changes in your efforts to optimize Windows performance.