How to Get XP to Look Like Windows 7?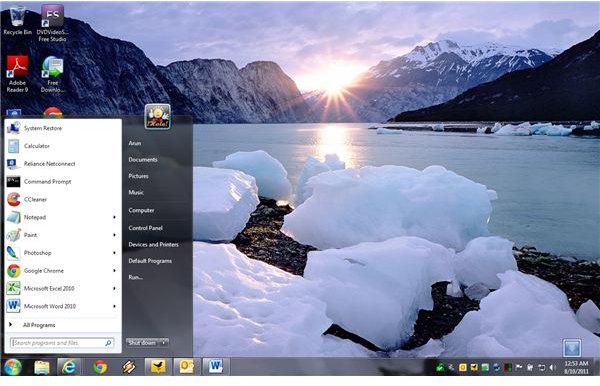 Windows XP Themes – An Overview
A fresh installation of Windows XP gives you three themes: Blue (default), Silve,; and Green. A theme is actually an extension to the Windows XP GUI that offers pleasure to the eyes of the person working on the computer. To top it, these three themes can be further customized using the Display Properties Dialog Box's "Appearance" tab. You can use the button "Advanced" to change the way different components of the GUI appear: color, fonts, icons, titlebars, and much more. The themes also include a default wallpaper, screensaver, cursors, icons, and sounds for several Windows tasks such as Windows Login or Windows Shutdown. While you can change the screensaver and wallpaper from the Display Properties Dialog, you can change the sound schemes through Control Panel -> Sounds and Audio Devices. Other than these three customizable themes, Windows XP also allows you to use the Windows Classic theme that is useful for low resource computers.
While people using their computers seriously for work purpose do not care much about Windows 7 themes, a considerable percentage of people, especially teens and children, always experiment with new themes for their computer. To meet the demand, MS offers several custom themes from its download center.
Using Third Party Themes
Installing a theme sometimes involves changing computer wide settings. Although lighter themes with only wallpapers and screensavers affect only the user who installs it, complex themes makes several changes to the system registry as well. I strongly recommend creating a System Restore point before you try out changing the Windows XP themes to Windows 7. This will prove helpful in case anything goes wrong.
Once you create the system restore point, you have to download the patch for uxtheme.dll pertaining to your Windows service pack. The patch allows you to use msstyles themes without paying anything extra. The patches for service pack 1 and service pack 2 are different and can be downloaded within minutes (available as compressed files).
After downloading the patches, you need to extract the files to any convenient place and use the replacer (stable version) to replace the uxtheme.dll already present and running from C:\Windows\System32. You cannot replace the existing file directly as it is in use.
After extracting the Replacer, double click on Replacer.cmd. It will ask you to drag and drop the original uxtheme.dll into the window. Browse to C:\Windows\System32, locate the dll file, and drag it to the window. This done, drag and drop the downloaded uxtheme.dll to the window. The Replacer will ask for confirmation for swapping the files. Hit Enter and reboot. Once you reboot, you are all set to download different msstyles for Vista to make Windows XP to look like Windows 7.
There are no Windows 7 themes from Microsoft (at least, I could not find any of the kind on the Microsoft download site though there are several others). Just google for "Windows 7 themes for Windows XP" and you will get plenty of them.
One of the best was VistaXP that got so popular that Microsoft initiated an action to remove it from all over internet. Read how MS wants to keep all to itself. Many more can be found upon searching: those that MS could not remove.
Some of the sites where you can get awesome themes are https://www.deviantart.com/, https://en.crystalxp.net/, https://www.tech-recipes.com, and many more. To date, the best theme is VistaXP, which unfortunately caught Microsoft's attention and is no longer available for download or sharing to make your Windows XP look like Vista.
NOTE: Once you download a theme, you can access it through the Display Properties Dialog only if you add/copy the theme files to C:\WINDOWS\Resources\Themes.
IMPORTANT: Never download anything directly to your Hard Disk. I recommend downloading themes or any other software to a USB storage and scanning the download for virus. If there is no threat, copy the themes to the above mentioned folder. This helps keeps your HDD's root safe and avoid crashes due to malware.
References
This post is part of the series: Troubleshooting Windows XP - How to Fix Windows XP Problems
Windows XP is the best operating system till date. You have read much about advantages of Window XP. We will talk about Windows XP disadvantages: troubleshooting Windows XP; fix Windows XP problems, speed up Windows XP; how to make Windows XP run faster; and many other XP problems & solutions.