MS Excel Standard Toolbar Is Greyed Out - Tips for Fixing the Issue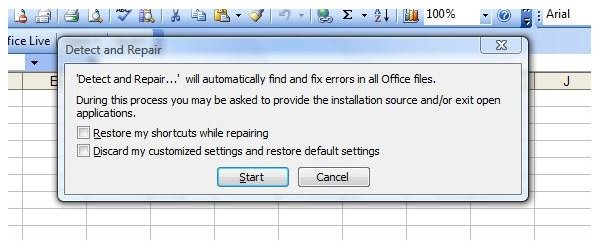 Detect and Repair
If the standard toolbar is visible but all of the buttons are greyed out, run Excel's Detect and Repair. Detect and Repair will automatically check for problems in Excel such as missing files or bad registry settings. If it finds any problems, including those that might be causing your standard toolbar to be greyed out, it will automatically repair them.
To run Detect and Repair, go to the Help menu and click on Detect and Repair. The Detect and Repair dialog box will open. There are two
optional choices on this dialog, which are Restore My Shortcuts While Repairing and Discard my Customized Settings and Restore Default Settings. If you have created custom shortcuts in Excel and want to keep them, make sure to select Restore My Shortcuts While Repairing. If you do not, Detect and Repair will remove those shortcuts.
Selecting the Discard my Customized Settings and Restore Default Settings option will restore several settings to default, such as the Office Assistant, recent entries on the File menu, and menu or toolbar customizations.
Once you have made your selections, click Start and wait for Detect and Repair to find problems and hopefully fix your greyed out standard toolbar.
Missing Standard Toolbar
If the standard toolbar is missing from Excel, there are several steps that can help you fix this problem. First, make sure the standard toolbar is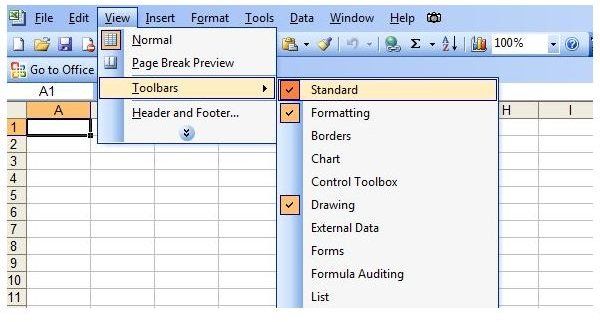 selected in the View menu. Go to View, point to Toolbars and make sure Standard has a checkmark beside it. If it does not, click on Standard and the standard toolbar should now be visible in Excel.
If the standard toolbar is present but you do not see some or most of the tools you need, click the double arrows at the end of the toolbar. If you have several toolbars open, there may not be enough room for all of the tools to show.
Greyed Out Buttons
Perhaps your standard toolbar is visible but some of the buttons on the toolbar are greyed out. Certain tools will be greyed out unless they are available for you to use in Excel. For example, when you first open an Excel worksheet and have not yet performed any actions, th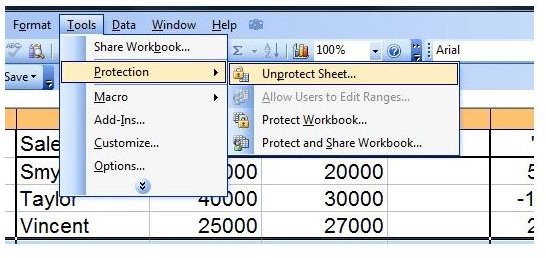 e Undo button will be greyed out, since there is nothing to undo. Likewise, if you have not copied anything to the clipboard the Paste button will be greyed out.
If you know that these buttons on the standard toolbar should be accessible but they are still greyed out, you may be working in a protected Excel worksheet.Go to the Tools menu and point to Protection. if the Unprotect Sheet option is visible, the worksheet is protected. To turn protection off you will need to click Unprotect Sheet and may be required to enter the password set by the original worksheet creator.
Reinstall
If none of these steps fix your missing or greyed out standard toolbar, you may need to reinstall MS Excel. Go to the Start menu and open the Control Panel. Open Add/Remove Programs in Windows XP or earlier, or Programs and Features in Windows Vista. Select your version of Microsoft Office from the list of installed programs and click Reinstall or Repair. Click Next, select Reinstall Office and then click Install. If you no longer have the setup files on your computer, you will need to reinstall Excel using your original Office installation disc.
Be sure to check out Bright Hub's Microsoft Excel Support and Help collection of tips, tweaks and troubleshooting for more Excel help and information.