Windows XP Automatic Updates Won't Turn On | Microsoft Updates Fail to Install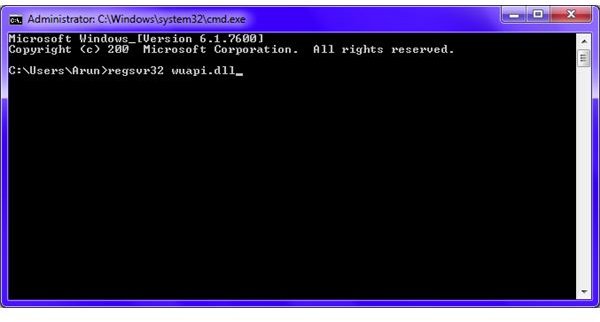 Windows XP Automatic Updates Won't Turn On - Admin Restrictions
If Microsoft updates fail to install, see if you get a message that you do not have the privileges to use Windows Updates. If you get the message, the Admin has prohibited users so that Windows XP Automatic updates won't turn on using their computers. You need to talk to your Network Administrator or login as Admin to turn them on. If no such message appears, it means the problem lies elsewhere. Let us continue troubleshooting the problem where Windows XP Automatic updates won't turn on - in the following sections.
Cannot Turn on Automatic Updates in Windows XP after Installing SP2
On most Windows XP computers, automatic updates are turned off as soon as you download and install Service Pack 2. The reason behind this is that several files are disassociated with the system registry while you install the Service Pack.
The problem can be resolved using the RegSvr32 command from the command prompt. To access the command prompt, click Start, select Run and in the Run Dialog box, type cmd and click on OK. A black screen will appear that resembles the old DOS interface.
You need to re-register the following files using the command:
wuapi.dll

wuaueng.dll
wucltui.dll

wuweb.dll

jscript.dll

urlmon.dll

wuaueng1.dll
wups.dll

wups2.dll

winhttp.dll
You will have to run the RegSvr32 command for each file. To register a file, type RegSvr32 followed by a space and then the filename.dll. After typing the command, press Enter.
For example, to re-register the first file, type RegSvr32 wuapi.dll at the command prompt and then press the enter key.
Once you re-register all the files, you need to type EXIT to close the command prompt. After closing the window, reboot and then go to the control panel to turn on the Windows Update. This should solve the problem. If you are still not able to enable the Windows Update, you might have the Conficker virus on your system.
Removing Conficker when Microsoft Updates Fail to Install
If your computer is infected by the Conficker virus, you will not be able to turn on the Windows Update Process. Conficker will also prohibit you from downloading any update directly from the Windows website. To get rid of the virus, follow Lamar Stonecypher's removal of Conficker guide, or use the MSRT tool available at the Microsoft portal.
Once you download and run the MSRT, you will be able to remove Conficker. After successfully removing the virus, turn on the Windows Update and download all the latest updates from Microsoft. This should help you with any future event wherein Windows XP automatic updates wont turn on or where Microsoft updates fail to install.
References
All images and references from Windows XP