How to Make a PowerPoint Presentation from a Word Outline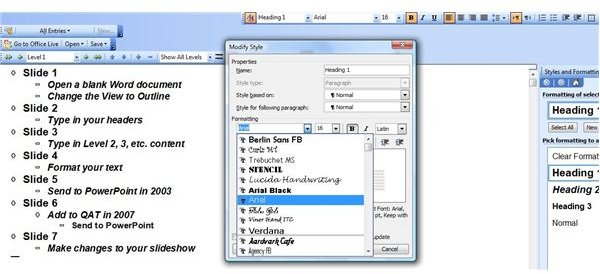 Getting Started
Start by creating a Word outline, plotting the pieces of your PowerPoint presentation (wow, say that three times, fast). If you are not sure how to make an Outline in Word, check out this Bright Hub tutorial, How to Create an Outline in Word. When you make your Outline, remember that all of your Level 1 headings will be the titles for each of your PowerPoint slides. The content that you place in Levels 2 and beyond will be the bullet points for the slides.
Quick Way to Create a PowerPoint Presentation
Once you have entered everything you want into a Word outline, you will need to format the text before sending it to PowerPoint. Text that has the Normal style applied may not convert to PowerPoint properly. Select the first heading in your outline. In Word 2003, go to the Format menu and select Styles and Formatting. If you are using Word 2007, choose a style for your heading by selecting the Heading dropdown, or the Change Styles dropdown, both located in the Styles section of the Home tab of the ribbon. To modify a current style, right click the style and select Modify. You can then make changes to the font, alignment and more.
The next step varies slightly, depending on which versions of Word and PowerPoint you are using. If you are using Office 2003, it is pretty straightforward. In the Word outline, go to the File menu. Point to Send To and click on Microsoft Office PowerPoint. A new, very basic, PowerPoint slideshow will open. Each of your Level 1 outline headings will be on a slide, with any subordinate text as bullet points.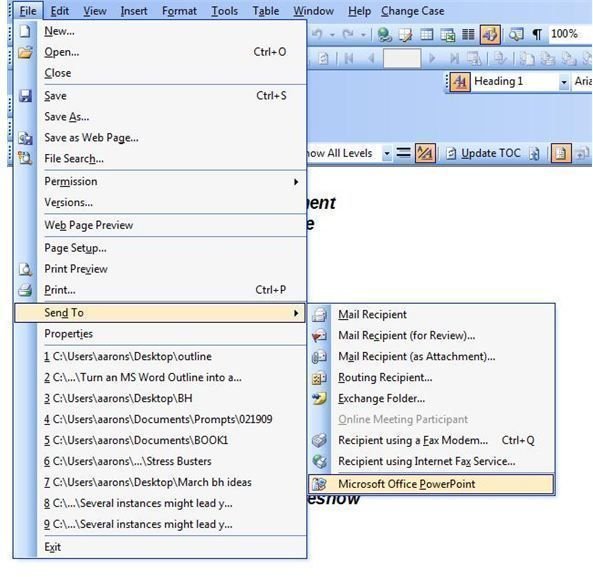 If you are using Office 2007, the Send to PowerPoint option is not readily available in Word. This simply means you need to add it to the QAT (Quick Access Toolbar). To do this, click on the Customize Quick Access Toolbar dropdown button, which is on the right end of the QAT. Click on More Commands, and in the Choose Commands From box select All Commands. Scroll down to Send to Microsoft Office PowerPoint. Click on it to select it, click the Add button, and then click OK.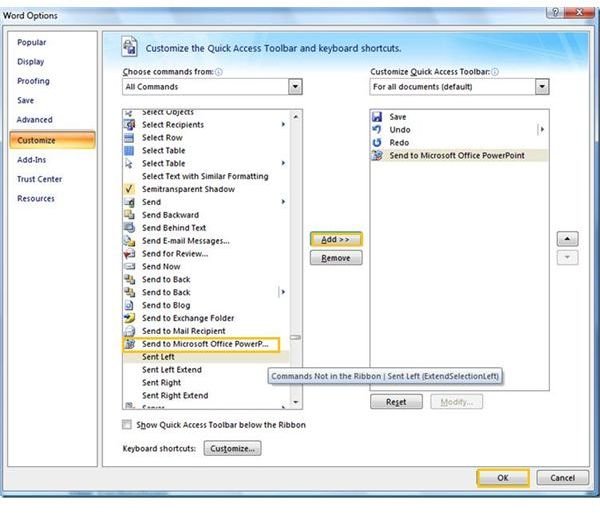 Now that you have the command, simply go to the QAT and select it. Your Word outline will open as a new PowerPoint presentation. All that is left to do is apply a design template or theme, add animation, audio, or any other special effects you choose and show off your professional slideshow.