Understand Recording Options in Windows Media Center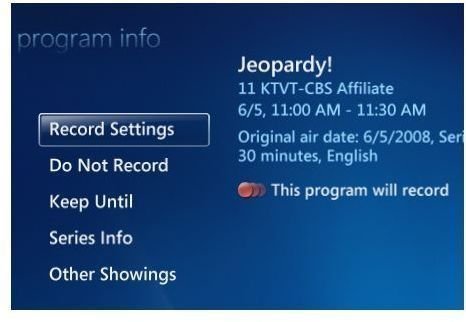 So You've Recorded Some TV!
If you've already set up a TV tuner and configured Media Center to record, you are probably looking for a way to manage those recordings. That's because, after a while, it's easy to fill up your computer's hard drive with TV shows you've acquired but yet to watch. You may have also recorded reruns, or have duplicates. One way to manage recordings is to access the additional options available to you. The first, Record and Record Series, is outlined here. (These are the options included with Vista, but Windows 7 options are similar.)
Understanding the Recording Settings
If you've tried to set up a TV tuner and had problems, or if you've yet to set up Media Center, Watch Live TV in Windows Media Center can help you get started.
When you select a television show or series to record, you'll see various recording options. As shown in the Images section below, these include Record, Record Series, Advanced Record, and Other Showings. Once a program has been configured to record, you'll see a few more options.You should explore these options to make sure that you're recording what you want, when you want. For instance, you may not want to record reruns! These additional options are listed here:
Record Settings offers a new screen that lets you choose between setting settings for the specific instance of the television show that you've selected, and editing settings for the entire television series. For example, if you only want to edit the quality setting for the one television show you've selected and not the entire series, select Record Settings, and then select Settings for this episode only. If you want to change a recording setting for the entire series, select Record Settings and then select Settings for the entire series.
Do Not Record cancels the scheduled recording for the current episode or the entire series, depending on what you selected in Record Settings and when you opened the Program Info section.
Keep until shows the Keep settings for the television or television series. There are several options – Do Not Change, Keep until space needed, Keep until (a specific date), Keep until I watch, and Keep until I delete.
Where Are My Older Recordings?
Media Center may automatically start to delete old recorded television shows to make room for new recorded television shows unless you select Keep until I delete. These settings are controlled by the Recording Default settings. To access and change the recording default settings, scroll down to Tasks and then left to Settings. Next, select TV, select Recorder, and then select Recording Defaults.
Series Settings Explained
Series Info only appears for television series and shows you all of the episodes that are scheduled to record for that specific television series, along with what the current Channel, Record, and Keep settings are. To access the record settings for the entire series, select Series Info, and then select Series Settings. To cancel recording of the entire television series, select Cancel Series. These are the same options that you access through Record Settings when you select Settings for the entire series.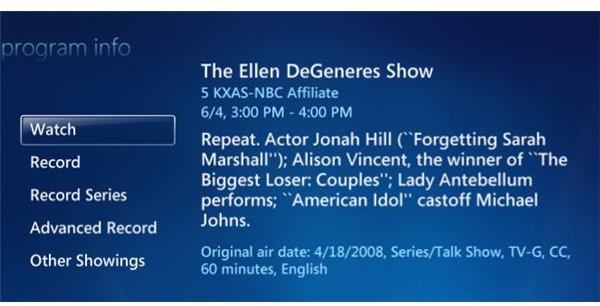 Other Showings shows you other episodes of the same television show or television series that are airing within the next two weeks.
Caution! A recording conflict occurs when two television shows are scheduled to record at the same time. If you only have one television tuner, you can only watch one show at a time. If you have two television tuners then you won't see a recording conflict occur.
References
Author's Own Experiences: I got into trouble the first time I configured Media Center to record a TV series. I did not know that by default Media Center would record reruns and new shows, and would continue to record them until the hard drive was full! One day, after forgetting to watch my recorded TV for quite some time, I received an error that my computer was running out of disk space. Only then did I realize that Media Center had recorded 40 instances of Star Trek, on various TV channels, and was keeping them forever! The moral of the story is that once you set up something to record, check the advanced settings as outlined in this article.
Image credit: screenshot by author.
This post is part of the series: Microsoft Windows Media Center - The Guide, Record Options, and Navigation
Learn how to navigate Media Center's Guide and mini-Guide, get program information, record a show or a series, and more in this informative article series.