How to Change the Default Margin Settings for Word 2007 Documents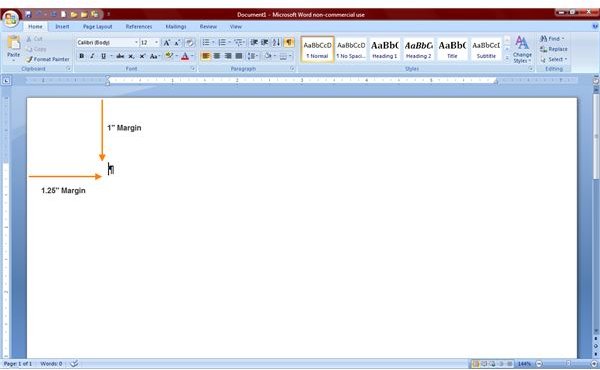 Word 2007 Default Margin Settings
The page margins in Microsoft Word 2007 are set at 1 inch margins on the top and bottom of the page, and 1.25 inches on the left and right side of the page. This default setting is the same setting used in previous versions of Word. However, in most businesses one-inch page margins all around is the desired setting. So if you prefer one-inch margins, or any other margin width as your default setting in Word 2007, follow these steps to change the default margin settings to fit your needs.
How to Change the Default Margin Settings in Word 2007
1. Open Microsoft Word 2007 and go to the Page Layout tab on the Ribbon.
2. On the Page Layout tab there is a Page Setup group. In the bottom right corner of the Page Setup group is a small arrow icon. Click on the arrow icon to open up the Page Setup dialog box.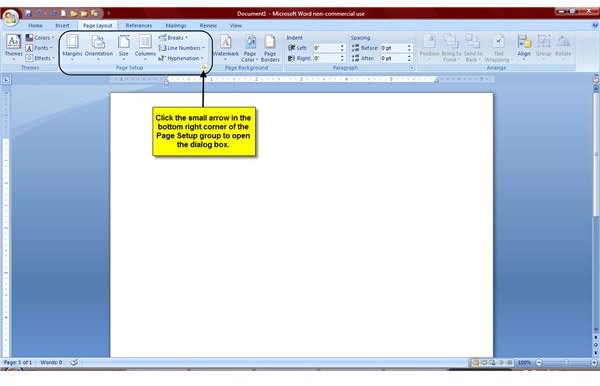 3. When the Page Setup dialog box opens, you will see that the Top and Bottom settings are 1" and the Left and Right are at 1.25".
4. Click on the up or down arrows next to each setting to select your desired margin widths.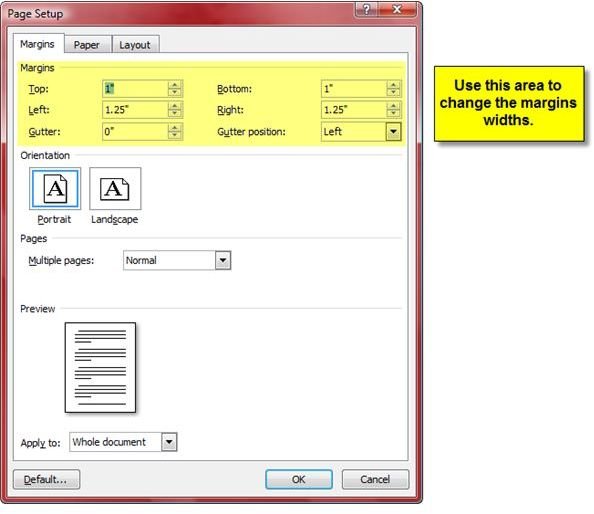 Make It Your Default Setting
After you have selected your desired margin settings for Word 2007, you now have to set them as your default settings so that each time you open a new blank document, these margin settings will automatically be set.
To set the currently selected settings as your default margin settings, just click the Default button in the bottom left corner of the Page Setup dialog box.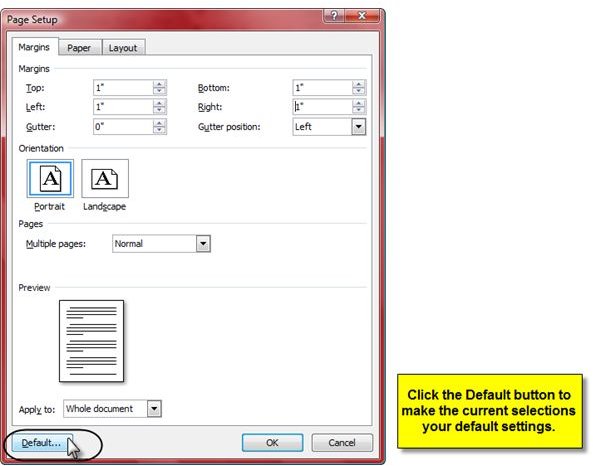 A pop-up box will appear asking if you want to change the default settings for page setup. Click 'Yes'.

Conclusion
You have successfully changed the default margin settings for your Word 2007 documents. Now when you open a blank document (Normal.dot template), these margin settings will automatically be set for you.
Be sure to browse through the other items in Bright Hub's collection of Microsoft Word tutorials. Learn how to load new fonts, how to create headers and footers, tips for inserting watermarks into Word documents, and more. New articles are added on a regular basis, so check back often.
This post is part of the series: Customizing Word 2007 Default Settings
In this Word 2007 series, learn how to easily change Word 2007's default settings for font, line spacing, margin settings, and Save To location.