Recover Missing Files Using Tools Already in Vista - Shadow Copy, and Shadow Explorer for the Home Versions of Vista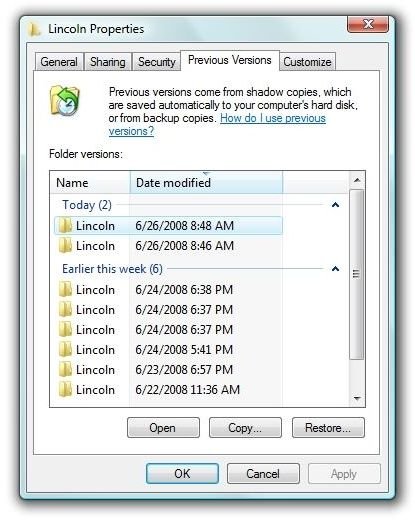 Where's My Work?
You probably know the sinking feeling – something that you've worked on, some file that you need, is not THERE on your PC when you want it. Accidentally deleting files causes untold lost work and productivity. Windows Vista provides a method for recovering "Previous Versions" of files and folders, but it's included only in the Ultimate, Business, and Enterprise versions.
This article will show you how to use "Shadow Copy" in the premium versions, and then we'll look at doing the same with the home versions of Vista.
If you're curious, you can find out how much of your current system storage is being used for Shadow Copies by starting an elevated command prompt (click on Start, All Programs, Accessories, then right-click Command Prompt and select Run as Administrator) and entering this command:
vssadmin list shadowstorage
"vss" stands for "volume snapshot service" which is the name of the process on the PC that provides shadow copy.
If you're averse to the command prompt, don't worry. Windows Vista Ultimate, Enterprise, and Business provide easy access to shadow copies – it's called Previous Versions. Using it is really simple. Find the folder that contained the file that you accidentally deleted, overwrote, or altered, right-click it, and select the Previous Versions tab. Then select a snapshot of the folder that was taken before the undesired event. In the graphic below, the user is looking at restoring a folder called "Lincoln."
Previous Versions
ShadowExplorer
For users of Vista Starter, Home Basic, and Home Premium, a freeware program called ShadowExplorer will allow you to recover your lost or damaged files from Shadow Copies. (The service IS installed and running in these versions - you just need an interface to get to it.)
As freeware, ShadowExplorer is "use at your own risk" software. The "I agree" dialog contains several paragraphs examining that notion in depth. (You may need to right-click the ShadowExplorer icon and select "Run as Administrator" on your Vista system.)
Installation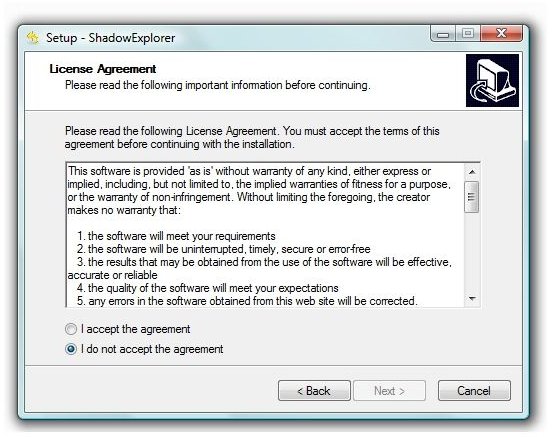 Restoring Folders or Files
Once it's up and running, click the top-left button and select the hard drive (normally the C: drive) from which you want to recover your files. Then pick the date and time – before the undesired event – that you want to go back to. Once you've found the folder that you wish to restore, right-click it and select "Export."
Images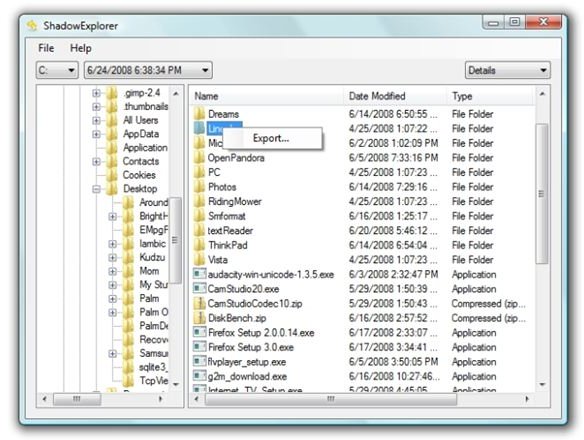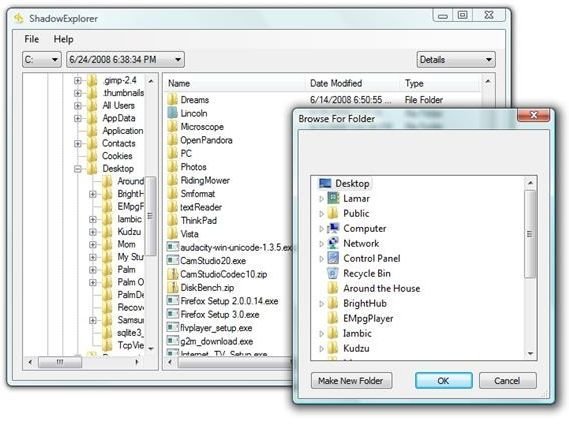 Finally…
Shadow Copy and Previous Versions aren't included solely so you can recover lost or damaged files. They are also part of "System Restore," which has the ability to take your entire PC back to a previous point in time. This is convenient when, for example, you install a new driver (like a video driver) and it makes your PC crash.  After restarting, Vista will offer to take you back to the last known good configuration, and that's a previous snapshot.
This service is not a substitute for a good backup strategy.  Previous Versions and Shadow Copy will not help you if you have a hardware (hard drive) failure or virus attack that affects many files or the operating system itself. This service is all about minimizing the inconvenience when you realize that you have done something that deleted, damaged, or overwrote your data and you want to recover an earlier version of the same file(s).
At that, it excels.
Related Articles
Windows Vista Backup Center - the Good, the Bad, and the Could Be Better - Your version of Vista determines what class of Windows Vista Backup Center you can use. Office, Enterprise and Ultimate users can backup their entire hard drive. Starter, Home Basic and Home Premium users can only create backups based on their document and file types.
How to Set Up Hands-free Incremental Backup in Vista - If you're using the Office, Enterprise, or Ultimate Version, you can use Task Scheduler to set up daily or weekly backups in Vista.
How to Create a Bootable Disc in Vista - Need a backup method to start a Vista PC? Creating a bootable disc in Vista is not as easy as in previous versions of Windows, but it can be done. This article tells you how.
Turn Your Vista Laptop into a Mobile Hotspot - Need to share your wireless Internet connection with your friends or colleagues? If they've got WIFI, the solution is easy and free. This article tells you step-by-step how.
References