How to Make a Calendar in Microsoft Word 2003 and 2007: Using the Calendar Wizard and Downloading Templates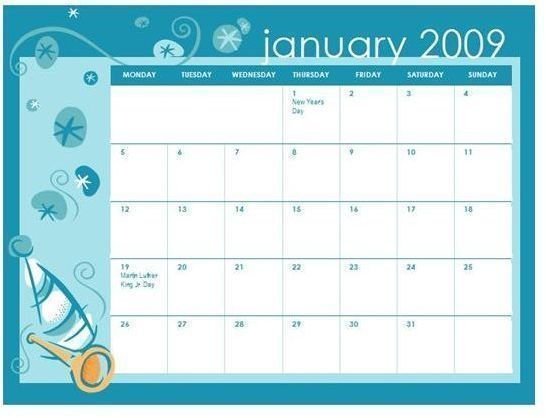 Custom Calendars at Your Fingertips
Free calendars were once abundant. Hardware stores, grocers and many other neighborhood retailers handed them out every year as a "thank you" to customers.
Now if you want a calendar, you head to a special kiosk at the mall, peruse the dozens of choices available, and plunk down some cash.
On the other hand, you could use Microsoft Word to make a calendar that is completely tailored to your tastes. You can even note birthdays and highlight special anniversaries you need to remember.
In addition, find more calendar options in Custom Calendar Templates and Resources for All Occasions.
Method 1: Calendar Wizard
One way to make calendars is with Word's Calendar Wizard.
To use the Wizard in Word 2003 or an earlier version, go to the File menu and click on New. Under Templates in the task pane, click On My Computer. Go to the Other Documents tab and double click Calendar Wizard.
If you are using Word 2007, click the Office Button and then click New. Under Templates, click Calendars. Choose Other Calendars and then double click Calendar Wizard.
If you do not see the Calendar Wizard option in either 2003 or 2007, you will need to install it. You can do so by loading your MS Office CD, or by downloading it from the Microsoft Office templates page, here.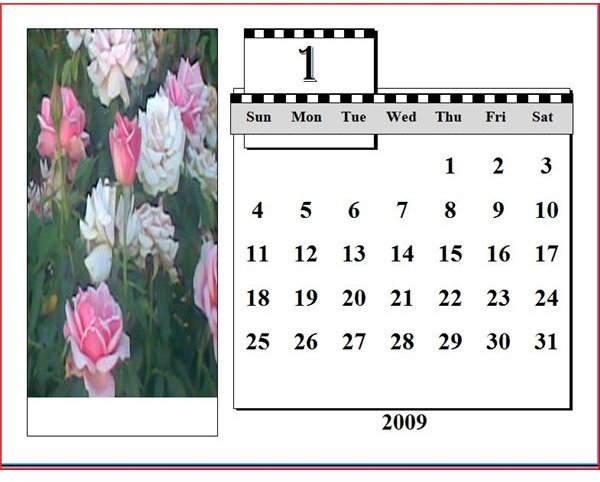 Once you have the Wizard running, click Next and choose a calendar style.
Click Next again and choose from Portrait or Landscape orientation. You can also opt to leave room for a picture.
Click Next again and enter the month and year you want the calendar to begin and end.
Click Finish and your calendar will open as a new document. If you chose to leave room for pictures, the Wizard will have put some black and white clip art in place for you. All you need to do is select those pictures and insert your own desired graphics in their places.
Method 2: Templates
Maybe you think the Calendar Wizard is nifty, but you would like something a bit more colorful and complex. If so, you should definitely consider using a template to make a calendar in Word. Microsoft literally offers dozens of calendar templates that are yours for the downloading. While you can opt to peruse the Microsoft website for the perfect calendar, you can also do so without leaving the comfort of your open Word application.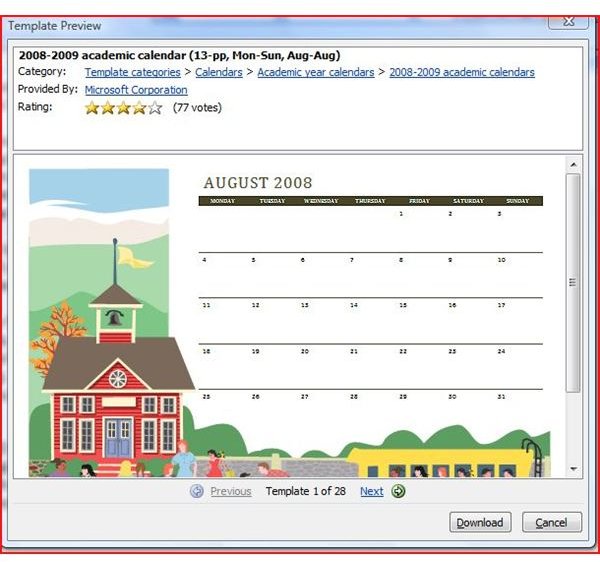 In Word 2003 or prior, open the Help task pane. Pressing the F1 button will bring it up in a jiffy. Type "calendar" in the Search For box and perform the search. You may want to narrow down your choices by typing in the year, as well. Your search result will list templates available. Click on one to preview it, and when you find one you like, just click the Download button.
In MS Word 2007, click the Office Button and then click New. Under templates, click Cale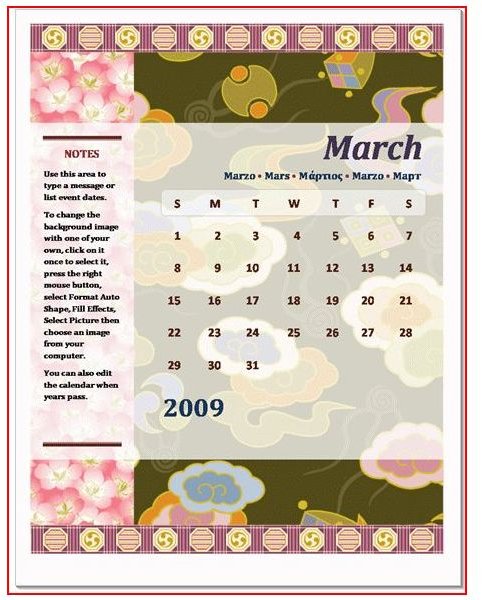 ndars and choose from the current year, academic calendars and more. A gallery of the available templates for that theme will open. Word 2007 users might make their earlier-version counterparts a bit envious with the cool, kitschy calendar themes available. We are digging the new for '09 Asian Patterns and Prints monthly calendar templates as well as the funky, circle design Monthly Calendar Builder. Select the one you that suits your project the best and click Download.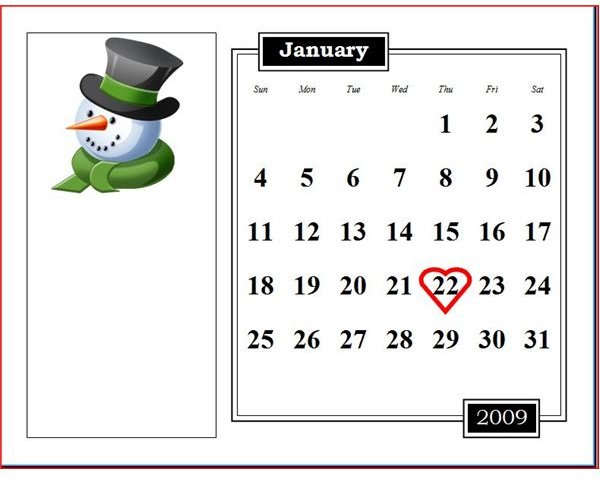 Once you have downloaded your calendar or created it with the wizard, you can make it as custom as you like. Type in special occasions; add all the graphics, shapes and word art you desire (your honey will melt if you fill your anniversary date with a big, red heart!). Finally, when you have it just so, print it and hang it proudly. Who knows? Perhaps next year everyone on your holiday gift list might receive custom-made calendars, made personally by you.
For more tips and tricks, make sure to take a look at Bright Hub's ever-growing collection of Microsoft Word tutorials and user guides. Learn how to make a flyer, read tips on where to find the best Word templates, and more. Don't forget to keep checking back because more are being added all the time.