Windows Vista Hard Drive Scanning - Scan your Hard Drive to find errors and bottlenecks that slow down Windows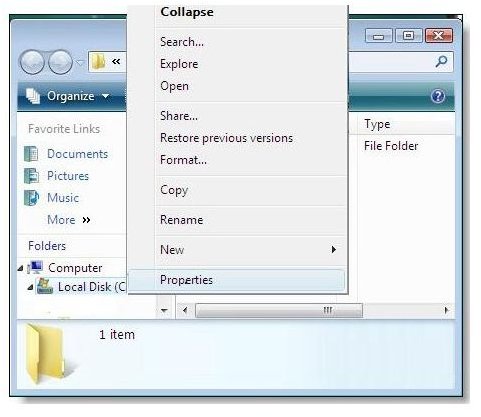 Disk errors are a common factor that can impair your PC's performance and slow it down. Vista comes with a diagnostic tool called Check Disk or Chkdsk (Chkdsk.exe), a free utility that can automatically detect and fix disk errors. It checks disc volumes for errors and attempts to repair them, improving your system's performance in the process.
These errors may manifest as anything from missing files to a "Blue Screen" error state. Running the chkdsk utility performs a basic disc diagnostic test and automatically repairs disk errors that it finds.
Tip #17: Check Your Disk for Errors
Click on the Vista orb to open the Start menu, and then click on Computer.
In the My Computer window, right click on the particular hard drive that you want to check, and select Properties.
Click on the Tools tab in the hard disk properties dialog. In the Error-checking section, click on the Check Now button.
Enter a password or provide confirmation if prompted to. The Check Disk dialog box opens, presenting you with two options

Automatically Fix File System Errors:

By checking this option, Check Disk automatically fixes any problems in your files and folders that it detects, without prompting you first before fixing each one. This option is recommended for beginners. Beginners should mark this; advanced users who are curious about what errors are found should not.

Scan For and Attempt Recovery of Bad Sectors:

By checking this option, Check Disk performs a thorough diagnostic disk check, scanning for both physical and logical errors. It is better suited for advanced users. It is worth keeping in mind that the physical test can take over an hour complete. Since physical disk errors are a much less common occurrence, most users only choose to run this option if a disc read/write error occurs or in intervals of a few months.

Make your selection and then click on Start.
Click Yes if prompted to confirm whether you want to fix an error.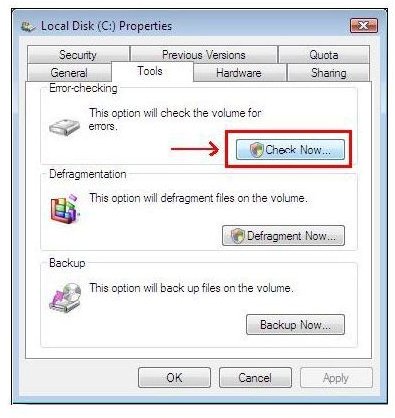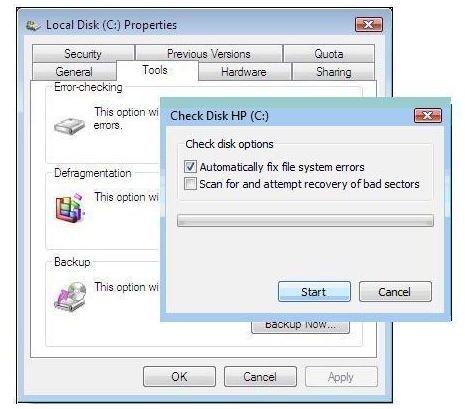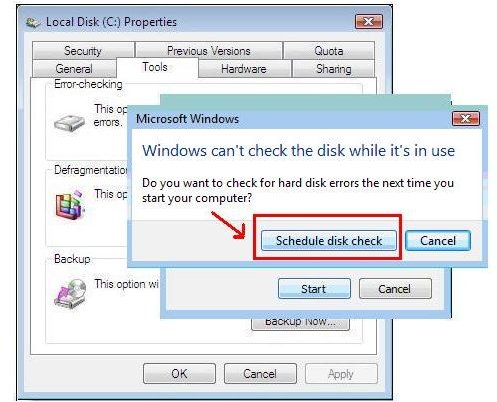 NOTE
If you are running the scan on a disk that is currently in use, and you check the option to Automatically fix file system errors, you will receive a prompt to re-schedule your disk check for when you re-boot your PC. This is because chkdsk needs exclusive access to your hard drive to complete its task.
=» Click on Schedule Disk Check, which will schedule chkdsk to run the next time you boot up your computer, just before Vista loads.
=» When you shut down your PC, instead of re-starting, completely shut it down and then power it up.
Tip # 18: Regularly Update Your Drivers
A device driver is an application designed to enable your software to interact with your hardware components such as your video or sound card. Because Vista is a much newer operating system, there will regularly be a number of driver updates available for your system components. This is because hardware manufacturers and developers are constantly working to improve and optimize their products for use with Windows Vista. The updated drivers will often fix bugs and also boost system performance. It is not uncommon for a simple driver update to resolve some performance issues such as memory leaks.
It is good practice to ensure that you always have the latest drivers installed for your hardware components, particularly for your motherboard, disks, and display cards.
This post is part of the series: 21 Great Ways to Speed Up Vista
Continuing this excellent series, Dianna Monda Dill brings us twenty-one more handy, useful, and well described tips for speeding up Windows Vista.