What Should be Checked in Windows Features on Windows Vista - Disable Non-essential Vista Features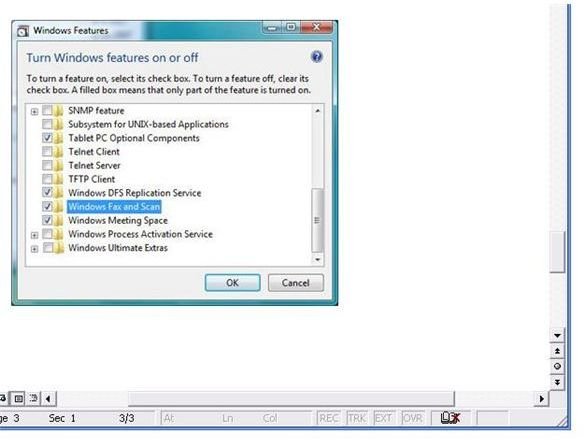 Tip #9 Disable Excess Vista Features
Windows Vista is loaded with special features, many of which it will install by default, even if you do not need them. You can speed up your computer system by turning off those that you don't need.
Unlike other earlier Windows versions, you do not need to uninstall these features, but simply turn them off instead. For this reason, disabling a feature does not uninstall it or decrease the amount of hard space that it takes up on your hard disk. Instead, the feature remains stored on your hard disk, but does not drain system resources.
How to Disable Non-essential Windows Features
Click on the Start button and select Control Panel. Click on Programs and Features.
Click on Turn Windows features on or off. Enter your password or provide confirmation if prompted.
Wait for this window to populate. You will be presented with a list of the features installed on your system.
Clear the check box next to each line item that you want to disable.

If there is no check mark, this means that it is already disabled.
If a box is filled, this means that the feature is only partially turned on
If a feature has a "+" next to it, this indicates that it has sub-folders with additional features. Click on the "+" sign to view the folder's contents.

Keep removing un-needed animations, fades, and other features until you have finely tuned your computer system.
Click the OK button once you are done making your selections.
.
Features That Are Safe to De-select
Indexing Service
Tablet PC Optional Components
Windows DFS Replication Service
Windows Meeting Space (unless you use the Live Meeting Service)
Windows Fax & Scan (unless you use a modem for faxing)
Remote Differential Compression (this is a network optimizer)
TIPS
Hover your mouse over any entry you are not familiar with. A help tool-tip will open, giving you a brief description of the feature.
If a particular folder has a "+" sign next to it, this indicates that it has subfolders with additional features. Double click on the folder to view its contents.
NOTE
Note that when you uncheck features, you're not removing these features from your system; you're simply turning them off so they don't sit in the background eating up resources. You can turn any of them back on by invoking this window and filling the checkboxes
This post is part of the series: 21 Ways to Speed Up Vista
Want to speed up your Vista PC? This series will tell you how - from the basics to more advanced techniques. Soon you'll have your Vista PC humming along in tip-top shape.