Configure Vista Display and Load Vista Visual Styles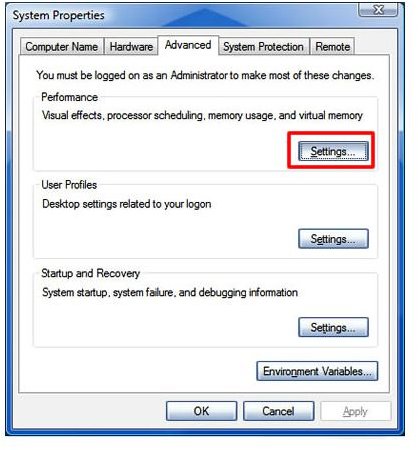 Tip #6 Optimize Vista's Visual Effects
Windows Vista demands significantly greater system resources, which derive largely from its new, advanced, high-resolution graphics. Vista comes loaded with lots of eye candy in the form of visual effects that make for a very attractive interface. However, these features can be a huge drain on system resources.
Adjusting visual effects to boost performance generally calls for a sacrifice of speed for style. If you have a powerful computer, this trade off may not be necessary, but for older PCs, this can significantly improve system performance. Read on to learn how…
Right-click on the My Computer icon on your desktop. Choose Properties from the drop-down menu.
Locate the Advanced System Settings link in left-hand pane and click on it. This will open the System Properties dialogue box.
Click on the Settings button in the Performance section, and then click on the Visual Effects tab.
Click on your preferences and then click the OK button.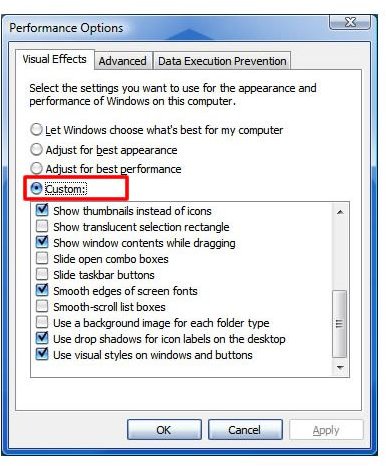 You will now be presented with four options for optimizing the appearance and performance on your system. Basically, you can let Windows determine which visual effects to switch off, or you may choose these individually:
Let Windows choose what's best for my computer
Let Windows select the optimal settings for your computer, for both appearance and performance.
Adjust for best appearance
Optimizes the visual effects and graphic interface, although it will affect performance.
Adjust for best performance
Provides the most significant performance gains, although you will partially lose the benefits of Vista's snazzy interface.
Custom
Allows you to customize the settings for both appearance and performance by making individual selections.
.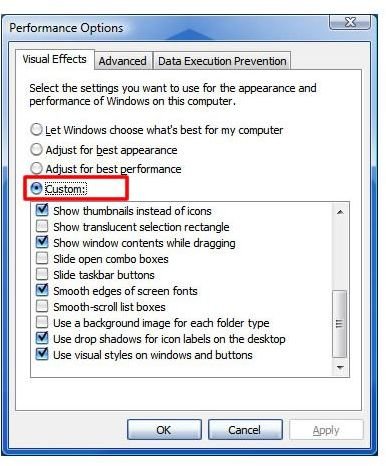 Tip #7: Disable Individual Visual Effects
You can make individual selections to suit your personal preferences by selecting Custom in the Performance Options dialog window. To turn off the options that you do not need, simply un-check each one in the visual effects menu. There are twenty visual effects that Vista lets you control. A few of them are listed below:
Show thumbnails instead of icons

Option to show thumbnails in Explorer

Show window contents while dragging

Option to show content when you click and drag items

Enable desktop composition

Option to use the Windows Aero theme

Enable transparent glass

Option to use transparency in Windows

Show preview and filters in folder

Option to use the Details Pane in Explorer

Smooth edges of screen fonts

Option to show smooth fonts

Use drop shadows for icon labels on the desktop

Option to show shadows under desktop icon labels

Use visual styles on windows and buttons

Option to use Windows Aero or Basic theme
Note: By turning off certain visual effects, you will also disable Aero Glass effects
Tip #8 Disable Vista's Min-max Animations
Some people love Vista's animation for minimizing and maximizing windows. However, it does take up system resources and it can get a bit irritating. You can disable this function by following the steps below:
Right click on Computer and then select Properties.
Click on Advanced System Settings. This opens the UAC prompt opens. Click on Continue.
Click on the Settings under the Performance section
Select the Visual Effects tab.
Uncheck the check-box labeled: Animate Windows when Minimizing and Maximizing
Click OK. And you are done!
This post is part of the series: 21 Ways to Speed Up Vista
Want to speed up your Vista PC? This series will tell you how - from the basics to more advanced techniques. Soon you'll have your Vista PC humming along in tip-top shape.