Desktop Performance for Windows Aero Lowered? Turn Windows Aero on and still Optimize Vista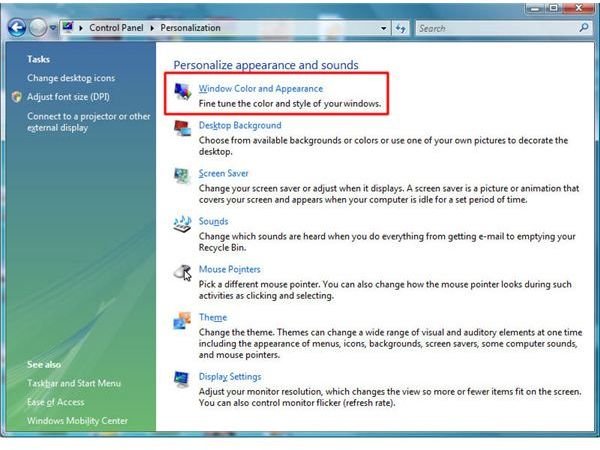 Optimizing Aero
With its pretty, polished transparencies and its nifty animations, Windows Aero is a pleasure to behold. It is also designed to deliver an enhanced user experience by making it easier to visualize, organize and work with your information. However, this hardware-based GUI is also a hungry, demanding resource-guzzler. With every additional window that you open, more system resources are taken up because each window must be rendered to Aero's current settings.
Disabling some or all of the Aero's nifty features, or changing to a less demanding non-Aero theme will boost performance and speed up your system. The difference is especially critical for PC's that are at or just above the minimum system requirements for running Vista. Read on to learn how.
NOTE: The Windows Aero User Interface is only available on PC's that have a compatible graphics card and that run the Home Premium, Business, Ultimate, or Enterprise editions of Windows Vista.
Tip #3 Disable Aero Transparency in Windows Vista
Vista's Aero glass interface, with its transparent glass effect is one of the eye-candy features that come with Vista. This feature hogs system resources, slowing down your system. What's more, unless you have a powerful video card, it won't work or will severely impact performance. Disabling this feature will speed up your PC, while letting you enjoy still enjoy the benefits of Windows Aero like taskbar thumbnails and Flip 3D.
Here's how to do it:
Right-click on your desktop, and then select Personalize from the drop-down menu.
Click on Windows Color and Appearance.
Un-check the option: Enable Transparency
Click the OK button.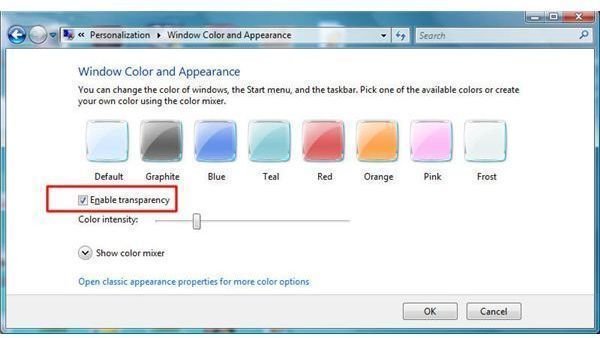 Tip #4 Disable the Aero Theme
Windows Vista takes up a significant amount of your system resources to support its attractive visual effects. You can speed up your system by disabling the Aero-theme entirely, which will significantly reduce the GUI's use of system resources. Instead, choose a less demanding, non-Aero theme such as the Windows Vista Basic, Windows Classic, or Windows Standard theme. While Vista won't be quite as pretty, your system will be far more efficient and responsive. Follow the steps below to disable Windows Aero:
Right-click on your desktop. Select Personalize from the drop-down menu
Click on Windows Color and Appearance. Click on Open Classic Appearance Properties…
Choose a theme from the list in the Color Scheme box
Click the OK button.
TIP: Experiment with different themes to get the best balance of appearance and performance.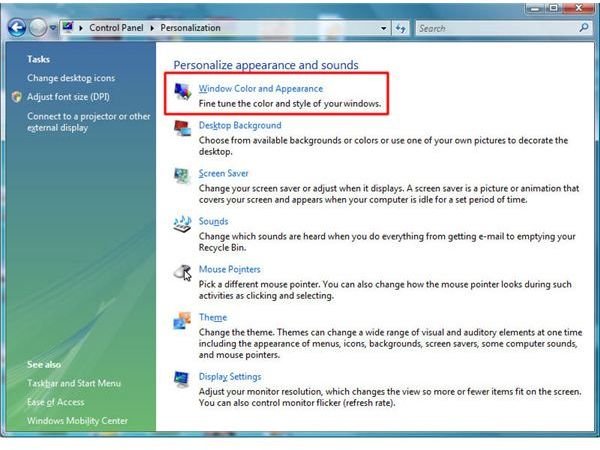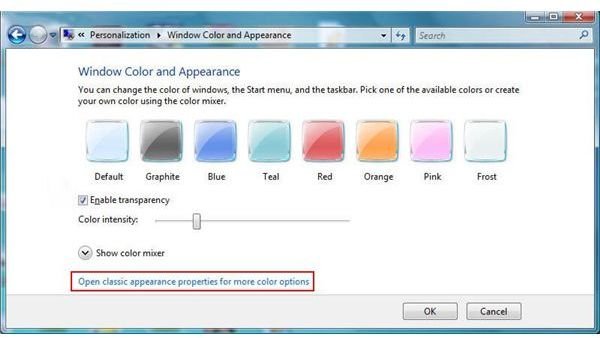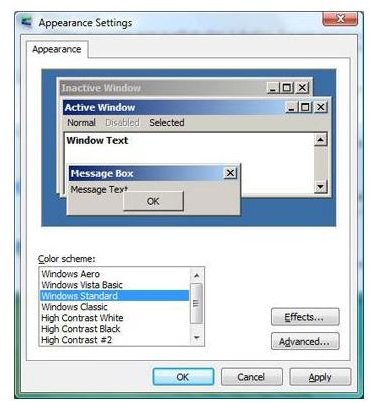 QUICK TIP: You can adjust the intensity of your Vista color theme by adjusting the Color Intensity slider to your desired level.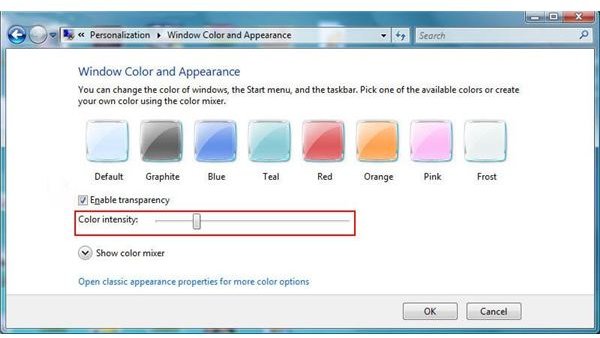 Tip #5 Disable the Desktop Window Manager
The Desktop Window Manager Session Manager is a service that has overall responsibility for Vista's Aero themes, with its transparency effects, Flip 3D and other graphic effects. It consistently consumes a large chunk of RAM and CPU power, which increases with each additional window that you open. If you do not need any of these functions or simply want to conserve system resources, you should disable this service. Keep in mind that by doing so, you will revert back to Vista's Basic GUI and lose a lot of Vista's prettiness and functionality.
Click on the Vista Orb to open the Start menu.
Type: Services.msc into the Start Search box. Provide a password or confirmation if prompted.
Scroll down to locate the entry labeled: Desktop Window Manager Session Manager
Right click on this entry and then click on Stop in the drop-down menu
Right click once again on the service and select Properties.
Select the Startup Type as Disabled
Click OK and close the dialog window
This post is part of the series: 21 Ways to Speed Up Vista
Want to speed up your Vista PC? This series will tell you how - from the basics to more advanced techniques. Soon you'll have your Vista PC humming along in tip-top shape.