A Complete Guide to MS WORD 2003: File Menu – Permissions and Versions - by John Sinitsky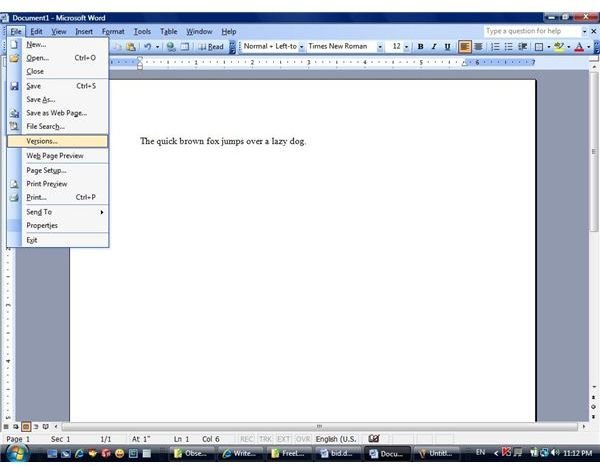 Introduction
Microsoft Word, being a part of MS Office, has undergone several changes throughout the years. Yet, until the recently released 2007 version, this popular text-editing program has looked pretty much the same to the common user. As a result, many people are not aware of the numerous options that have been added to Word 2003 version. This article will introduce you to version management – a very powerful tool for keeping track of document "life cycle" and will show you how to "lock" the document for editing.
As mentioned, there are several saving options in Microsoft Word 2003 and the "Permission" portion of the File Menu in MS Word 2003 consists of:
Permissions sub-menu
Versions
Permissions
The permission sub-menu (which can be accessed also via Alt-F – M) has 3 choices:
Unrestricted access
Do not distribute
Restrict permission as
The first option is the most common one. The document is open for editing and can be accessed by anyone. If you want to lock it, you have to use one of the other options. Prior to that, you must have IRM (Information Rights Manager) installed. The IRM itself is a part of WRM (Windows Rights Manager client). This feature is available to download via the Microsoft web site.
Once you install the client you can prevent other users from editing, emailing of even viewing the document. This is very useful if you have a local network drive, which is accessible to other employees in your company.
Versions
Managing versions is a superb feature, which most users are not aware of. How many times did you save your documents under different names (mydoc.doc, mydoc-1.doc, mydoc-final.doc, etc)? I bet there were times you have ended up with a separate folder to keep all of your file editions.
All the above can be avoided if you would have been taking advantage of the Word 2003 version manager. To those of you who are familiar with the PLM (Product Life Management) programs, the concept of "multiple version" should be familiar and, I hope, a matter of everyday application. But Word has a little PLM inside already! Either you go to Menu-File-Version or press Alt-F – R on your keyboard, and you can get inside the version manager.
In this small window, you can save your document's current state ("Save now…") with certain comments about this version. The document, as it was in the time of your saving, will be stored and you can revert to it later (by going into "Version Manager", picking the desired version, and clicking "Open" in the form). This is very useful if you are unsure of formatting or content and want to be able to "take back" several actions. Remember, you can have as many "versions" of your document as you want – switching between them with just a few mouse clicks. It is also useful when submitting your documents for a review (which sometimes can take several back-and-forth batches) to keep track of every iteration for future reference.
Note that you can automatically save a version of your document each time that you close it.
Versions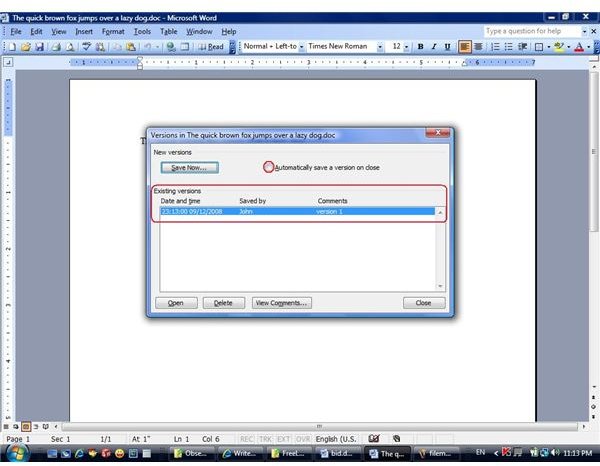 This post is part of the series: Microsoft Word 2003 guide - are you sure you know all about File Menu?
Microsoft Word is a very strong text-editing tool that has enormous number of options If we examine program menus step-by-step we can get the best of our Word 2003 experience. This series goes "deep" into File Menu and is going to give even advanced user many useful tips about MS Word 2003.