Bright Hub Review of Tunebite Platinum 6.0 - Bypass DRM In Your iTunes and Windows Media Content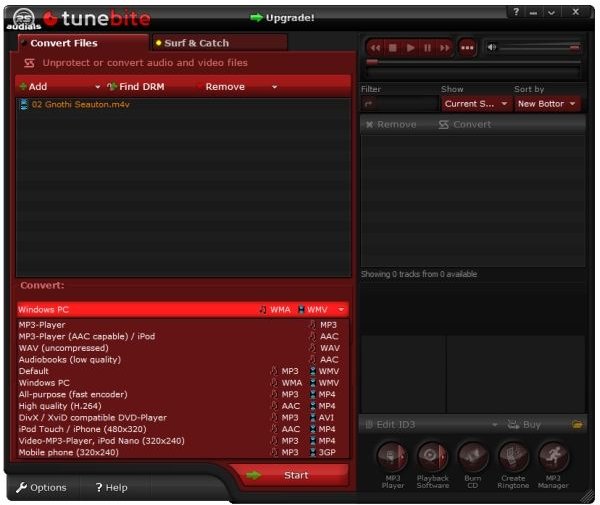 Introduction
Tunebite Platinum 6.0 by RapidSolution Software, AG is a Windows application that fills many roles. It's an audio and media converter, ringtone maker, MP3 manager and player, web media retriever, and Windows DRM copy protection by-passer. It's all about taking purchased and downloaded video and audio in the formats that you have now and converting them to some other useful format.
Perhaps you have a .wmv video file that you've found on the net that plays on your PC at VGA resolution (640 x 480), but you want to take it with you and play it on your iPod Nano. You need it in 340 x 240 resolution in .mp4 format. Tunebite can do that.
Or maybe you have an iTunes TV show or movie that you've purchased and you want to view it on your Windows Mobile Smartphone. Tunebite can do that, too. In the image below, I've drag n' dropped a TV show from my iTunes library on the hard drive into the "Add" windows of Tunebite. Look at the variety of formats it can convert the TV show to.
Say you've followed a link to a video at YouTube. Because of the Tunebite plug-in in Firefox, Tunebite knows about that video. When you start Tunebite again and click on "Surf and Catch," you'll see the video listed with an offer to download it and convert it to another format if you wish. It also can retrieve videos from some naughty sites. In the image below, I've used the "Parental Control" feature to hide that section.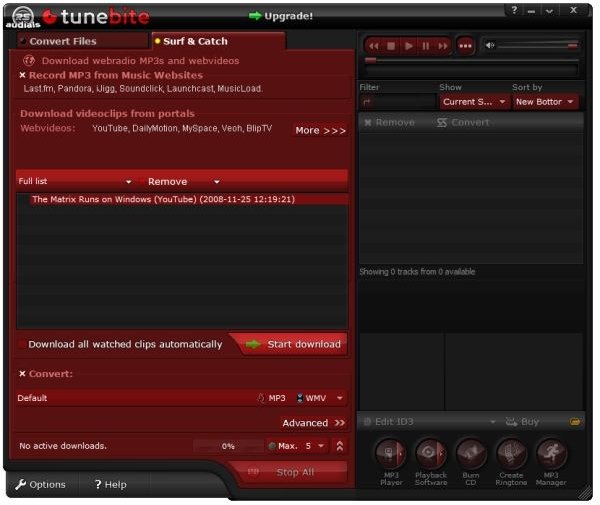 Please note that Tunebite does not remove DRM or copy protection from files. Circumventing copy protection is illegal. In order to use Tunebite to save your files in other formats to play on other devices you own, you must own the license to the copy protected content and you must have a player on the PC that can play the licensed content. Tunebite works by re-recording. It's like making a back-up copy, or maybe more like recording a song from the radio using a cassette recorder's microphone, except that it's all done digitally on your PC. Since Tunebite does not alter the DRM of the original file, its use is legal under the theory of fair use. (This applies to personal, home, non-commercial use only, and it in no way abridges the rights of copyright holders.)
With that out of the way, in this review, we'll look at each of the major program functions and touch on some features that were included in version 6.0 that haven't made it into the Help file yet.
Installation and First Run (5 out of 5)
Tunebite 6.0 downloads as a 27.7 MB executable file. Installation was straight-forward and trouble-free. This image is the first install screen.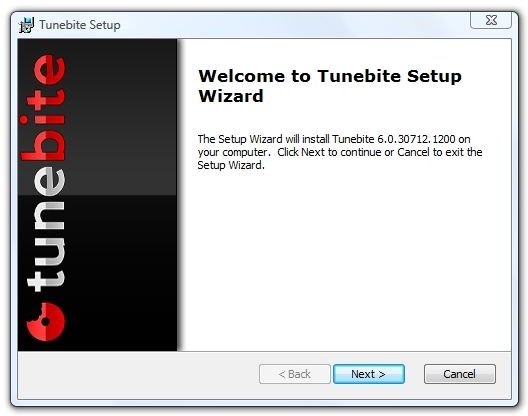 This image is from the license screen. To a non-European, it a bit surprising to see a warranty, but Tunebite warrants for a period of ninety days that the program "will perform substantially in accordance with the documentation."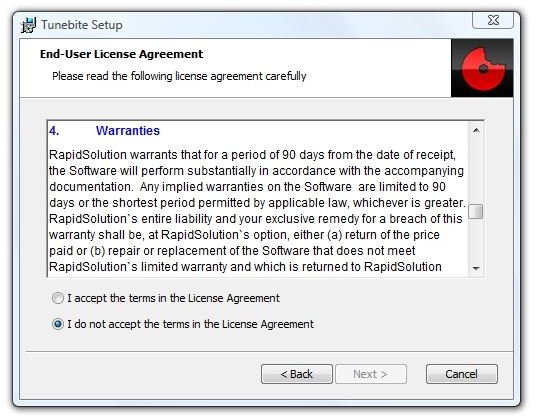 And this is the rest of the installation.
Images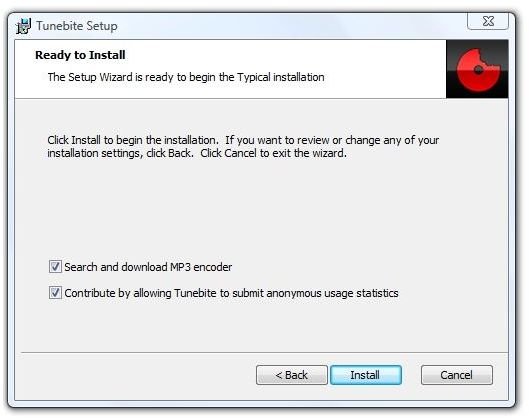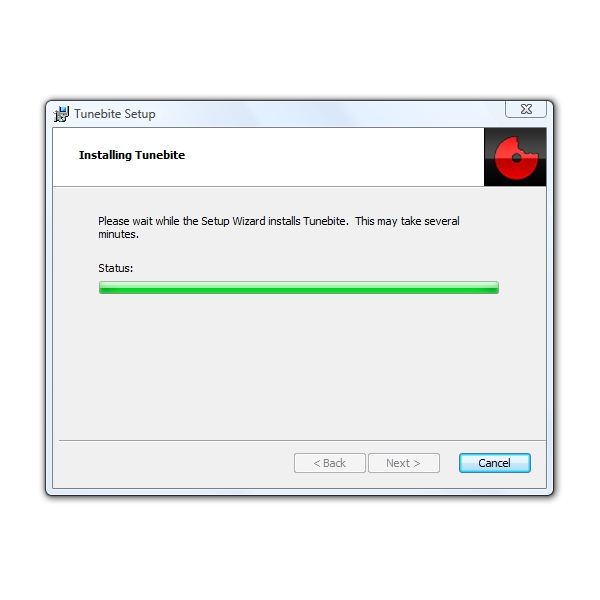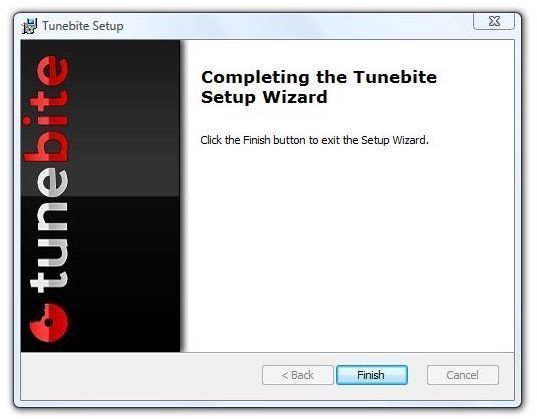 At first run, Tunebite displays a splash screen and then goes directly to a registration screen. If you want to start your trial of the software, click the "Demo" button.
Images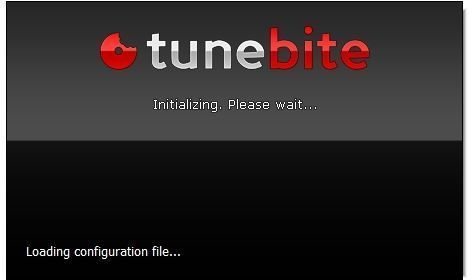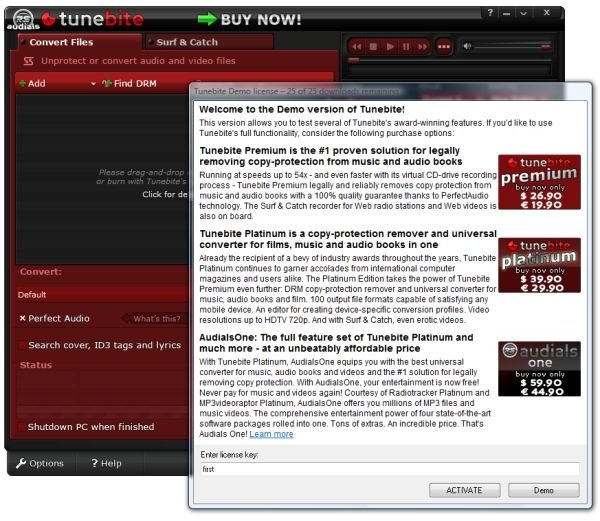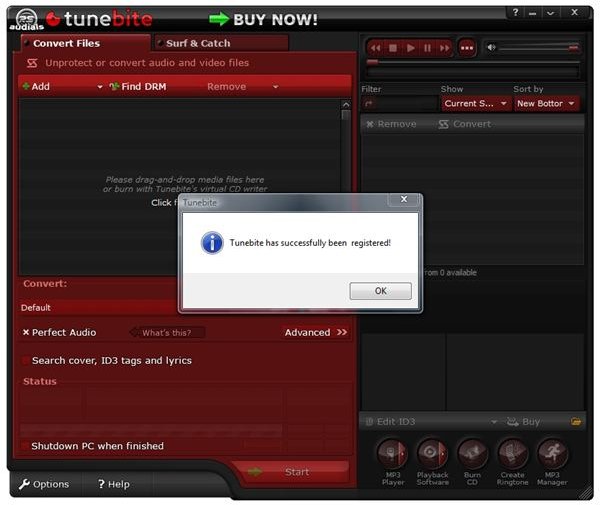 Program Setup (5 out of 5)
Although Tunebite is designed to work fine at default settings for most users and tasks, let's take a closer look at the program options.
General Options
Here you can set the default sound card, select whether Tunebite should start with Windows, and view your license number. Under "Processing Order" you can select whether you want Tunebite to process the listed items in order or let it decide on the order. This is a bit mysterious, but it says that the second option is faster.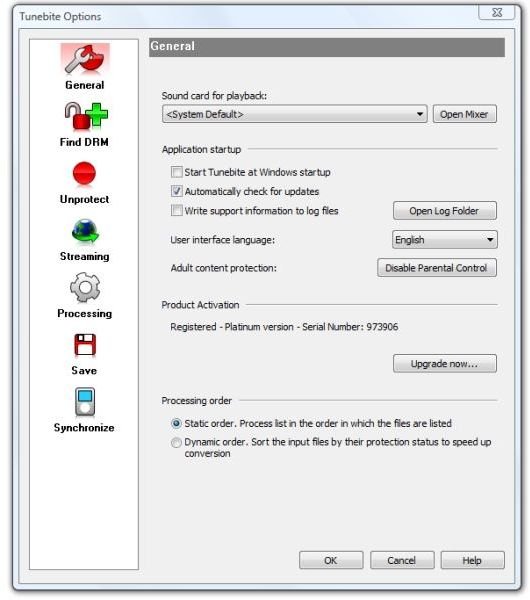 Find DRM
Here you can point to the location of your music. They suggest "My Music" in Windows XP or "Music" in Vista. Basically, this is telling Tunebite where to find your copy-protected files.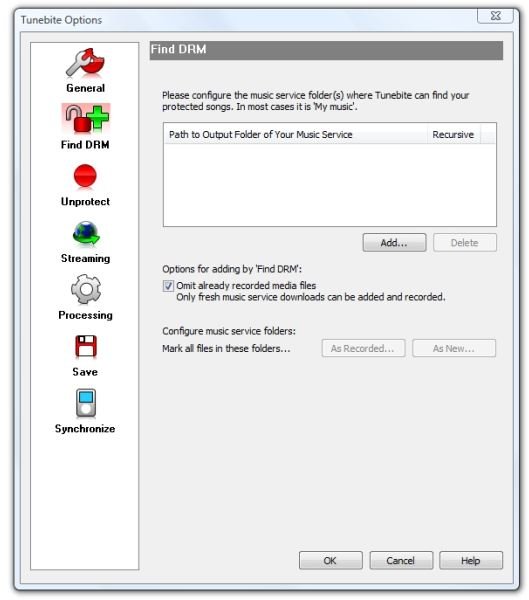 Unprotect
If you are experiencing poor performance and high CPU utilization when Tunebite is processing many files, you can reduce the number of "recording slots" and then gradually increase them to see what the effective level is on your PC. These could also be referred to as "re-recording slots," and it really means how many files Tunebite will try to process, or dub, simultaneously.
Although there are several options on this page, my suggestion is that you click "HSD Detection" and let it set up your number of slots and dubbing speeds for you. This worked fine on my year-old test PC, and it enabled all the slots.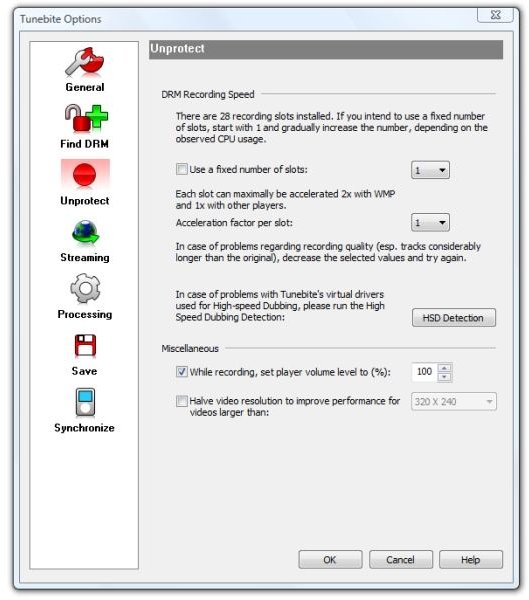 Streaming
Using the Internet Explorer settings for a Proxy Server is an easy solution. I selected "Direct internet connection" as I have a DSL connection.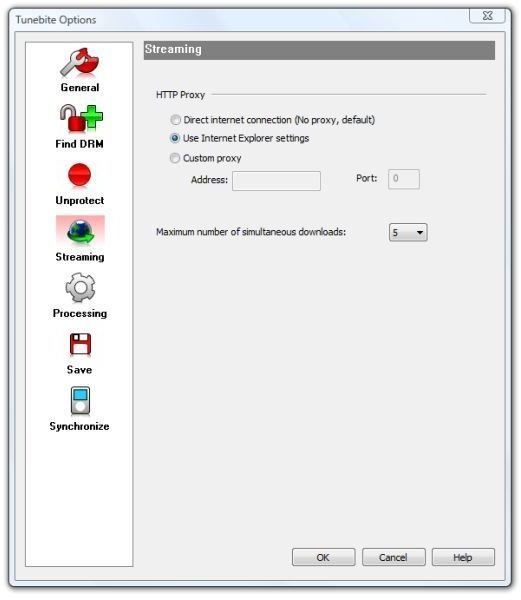 Processing
Here you can view and change your audio and video profiles, but for beginners, it's safe to leave them at defaults. You can also specify if you want to be offered ID3 tag entry or editing after processing for "Convert Files" and "Surf 'n Catch." Normalization smoothes out volume changes and can prevent the annoying effect of having to reset the volume when a new song comes on an MP3 player.
You can also select what it does with duplicate tracks – keep everything, keep the latest, or keep everything that is different.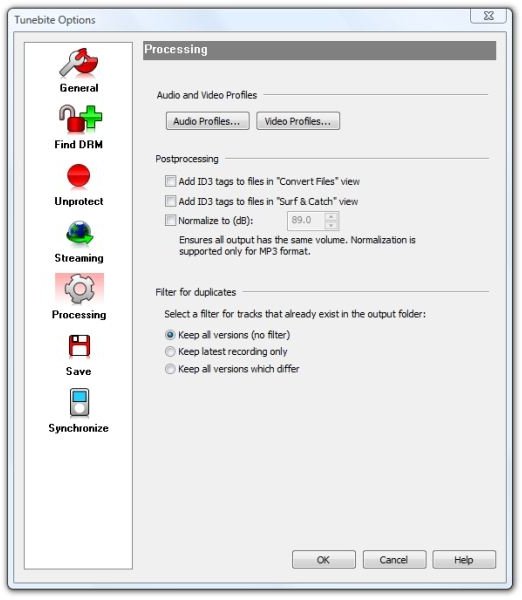 Save
This is where you can specify where you'd like outputted files to go, and whether you'd like the directory structure to be determined by artist, artists then albums, or saved where the original file came from.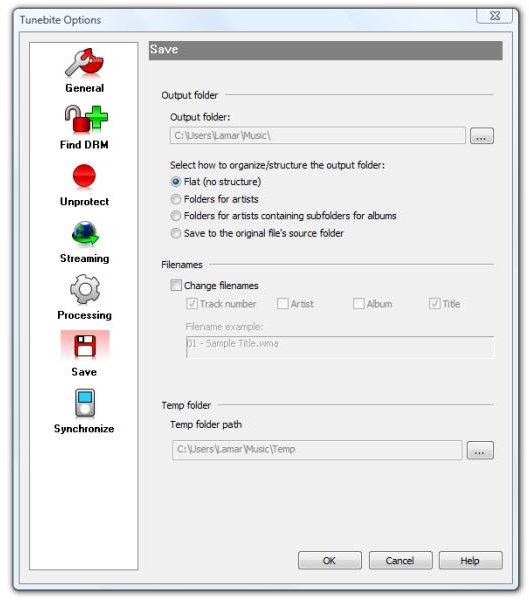 Synchronize
I do not have a portable device to use to check the synchronization feature, but I can tell you neither Palm OS nor Windows Mobile devices are recognized. Of course, there are other ways to get music aboard these devices, and Tunebite makes it easy to make an iTunes library compatible with them.
To try out your MP3 player to see if it is compatible, connect it to your system and click the "Refresh" button.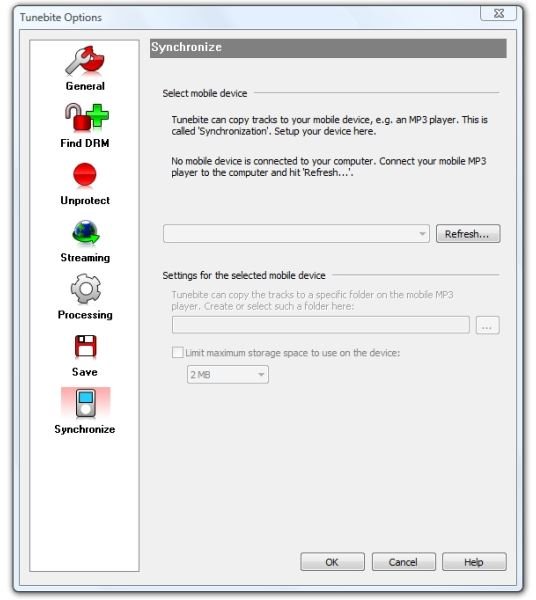 Next: Converting iTunes Music and Video, Converting Protected Windows Media Content, and Capturing Online Media
Converting iTunes Music (5 out of 5)
This will be a major use of Tunebite for me. Of course, there are other ways to convert protected iTunes music to MP3, such as re-recording tracks in real time with Audiology or Total Recorder, but the sheer convenience of being able to drag 'n drop selected tracks - an album at a time - directly from iTunes to Tunebite is something I'll enjoy.
iTunes to MP3 Standard Conversion
In the image below, I've dragged a track from iTunes into Tunebite and selected MP3 as the output format. The track was 3 min. 48 sec., and Tunebite took about 37 sec. to convert it. When I clicked Start, it informed me that it needed to download a codec from the Internet and that I would not be charged for it.
Interestingly, it also told me that the operation was time-critical and that I shouldn't use other applications while the conversion was running. That's not going to happen on this PC.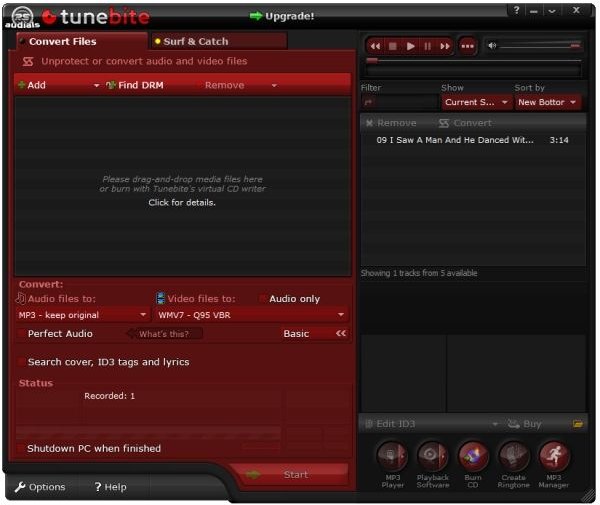 iTunes to MP3 Perfect Audio
Perfect Audio is a new feature in Tunebite 6.0. It works by running two copies of the recording simultaneously. Then it watches the output of each to ensure that they are equivalent. For this test, I did allow my computer to be otherwise idle.
Here I've dragged a protected track from iTunes into Tunebite, clicked the Perfect Audio checkbox, and clicked Start. It's still fast, at least when doing the tracks one-by-one. I did not find that using Perfect Audio slowed the process down appreciably, and will experiment with this setting further. I did find some folks at the Tunebite forum that were not happy with the performance of Perfect Audio.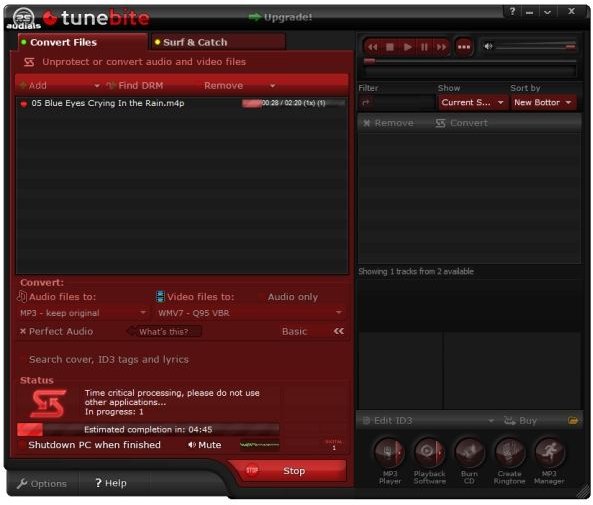 Converting Protected Video (5 out of 5)
We tried converting iTunes protected content (a TV episode) and a protected WMV movie. There were a few one-time setup steps with iTunes, and we found that video and audio lost synchronization during playback, but were fine at subsequent playback of the recording.
Converting Protected iTunes Video
Another iTunes-related feature of Tunebite is that it can capture and convert purchased TV episodes and movies, again to a wide variety of file formats and screen resolutions. Want to watch an iTunes movie or TV show on your Palm OS or Windows Mobile device? Tunebite makes it easy (but there is some setup involved).
In the image below, we have dragged an iTunes TV episode and dropped it in Tunebite. We selected a WMV output format (Windows Media 7 VBR, or variable bit rate). Upon clicking start, this dialog appeared. It had some specific requirements to make iTunes compatible. One was to disable cross-fade playback in order "to prevent the beginning and end of songs from being cut off." Another was setting video to play in a separate window rather than inside the main iTunes window. The final step was to ensure that artwork was hidden. The dialog said that this would "help Tunebite to capture the correct window where the video is being played."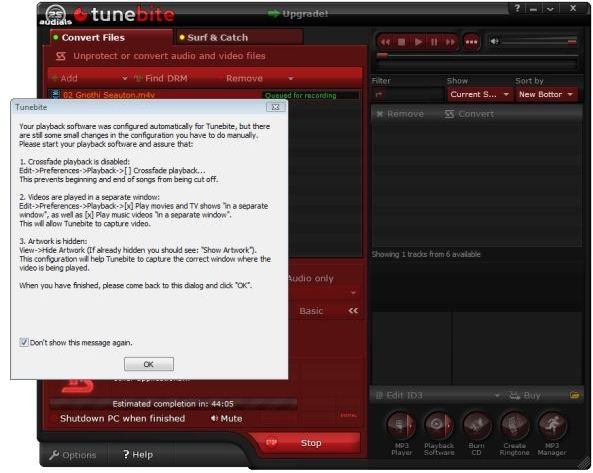 After making the changes in iTunes and clicking OK in the dialog, the recording started, and iTunes promptly crashed. This created an error in Tunebite, and I decided to reboot the PC.
At restart, the TV episode was gone from Tunebite, so I dragged it in again. This time all went well. A few seconds after clicking "Start," the iTunes player, in a separate window, appeared, and the recording started.
In the image below, you can see a horizontal line in the middle of the screen. That means that Tunebite is recording.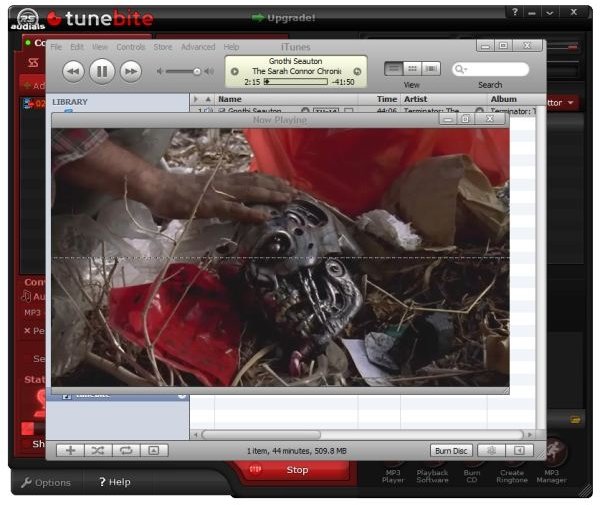 So my suggestion is that after you modify the settings in iTunes, exit iTunes before proceeding.
Converting Protected WMV Video
After scouring my PC and laptop looking for an example of a protected WMV-format movie, I discovered that I didn't have one. Therefore, I bought a movie on the Internet with all the dreadful DRM – and even an undesired update to .net (dot net) 3.5. After grabbing the movie, I deleted the .net update and used Revo Uninstaller to root out any files, folders, or registry settings this invasive and unwanted movie player left behind.
This took over an hour to sort out, and deleting the unwanted player also deleted the movie. Hey, didn't I pay for that movie? Boy, if I hadn't already made a copy of it, I'd be perturbed. It also demonstrates the craziness of the implementation of DRM in Windows Vista. The copied file opened fine in Windows Media Player, DRM and all, which proved that I did have a valid license to the content.
So it was the copied file that I actually provided to Tunebite. It was very similar to copying the iTunes video, except Tunebite started Windows Media Player instead. Again I saw the sound and video lose synchronization during recording, but at playback the recorded file played perfectly.
I did allow it to have the PC during this recording. I turned off Skype and Windows Live Messenger, exited Outlook, and calmed my PC as much as I could. CPU utilization never went above 65%, so maybe this was being too cautious. All I can say is that I was well-pleased with the end result.
Capturing Online Video (5 out of 5)
Surf 'n Catch is a feature that allows Tunebite to capture and save videos from websites like YouTube, Veoh, Daily Motion, and MySpace. There are also some adult websites with which Tunebite works. For purposes of this review, we've disabled this feature in Settings, General tab, Adult Content Protection: Enable Parental Control.
Notably absent from the list are the network TV streaming websites and video from Move Networks, Inc. (ABC.com and Hulu).
Capturing from YouTube
When we installed Tunebite, it installed a Firefox plugin. We didn't know this until we restarted Firefox and saw it in the add-in list. In the image below, you can see where it captured the address and label of a YouTube video that we watched that day.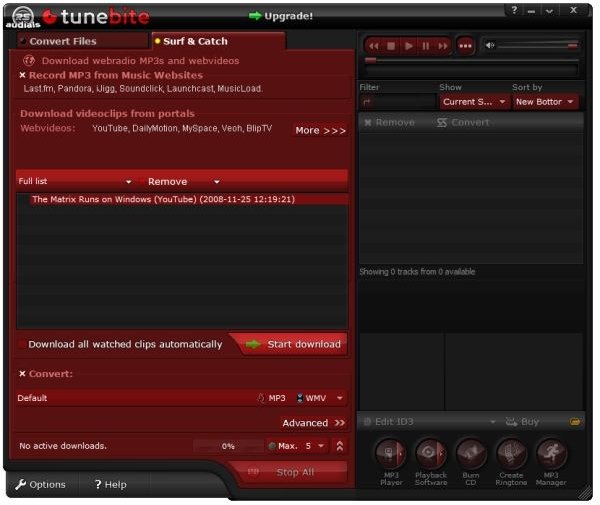 After highlighting the name of the video and clicking "Start Download," Tunebite took about a minute to download the video and then about ten seconds to convert it. In the image below, I have the resulting .wmv file playing in GOM Player.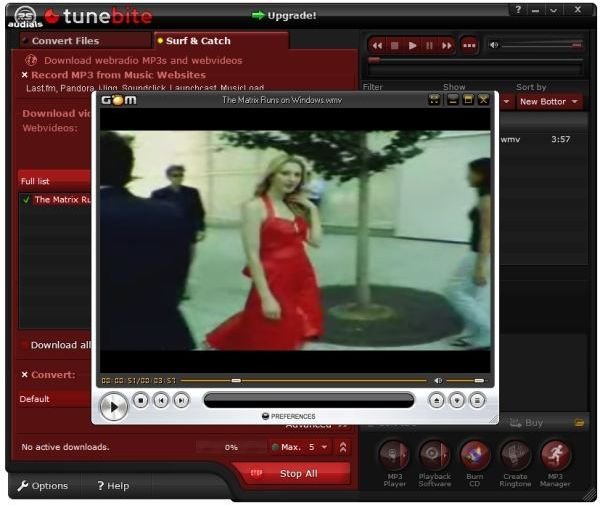 Next: Ringtone Creation, Documentation and Support, and Conclusion
Ringtone Creation (4 out of 5)
Tunebite did not get an excellent rating in this section because we thought the process was a little too complicated, non-intuitive, and not explained in the Help manual at all. There are better, simpler, free ways to create ringtones from music you already own for Windows Mobile and Palm OS devices from any playback source and even for iPhones from iTunes.
But let's step through the process in Tunebite.
For ringtone creation to work, you need to have a compatible music file showing in the right-hand pane. If you want to create the ringtone from music that you've previously converted, click on "Show" and select an option. Here we're showing the last ten.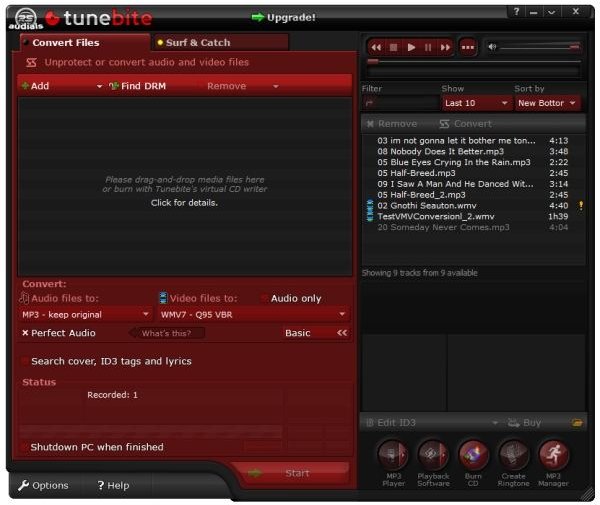 Select (click) the track from which you want to obtain the ringtone. Then click the "Create Ringtone" button at bottom-right. After some processing, a waveform editor will appear. The idea is to drag the white area to the section of the track that you want to use. Click "Test" to sample the section, and when you're happy with what you've selected, click "Continue to step 3." Tunebite will then "beam" the ringtone somewhere. (Yes, it's that vague.)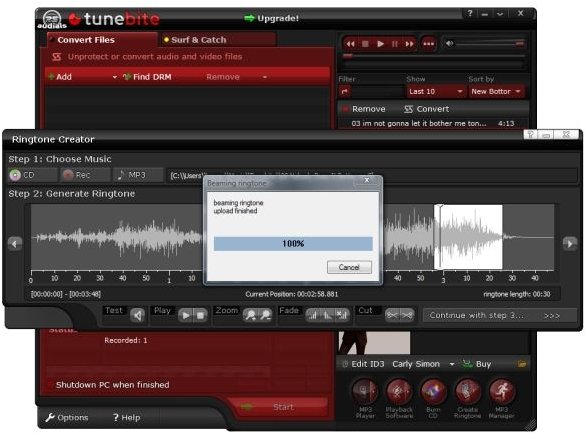 Step 3 is "Choose Format." You have your choice of MP3, AMR, and MMF, and the dialog offers a little advice about each. We selected MP3 and clicked "Continue to step 4."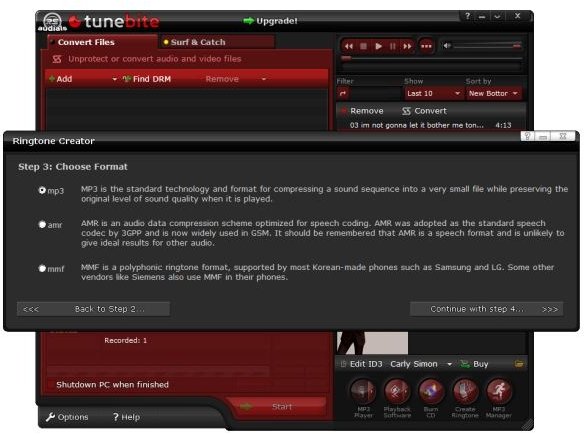 Step 4 is "Choose Delivery Method." The choices are "Download" and "WAP." The dialog advised that with "RingHero 2.0 you can save ringtones on your computer and transfer them to your mobile phone using a data cable." RingHero is another application by RapidSolution Software, AG that is bundled with Tunebite.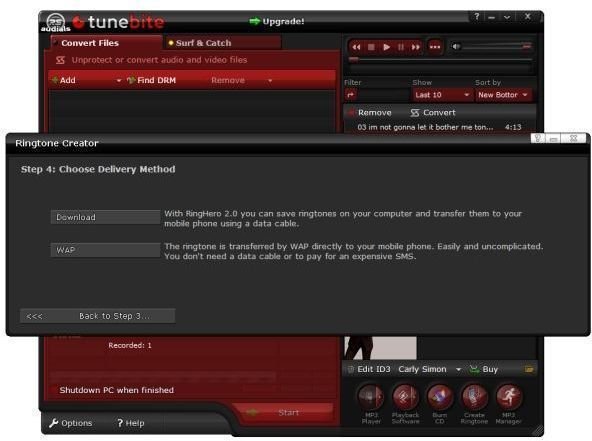 And the last step is to click on "Download" and select your destination directory.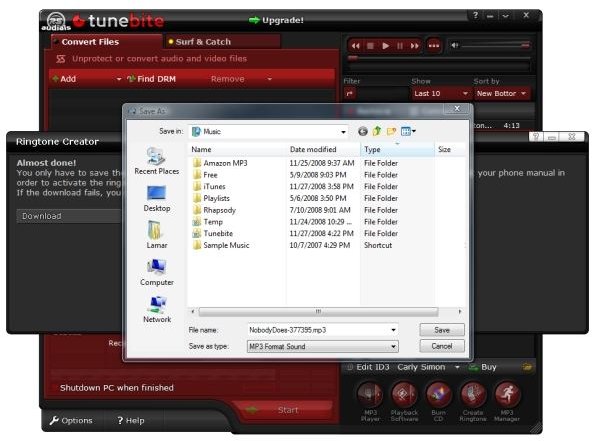 Documentation and Support (3 out of 5)
Simply stated, the Help file included with the program was inadequate. It had obviously not been updated to the current feature set, nor did it offer any tutorials or detailed step-throughs. In fact, because the documentation is so bad, we've tried to include sufficient detail in this review to help new users find and enjoy the major program features.
Surprisingly in such a capable program, the Help file itself is not well constructed, either. In the image below, the Help file is shown with all the pages expanded. Notice that section 2, the Quickstart Guide, has four pages under it. The selected page, however, is 3. Options. As shown, it has four more subjects linked from the page, but they are not shown as links in the contents.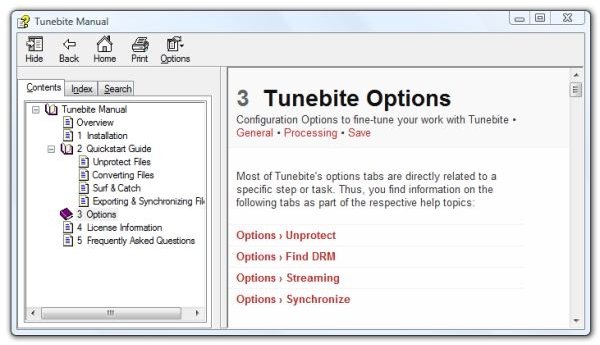 Here's another page. The first image contains a link that states "Make sure to store your license information." The second image shows what you get if you click that link.
Images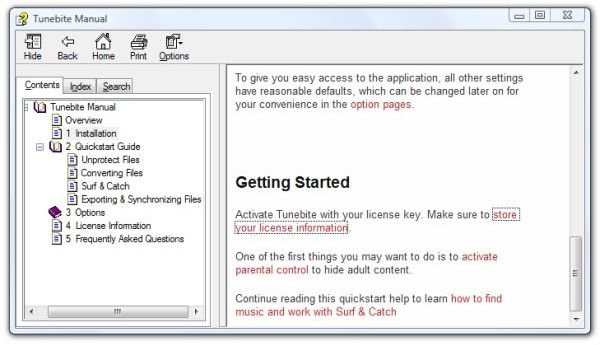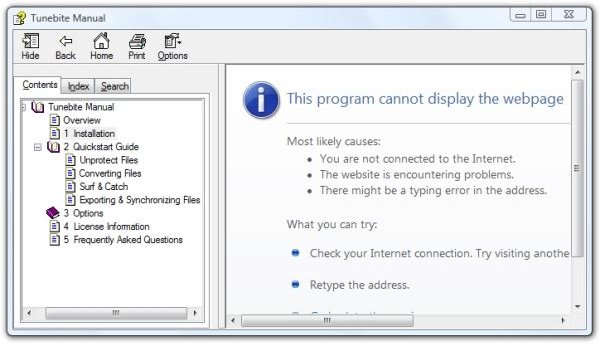 Did we mention that Tunebite has a pretty decent built-in video player? It starts when you select a video in the right-hand pane and then choose Play. It's not mentioned in the Help file at all! Neither is how to create ringtones.
Tunebite Online Help
What Tunebite does do pretty well with, however, is online instruction. If you'll start here, you'll find a Tunebite "Trailer" that we hope this review has well-prepared you to watch. Although this information really should have made the Help file, we liked this video so much that we added back a point to this section.
Tunebite Forum
If you want to see a software company's dirty underwear, go to the user forum. Folks hardly ever write in to express how pleased they are with their purchase. Having been on both ends of this equation – both as the user with a problem and the tech support guy with all the users' problems – I can say that one should take what one finds on the forums with a grain of salt. If your particular problem precisely matches a problem in a thread that has a lot of replies and reads, something is likely to get solved if the company cares at all. If there are a lot of questions that nobody, tech support or other users, wants to answer, be wary.
We spent several hours reading the Tunebite forum, and it's the usual mix. Some folks have unique problems that are slowly and painfully addressed, and some folks have top forty problems that are easy to deal with.
One common aspect that we noticed is that the first question asked after a performance issue is stated is, "What CPU do you have?"
This is understandable. Video capture and transcoding are very CPU-intensive processes. Trying to save to DVD-standard quality, especially if the video is already somewhat near there, is not easy. If the PC is not of the latest generation, often trying a lesser quality or size is the cure.
We did not sample tech support directly. Having been there, done that, I don't feel it's fair to write and ask, "How fast do you answer?"
We did find about an equal number in the forum fussing about tech support and saying that tech support fixed their problem. Some of them were very interesting. One user said that turning off his Windows task-bar solved his video recording problem.
Conclusion
So there's the Tunebite Review. Should you shake loose $39.90 to purchase this software? If you have licensed content in the form of iTunes music or video or DRM-protected Windows Media formats that you wish to use on different devices like handhelds, cell phones, or your home network, probably so. Tunebite puts all the needed tools conveniently together in one blatantly red and black interface.
It supports a wide range of resolutions and file formats, so it's easy to pick the correct output size for devices like Windows Mobile phones and PDAs, as well as Palm OS Treos and MP3 players and the odd screen sizes found on netbooks.
Again, Tunebite does not remove DRM or copy protection. It does not alter in any way the licensed content that you already own. This is possibly what allows them to remain in business in this era when the concept of fair use is so embattled and threatened. Tunebite does not strip DRM. Instead, it lets us use the protected content we've purchased in the ways that WE wish to - not the ways moldy old big content THINKS we should.
Tunebite Platinum - $39.90