Best Windows Mobile Multimedia and Information Management Software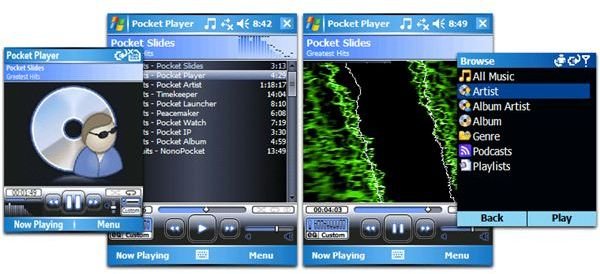 In the previous article we looked at the best Windows Mobile Communications software, such as Skype, mobile call filtering and contact management. Now lets take a look at some of the best Windows Mobile Multimedia and Information Management software. Offering a considerable enhancement to your mobile's potential uses such applications deliver mobile audio and video streaming, mobile system management and secure financial data, all at your fingertips. These are hugely beneficial to the mobile user market. What is more with intuitive end user navigation, clean interfacing and mass storage potential these Windows Mobile Multimedia applications and Information Management software packages make life for the mobile user so much easier and more secure.
Multimedia
Pocket Player - FREE
An audio player application that supports MP3, WMA, WAV, OGG files and streaming protocols such as HTML. Customizable features such as gapless playback, fading, equalizer and presets. Extensive support for Windows Networks and Shoutcast.
VITO SoundExplorer - $24.95
This MP3 and WAV audio player / recorder offers CD quality, voice activation, scheduling and support for a range of protocols – MP3, WAV, WMA, OGG. Other impressive features include dynamic noise filtering, voice lock, intuitive playback modes and user play lists.
Resco Pocket Radio - $19.95
Seamless radio tuner and streaming application for the mobile platform. Quality playback of broadcasts in various formats – MP3, OGG, AAC, AAC+. Huge list of radio stations and genre's to pick from. The GUI is configurable via skins and themes, and you can import / schedule recordings.
The Core Pocket Media Player - FREE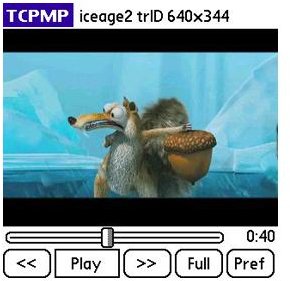 An open source media player that delivers fast video and audio playback of files in most formats - AVI, DivX, XViD and MP3. Easy manipulation of playlists and with full screen zoom capability.
TrackAxMobile - $14.95
Very simple yet comprehensive video and audio mixing application, perfectly suited for the mobile platform. Super suite of tools to coordinate all of your video clips, photos and audio tracks in imaginative ways on your mobile device. Built in interoperability to share compilations via YouTube, email or IM.
DVD Catalyst GT - $17.95
Convert DVD's to virtually any mobile device – Pocket PC, iPhone, iPod, PSP, XBOX, PS3, Zen, etc. Intuitive interface and simple point and click DVD copy tools. One of the best windows mobile software applications, and the best in class DVD converter tool.
Information Management
Inesoft Address Book - $24.95
OK, some may say the Mobile Office tools alone suffice for contact management but with Inesoft Address Book you can manage an unlimited contacts list, email, instant messenger ID's and addresses. With extensive profiles, customizable caller ID, photo ID, and ring tones.
ContactBreeze - $24.95
Specifically developed for the Windows Mobile platform this contact search and dial solution is extremely easy to use. For one hand navigation there is no finer product, searches are responsive and there are PIM dialling add-ons for default Calendar and Tasks application interfacing.
Visual CE Professional - $129.95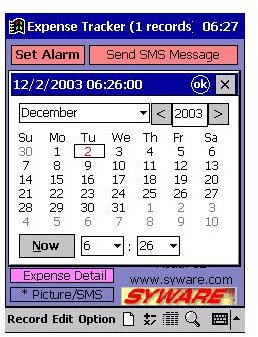 Superb relational database application. Supports unlimited form building, all data functions, multi device synching, ODBC and GPS connectivity. Excellent database management and design features.
Spb Finance - $19.95
This mobile financial management application offers excellent budgeting, reporting and transaction tools. Includes scheduling, multiple currencies, data encryption, import / export tools and synchronization with such popular tools as Quicken and Microsoft Money.
ListPro - $29.95
A simple yet highly effective to-do list application. For inventory, shopping and task 'tick lists' there is nothing better. Easy to categorize with dates, notes and accounting facilities such as amount and auto totals. Very effective GUI for the mobile platform.
Pocket Plan - $29.95
Enter resources, tasks, dependencies, timings and estimated effort required in this full project planning application. Compatible with Microsoft Project and an effective quick guide tool to project planning.
eWallet Professional - $29.95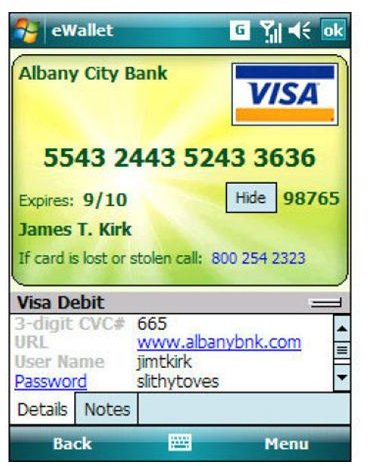 A highly impressive and ultra secure mobile wallet application to store credit card details, PIN numbers, and personal privacy details. Easily coordinate your most private data with password protected categorized 'cards', synchronize data and backups with secure encryption.
This post is part of the series: Windows Mobile: Taking the Windows OS to a truly global audience
Windows Mobile has come a long way since its introduction in 2000. Here we look at the History of Windows Mobile. How it has developed and embraced technologies such as Pocket PC's and Smartphones, and how it now delivers an array of applications, services and communications.