Upgrade to Windows 7 with as Few Problems as Possible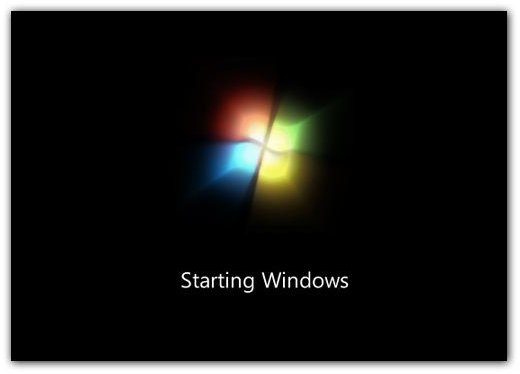 Service Pack One for Windows 7 is out, so most of the bugs have been worked out of it. This means it's pretty safe to upgrade now. But hang on a second - upgrades to Windows 7, even with most of the bugs worked out, aren't as easy and smooth a proposition as it was with previous versions of Windows. Hardware drivers for Windows 7 are still having some problems, making it so that you're not able to make use of all of the capabilities of certain hardware subsystems such as networking, audio, and video. I'll give you some information on how to get these subsystems working properly. Everybody has files on their computer that they want to keep, from MP3s to family photos. Listed below you'll find a few ways to ensure that this data isn't lost. Before Windows Vista, you really didn't have many options when it came to choosing what version to upgrade to. But with Windows 7, you have two types of processors that the operating system is optimized for, plus a number of options as far as versions to use. The information below can't address every possible issue that may arise during a Windows 7 upgrade, but it will help you solve most of them.
Which Edition of Windows 7 Is Right for You?
Before making any decision about which Windows 7 edition is right for you, you need to determine if your processor is capable of running a 64-bit operating system and whether you want, or need, a 64-bit edition. A 64-bit operating system will load faster and will run most programs a little faster than a 32-bit operating system. To determine if you have a 32-bit or 64-bit processor, right click 'My Computer' on the desktop and select 'Properties'. You will see a section labeled "Processor'. A 64-bit capable processor will be listed as either 64-bit or dual core.
If your processor is 32-bit, you have your choice of five of the six editions of Windows 7: Starter, Home Premium, Professional, Enterprise, and Ultimate. Starter isn't available in a 64-bit version. Starter is usually installed on netbooks because it has fewer features and uses less resources.
Home Premium contains features aimed at the home user, such as the Aero theme and Media Center. Professional adds 'power-user' features such as use as a Remote Desktop server, use of a Windows Server domain, file system encryption, and other advanced features.
Enterprise is targeted at the corporate user, incorporating added features such as Multilingual User interface (allowing the use of multiple languages on a single computer (I use Portuguese and English interchangeably), BitLocker drive encryption, the ability to run multiple virtual machines, and activation via what's known as a Volume License Key (VLK: a single license covering a set number of computers), and a variety of other advanced network and security oriented features. Windows 7 Ultimate, the edition I use, includes all of the features of Enterprise, but is available via single user licenses only.
Professional and Enterprise will be supported by Microsoft through the year 2020, while Ultimate will only be supported through 2015. For a full listing of all of the features of the various editions, Microsoft has compiled a comparison page.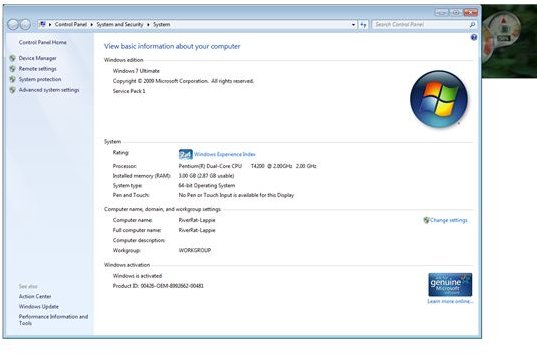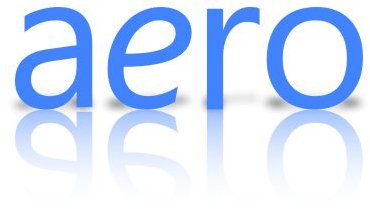 Get Recalcitrant Hardware to Work Properly After a Windows 7 Upgrade
Back when Windows 95 and XP were the dominant Windows operating systems, hardware vendors were quick to ensure complete compatibility of their products by making sure they had drivers available that allowed you to make use of all of the capabilities of their products with the new operating system. These drivers would almost always work perfectly, as long as the newest versions were installed. This hasn't happened with Windows 7. Take a look at some of the online forums that have been set up to help people take care of Windows issues and you'll see that a number of people are having trouble with audio, video, and networking adapters, both wired and wireless.
Most of these problems can be resolved by going to the technical support/download page of the manufacturer of your computer and downloading the newest driver for the subsystem you're having troubles with. This doesn't always work, though, especially if you're upgrading to a 64-bit version of Windows 7. People that have upgraded to 64-bit editions of Windows 7 seem to be having the most problems getting their hardware to work properly. When all other methods have failed, editing the driver file is your best option.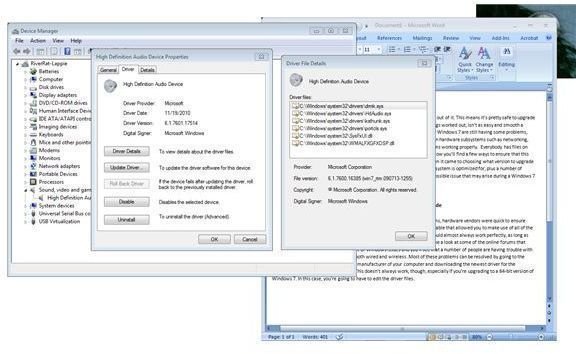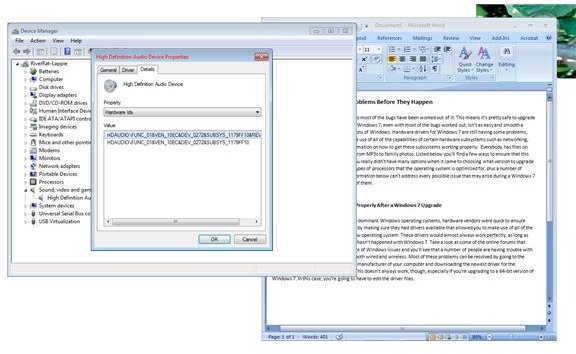 Saving Your Irreplaceable Data During the Upgrade
Whether it's banking information, family pictures, music, or downloaded movies, everybody has irreplaceable data they need to hold on to. Programs like Quicken and Microsoft Money have features that will backup your financial information to a location of your choice, such as an external drive. Other data like pictures and music can be copied to a new location, such as a network attached storage device, an external drive, or web-based storage. Another option is to use backup software such as Acronis True Image or Norton Ghost. Going this route will not only preserve the data and files you need, but, once you restore the image created by the software, the original file structure will be restored, which means you won't have to learn/remember where your files went, because the original locations will be mirrored by the backup software. This method isn't always going to work with all types of data.
Creating a backup image of folders containing photos, music, and other types of media files will work, but you will have to reinstall the programs you use on a regular basis. They can't just be copied over like a data folder since most programs install files in a number of places on your drive, plus they make changes to the registry. Make sure you have the original install discs and serial numbers, if needed.
How to Solve Software Compatibility Issues
After upgrading to Windows 7, you may find that some of the programs that you are accustomed to using in a previous version of Windows aren't working the way you're used to it working. Microsoft has realized that this is the case, and that many users either don't have any other software options or don't want to change the programs they use. This in no way means that you have to quit using the software you're used to, or that you aren't going to be able to upgrade to Windows 7. What Microsoft has done is create a miniaturized version of Windows XP so that those pieces of software that don't work properly in Windows 7 have an environment in which they can be run. This version of Wndows XP is called XP Mode.
References
Driver Details screenshot provided by author. All rights reserved.
System Properties screenshot provided by the author. All rights reserved.
Windows 7 boot screen screenshot supplied by the author. All rights reserved.
Windows Aero image courtesy wikimedia commons: http://commons.wikimedia.org/wiki/File:Aero.svg
Mike Aguilar has over 15 years of experience in the tech and computer field.
Hardware Ids screenshots provided by the author. All rights reserved.