Using MS Outlook: From Newbie to Pro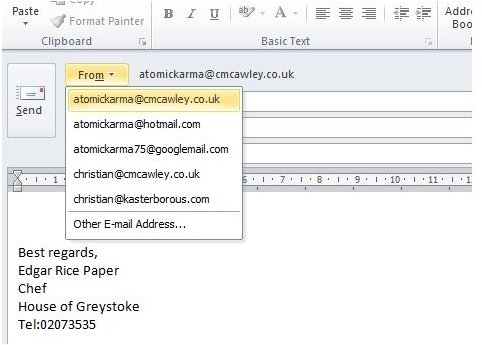 Are You New to Outlook?
If you're an Outlook newbie, or just want to learn the basics after using the popular email client for a while, then the best place to start is with a simple "getting started" guide. Don't worry if there is any terminology that you do not understand. This is just the first step in getting your head around this time management and communications application.
As long as you can comprehend the principle of an email client (to send and receive messages) and that various organizational techniques must be used to keep the software running efficiently, then you should be off to a great start. Being able to install the application doesn't hurt either.
Email Basics for Newbies
Newcomers to Outlook will of course want to perform one primary task – send email. To do this, you must setup an account. This will be one that already exists, provided by one of the following: your ISP, a webmail service, your employer or associated with a domain that you have purchased.
As well as being able to send and receive messages, an Outlook newbie should be able to delete messages easily in a variety of ways, as well as use the platform to receive email messages from multiple accounts.
Email for Experts
After you have been running Outlook for a few days, you should be looking to extend your abilities with the software. For instance, rather than sending a standard email, you might be more interested in sending a secure email using SSL. Rather than simply organizing Outlook, you may wish to set up email folders. This is particularly useful if you have an IMAP email connection.
Adding and changing email addresses should also be something you are able to do at this stage, as is copying emails and importing messages from other email clients (or from Outlook backups).
Spam blocking is something you simply must understand if you are to enjoy trouble-free use of Outlook. Unsolicited messages are extremely inconvenient and at times inappropriate.
Archiving Emails in Outlook
Creating a backup of your emails could be vital for continued long-term use, especially if you use a POP server. It isn't too difficult to back up emails, contacts and other data in Outlook, as long as your system is correctly configured. Any problems here can be overcome by using a different approach, such as saving your emails to your hard disk drive in HTML format, for instance.
Archiving messages means you are basically removing them from the main mailbox, keeping them safe in a drive or folder from where they can be easily retrieved. Archival helps Outlook run more efficiently, and is certainly recommended.
The Outlook Calendar
Although Outlook is largely used for emailing, it also has an excellent calendar function built into it. In corporate environments, this is typically synchronized with an Exchange server and a mobile device (such as a BlackBerry, Windows Phone or iPhone) to allow the adding of appointments that can be seen on any device – a useful trick for not missing any meetings!
Understanding the basic task of adding an appointment to the Outlook should be followed with setting up additional calendars to understand the power of Outlook fully. Deleting calendar items and appointments is usually a simple case of pressing the delete button, but future appointments can be a little trickier to tidy up.
Outlook Address Book
One of the most important elements of Outlook is the address book, where you will find all of your contacts listed. These can be summoned by typing their name in the "To:" field of an email or clicking the button; they can also be viewed directly by clicking the Contacts button on the left-hand side of the Outlook window. Contact management will help you to avoid duplicates and teach you how to edit existing contacts, while multiple address books can be used to group contacts of different types (such as splitting friends and work colleagues).
The address book can also be easily moved between computers, useful if you are purchasing a new PC and don't wish to lose your contacts.
RSS, Tasks and Add-ins
Do not forget that Outlook has other features beyond email, calendar and contacts. Most notably, there is the task list, which allows you to create a list of items that you have to complete; this can be assigned a completion date which will appear in your calendar.
Outlook also features an RSS feed reader, ideal for keeping on top of the most current news items in your areas of interests. Finally, any functions that you think should be included in Outlook can be found as add-ins. This might be a tool for allowing Skype to call phone numbers in email signatures, for instance, or an email virus scanner.
Being aware of all of these additional extras in Outlook should help you to quickly progress from newbie to expert!
References
Screenshot provided by author.