How to Save Documents on Microsoft Word: Tutorial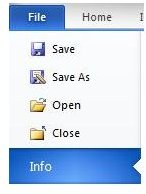 Saving Word Document Options
Using the "Save" and "Save As" commands, you may change the settings for how you want to save your documents. Word offers many options, and the best one depends on how you want to use the document. This guide will walk you through the ways to save a document in Microsoft Word.
Saving a Document
If it is your first time saving the document, click the Save button, which looks like a diskette icon on the Quick Access Toolbar in Word 2007 or 2010, or the Standard Toolbar in Word 2003. You can also press the keyboard shortcut CTRL+S. When the Save As dialog box opens, type the title that you want for the title of the document prior to clicking OK.
Microsoft Word saves documents automatically in a default location. If you want to save your document in another location, choose another folder in the Libraries or Favorites in Windows 7, Favorite Links if you have Windows Vista or if you have Microsoft Windows XP, click on Save in list.
Saving a Current Document as a New Document
If you have made changes to an existing document but do not want the original file to be overwritten, use the Save As option to save the edited document as a unique file. Open the existing document and make the changes you need. Click on the File tab in Word 2010, the Office Button in Word 2007 or the File menu in Word 2003 and click Save As. Type in the name for the document, such as document(2) and click Save. Alternatively, you can save the file first and then edit it later. Just be sure to save the second copy of the existing document in another name.
Saving a Document in Other File Formats
If you are creating documents for others to read but do not want them to be able to edit them, you can save it as a PDF, an XPS file or a Web page. If you want it to be readable and allow others to edit it, you can save it as a document as well as plain text format, Rich Text Format, Open Document Text, or a Microsoft Works file.
Saving a Document as a PDF or XPS File
People can read a file saved in PDF or XPS format using many available software programs, such as Adobe Reader. This format makes it possible to maintain the actual page layout of the document.
To save a PDF or XPS file from Microsoft Office 2010, click on the File tab and click Save As. Click either PDF or XPS. In the File Name box, type in the name for that file. In the Save as type list, choose PDF or XPS. If you want your document customized for viewing purposes only, compress the size. Click on Minimize Size (Publishing Online) beside Optimize For. If you don't want to save the entire document or if you want to create hyperlinks to your headings, click Options, where you will find other choices on how you can save your file. Finally, click Publish.
In Word 2007, you will need to install 2007 Microsoft Office Add-in: Microsoft Save as PDF or XPS in order to save a document as a PDF or XPS file. Word 2003 does not have an option that allows you to save a document as a PDF, but you can install a third-party file that enables you to print to PDF file.

Saving a Document as a Web Page
Web pages can be seen in Web browsers. Saving a document in a web page format will not maintain its page layout. If someone should resize the browser window, the document layout will change.
Click on the File Button and click Save As. If you want to publish the document on a Web server, go to the server name and click (not double-click) it. Type in a name in the "File name". Choose either Web Page (HTML format – images and other supporting files are stored in a separate folder) or Single File Web Page (MHTML format – all supporting files are stored in a single file; this is supported by Microsoft Internet Explorer 4.0) and then click "Save".
Choosing an Option
Following these simple steps on how to save a document on Microsoft Word is not so hard. It usually just takes opening the Save As dialog. From there, decide how you want to save your document. Just remember the key places where you need to make the changes, familiarize yourself with the different formats and you should be a master in no time.
Resources
2007 Microsoft Office Add-in: Microsoft Save as PDF or XPS: https://www.microsoft.com/download/en/details.aspx?id=7
All screenshots were taken by the author for educational purposes only.
Authors Own Experience