Why Does Glary Utilities Require a Network Connection?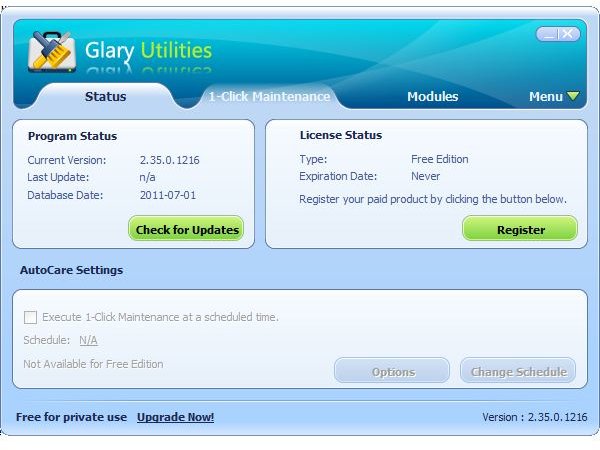 One of the top utilities packages for Windows is Glary Utilities, a superb collection of tools and computer management applications that can be used for speeding up a computer, checking disks, scanning for threats and other general tasks that will improve the performance of your computer or notebook.
A new version of this software has recently been released, offering improvements on the standard tools that it features and adding new functionality, such as a portable version that runs from a USB flash device. This interesting and useful software can be used in pretty much any situation.
Let's take a look at this suite of tools and find out just how it works and how you can get the best performance from it. On the way, we should find the answers to questions concerning the portable versions, as well as establishing, for instance, why Glary Utilities requires a network connection.
Download and Install Glary Utilities
The latest version of this popular computer management suite is available from www.glarysoft.com/products/utilities/glary-utilities/download/, and following the download link there will take you to the Cnet.com product page.
Here you can download the gusteup.exe file, which is around 8.5 MB; this shouldn't take too long to download on most connections, and once you have done so, select Run to begin installation.
Like many free apps, the setup wizard will attempt to get you to install a browser toolbar, in this case the Ask.com toolbar. While this is no doubt a great way for the developers to generate income, browser toolbars such as this have a nasty habit of slowing down your PC; as a result, you should refuse this option.
After this stage, follow the setup wizard through to completion, following any prompts that are displayed. It shouldn't be long before you have the latest version of Glary Utilities up and running.
The First Act, Checking for Updates
If you have a firewall setup (and you really should) then you will notice that this software attempts to connect to the web. So why does Glary Utilities require a network connection?
The utility is designed to check for updates upon installation, and the only way it can do this is via the web. You might also decide to take advantage of the upgrade offer after being suitably impressed by the utility suite, and again this can only be done online, so it makes sense for the application to offer this via the web.
After the update check has completed, you will be able to start using the software. Glary Utilities offers several tools on the 1-Click Maintenance and Modules tabs, and these can be used to check for immediate problems such as spyware or registry issues as well as deleting data securely, repairing a hijacked Internet Explorer browser and many other great functions.
1-Click Maintenance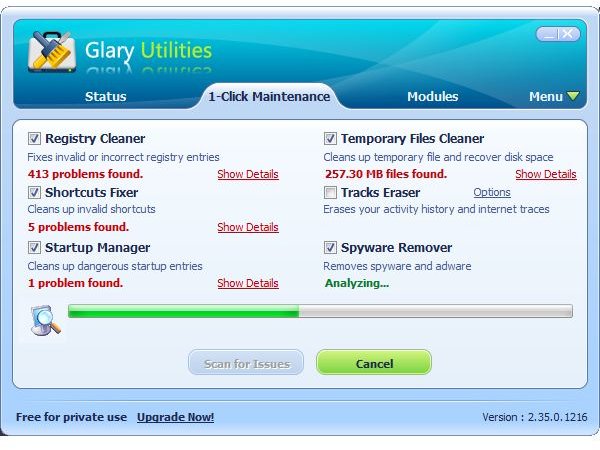 The functions you will probably use the most in Glary Utilities can be found on the 1-Click Maintenance tab, where you will find a Registry Cleaner for fixing invalid and incorrect registry entries (potentially speeding up your computer, much like CCleaner does), a Shortcuts Fixer to resolve any invalid shortcuts within the operating system, a Startup Manager which will check any issues that might be slowing your Windows boot, a Temporary Files Cleaner for discarding any unneeded data and Tracks Eraser for deleting Internet history and finally a Spyware Remover tool.
All of the above tools can be utilized using the Scan for issues button, which will start the process of checking your computer (mainly the system drive) for any problems which can then be dealt with.
When the program offers to resolve the issues that are reported by the 1-Click Maintenance tools, you might want to use the Show Details option to get a better look at things and perhaps deselect a few items in some cases.
Glary Utilities Modules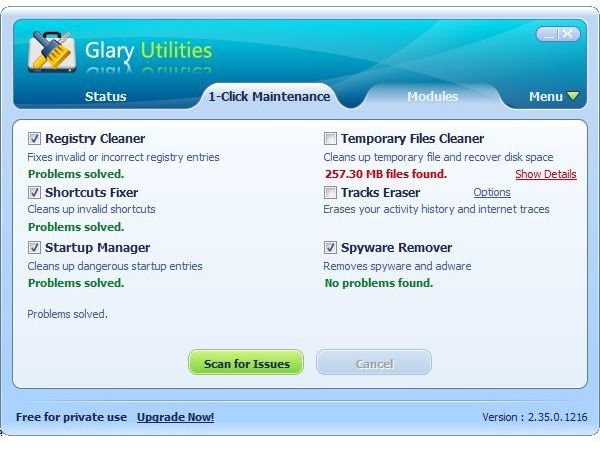 In addition to the basic maintenance tasks, Glary Utilities offers a wide variety of additional features, such as Clean Up & Repair, Optimize & Improve (which also includes a memory optimizer and a context menu repair facility), Privacy & Security for secure file deletion, Files & Folders to improve your computer's file management speed and System Tools, where you will find among other things an alternative to the standard Windows task manager.
The Process Manager tool displays all running processes alongside details on resources used and a useful trust rating; in addition, you can select any process and click Google it to find information about it on the web. This is of course a very useful way to find information about running tasks that you weren't previously aware of, and for spotting threats lurking on your computer.
As you can see, the latest version of Glary Utilities is a comprehensive collection of utilities that you should certainly have in your arsenal of computer management and repair tools.
References
Author's own experience.
All references and screenshots from Glary Utilities.