Using the Microsoft Outlook Communicator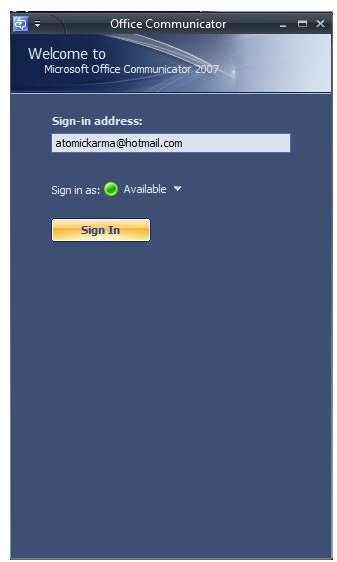 In providing online collaboration tools, Microsoft has been slow off the block, but with Microsoft Office Communicator an instant messaging alternative to Outlook has been pretty successful since its launch as part of Office 2007.
Thanks to Communicator, instant messaging, Voice over IP, video conferencing and integration with other Microsoft applications is available, while collaborative features include Whiteboard documents, PowerPoint documents, desktop sharing and application sharing. These are all widely-used features, and are particularly popular on both Windows computers and Apples, where Microsoft Office Communicator for Mac is available.
If you're new to Microsoft's collaboration software, this guide should be your first step in finding out the basics of using this tool in Windows and getting the most out of online collaboration with colleagues sitting at the next desk or on the other side of the globe.
At this stage, we might get started by launching Communicator; however, in most cases attempting to do this might lead you into some difficulty…
Where is Microsoft Office Communicator 2010?
Microsoft Office Communicator isn't actually available in Office 2010.
While it is a feature of Office 2007 and has been used to good effect by many users, Microsoft opted to leave it out of the standard releases of Microsoft Office 2010 in favor of providing a license to use it as a self-hosted service in Microsoft Office Professional Plus 2010, where it is now known as Microsoft Lync.
However, if your organization hasn't yet upgraded to 2010, Microsoft Lync isn't available, which is why the 2007 version of Communicator is still in use. If your colleagues use Communicator and your employer provides a server that enables it, you should be able to launch it form Start > All Programs > Microsoft Office Communicator 2007.
If for some reason your computer doesn't have the software installed, you can try the evaluation version of this by downloading it from Cnet.com/Microsoft-Office-Communicator-2007 and running through the pretty short installation process.
Get Started with Communicator 2007
Once installed, Communicator is ready for you to Sign In and use. Your sign-in name will typically need to be configured by your system admin, although this might be the same as your usual login (eg [email protected]).
After signing in, you will see a space listing your contacts, which you can add to by typing the name of the contact into the search box, looking for the correct contact and dragging it to the appropriate contacts group. A new group can be created via Menu > Tools Create > New Group and then naming it accordingly.
With contacts set up, you can send and receive messages, have voice conversations via VoIP and (use the Call button) even chat with a web cam (Start video call), not to mention Invite and add other users to the conversation, effectively creating an ad hoc online meeting.
Integration with Microsoft Office
In addition to the features that Communicator brings to the way you work, it can also be accessed from within other applications, such as Outlook and SharePoint.
For instance, in Outlook if you receive an email message from a contact and they have a green Presence button against their name, you can click this and select Call or Reply with Instant Message, or even use the IM and Call buttons in the Office 2007 ribbon. With these tools, discussing the contents of the email can be more fluid and natural than emailing thoughts and ideas back and forth.
Similarly, using SharePoint you can contact colleagues directly using the same Presence button. Any view that displays a list of colleagues will have this button, from where you can open an IM, voice or video chat conversation.
Clearly, Communicator can streamline many regular work tasks and make collaboration easier by removing the delay that email introduces. But how can you benefit from this?
Benefits of Online Collaboration with Communicator
As more and more people work from home and multi-national organizations run projects from out of multiple sites around the world, online collaboration has become more and more vital to the successful running of a business.
Office Communicator, and latterly Microsoft Lync, enables users to take advantage of modern technology to have relevant, immediate conversations without being restricted by the barriers of email. For instance, it can be difficult to get your point across correctly using text-based communication, but using voice chat while all parties view the same document on a SharePoint server can have massive benefits for understanding and productivity.
All in all, these tools offer some similar features to Windows Live Messenger, but rather than rely on the Microsoft servers they rely on the servers and infrastructure provided by your organization.
References
Author's own experience
Screenshot provided by author.