Help on Syncing: Iphone With Microsoft Outlook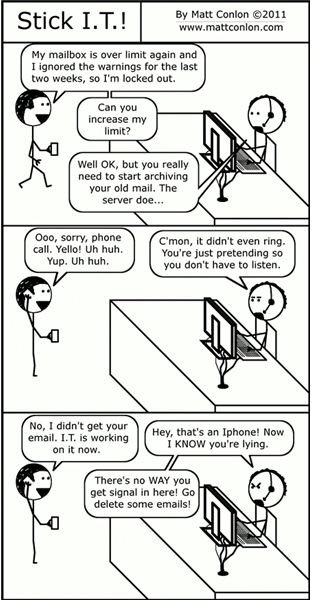 Microsoft ActiveSync for Syncing iPhone with Microsoft Outlook
Microsoft Exchange is the leading corporate email server software. If your company uses Microsoft Exchange, then chances are the tools are in place for syncing iPhone with Microsoft Outlook wirelessly. In this scenario, your corporate mail will be delivered to your iPhone, just as it's delivered to your computer.
If you don't know if your company uses Microsoft Exchange, or whether or not they allow the synchronization of mobile phones via ActiveSync, contact your IT department. If you get the green light to configure your iPhone to sync with your Exchange account, follow these steps:
On your device, tap Settings.
Select the "Mail, Contacts, Calendars" option.
Tap add Account.
Choose "Microsoft Exchange".
On the next screen, enter your email address.
Enter the username and password you use to log into your company's network.
Enter your domain. If you don't know what your domain is, contact your IT department.
The description field is for your own use, it can be anything you like. For example, "Work email" or "Personal"
At this point the device will start looking for the Exchange server. If the Exchange server cannot be detected, you will be asked for the public address of your company's Exchange server. If you've ever read your email remotely, perhaps at home, by going to a site like mail.companyname.com/exchange, you can try that, without the \exchange at the end. (so just mail.companyname.com). If that doesn't work, contact your IT department.
ActiveSync and Your iPhone
Once your device successfully connects to the Exchange server, you can choose to synchronize mail, contacts, calendar items, or any combination of the three. This allows you to select what you want to synchronize, and save battery power by not synchronizing the things you may not need or want.
When you're using Microsoft ActiveSync, email that you've read on your device will be marked read in Outlook as well, and vice versa. Drafts saved on your iPhone will also be found in the drafts folder in Outlook.
Another benefit to having Microsoft Exchange available to sync your iPhone with, is the ability to disable or even wipe the device remotely. Anyone who has ever owned a cell phone has misplaced it a time or two. Cell phones are frequently left on public transportation, in hotel rooms, on restaurant tables, dropped on the street, etc.
Even if you're not a very high-ranking person within your firm, or your data is not sensitive, someone with access to your device could still cause problems for your company including legal issues. This could not only put your company at risk, but your personal contacts as well. Anyone in your contact list could then become a target for harassment or even virus laden emails.
If your company uses Microsoft Exchange, you would be able to get into your email account, you could prevent this with the simple click of a button.
Using iTunes to Sync Your iPhone with Outlook
If your company does not use Microsoft Exchange to manage corporate email, or simply does not allow wireless synchronization of mobile phones, you can still synchronize your data. However, you will not be able to receive your corporate email on your device, unless your company offers pop3 or imap access.
For this scenario, like Research in Motion's BlackBerry and it's Desktop Manager software, you'll need another piece of software: iTunes.
Connect your iPhone to the computer that has the Outlook profile you'd like to sync, and open iTunes.
Browse to the info tab.
The first selection is contacts. Go to the "Sync Contacts With" drop down box, and select Outlook.
You can elect to sync all contacts, or only specific groups.
Next is the calendar Items. Again, select Outlook as the application with which you'd like to sync your calendar items.
You can choose to sync all calendars, if you have multiple ones, and you can choose not to sync items older than a predetermined length of time.
You can synchronize other email account settings with your iPhone in this way too, if you have pop3 or other such accounts set up in outlook. Passwords and messages will not be synchronized. Accounts created in this manner need to be edited within the iPhone, and your password must be added.
Although this is not as convenient a way to synchronize your iPhone as wireless syncing with Microsoft Exchange for your email, contacts, notes, and calendar, it does allow for synchronization of some things that Exchange does not. iTunes sync also allows the synchronization of your music, pictures and other media as well. In fact, if you want to synchronize those things, you're going to need to have iTunes available anyway.
For more information on iPhones, check out these Brighthub articles!
References
Information on iPhone sync using iTunes was found via MicrosoftStudentTV: https://www.youtube.com/watch?v=SL-ULmB0FZU
The web comic "Stick I.T." is written and illustrated by Matt Conlon. The views of the author portrayed in this comic do not necessarily represent the views of Brighthub.com.