Using Microsoft Outlook: Recover Deleted Emails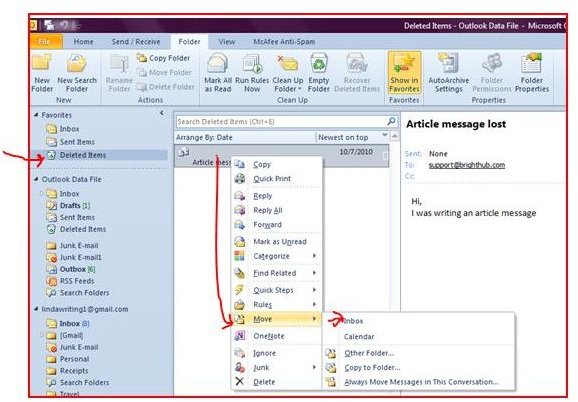 For Home-Based Outlook Accounts
Whether you're working with an earlier Microsoft product that displays the traditional toolbar options or a later version with the ribbon or backstage view, it's good to become well acquainted with your software by going through each of the menu items. If you're using Microsoft Outlook, recovering deleted emails seems like a challenge but it's easier than you think. This first section is for
people who use Outlook at home or in a simple office system, without an Exchange Server account. Try these instructions:
Look first below the Favorites label on the left.
You will see Inbox, Sent Items, and Deleted.
Click on Deleted and you will see your deleted messages.
If you right click on the message, you can move it back to your inbox.
Working with Email Accounts Configured in Outlook
If you've got another email account configured to run in Outlook, it's a little different.
When you look at the choices below the other email account, you'll see Inbox, Junk Email, Personal, Receipts, and several others, but there is no Delete entry on that list.
If that's the case, minimize your Outlook account (click on the minus sign in the upper right-hand corner). Then click on your Recycle Bin. You should see your missing message there.
If you don't have the Recycle Bin icon displayed on your desktop, search for it by selecting the Start button in the bottom left-hand corner.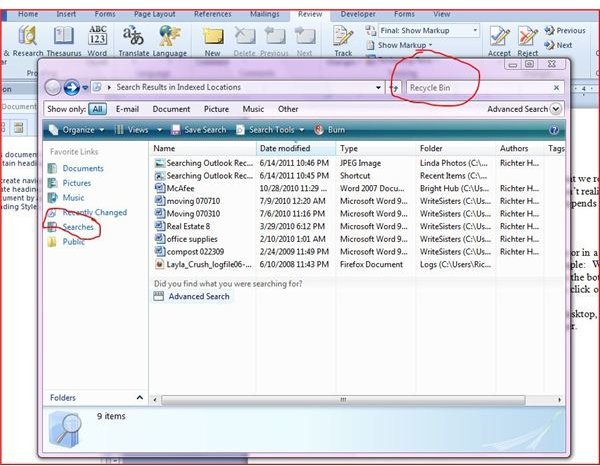 A dialogue box opens, and the list of options running down the left-hand side of the box includes Documents, Pictures, Music, Recently Changed, Searches, and Public.
Click on Searches. The next dialogue box that opens will let you choose Recent Email, and you will see your list there—the one you want will be there, assuming it wasn't one that was ages old!
Just right-click on it and choose the option to move it to your Inbox.
Outlook Configured with Exchange Server
For those people who are using Outlook on a computer that runs with Exchange Server, it's much simpler.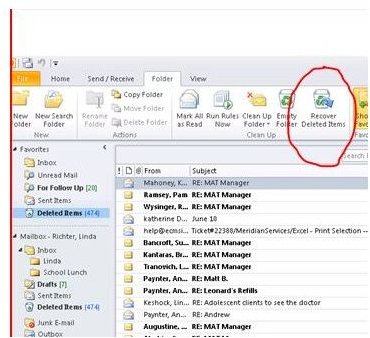 Select the Folder tab.
In the Clean Up group, you will see the Recover Deleted Items folder.
Once you click on that, you will easily find the email you're anxious to restore.
If you do not see the Recover Deleted Items icon, contact your system administrator—either you're not on a server or the administrator needs to make the icon accessible. The system administrator is also the person who decides how long items remain in the Recover Deleted Items bin, so contact that person if you like the security of having deleted mail there for a longer period of time.
IMAP vs POP3
Many people choose to set their email accounts as IMAP rather than POP3 accounts because IMAP works better when you're accessing your email from multiple locations on a regular basis. It's also a little more forgiving if you want to recover Outlook email. If you have an email account configured as IMAP, you can save your deleted messages in a folder that you designate.
Go to the File tab and choose Account settings.
Look on the Email tab for the right account.
Then you can click Change and then More Settings.
You will be able to select the Deleted Items tab, and select Move Deleted Items to the Following Folder and then choose a file.
Auto Archive
If you find yourself looking for really old emails on a regular basis you can avoid this by adjusting the settings on your AutoArchive function. AutoArchive crawls through your computer emails looking for old items—so, if you deleted them from your inbox a good while ago, AutoArchive will banish them. If it thinks something has been sitting in your email folder long enough, off it goes, whether you've officially deleted it or not.
Go to the Folder tab in Outlook, and in the Properties group choose AutoArchive settings.
The Deleted Items Properties dialogue box will open.
Click on the AutoArchive tab. You will see the radio button set by default for Archive Items in this Folder Using the Default Settings.
Below it is a button: Default Archive Settings…and you want to choose this.
When that dialogue box opens, everything is pretty much grayed out, but as soon as you select the radio button for Run AutoArchive Every… the menu comes alive for you to make new choices.
Here's where you can decide whether you want that reminder for AutoArchive to pop up every 14 days or longer.
You can deselect Delete Expired Items (email folders only).
You can also modify the Clean Out Items Older Than option.
Don't Forget the Recycle Bin!
If you've jettisoned a bunch of emails, you can always go back to your desktop recycle bin and search for it there. Do keep in mind that while it's possible with Microsoft Outlook to recover deleted emails, at some point your email really will be deleted forever.
References
Based on writer's own experience using Outlook 2010.
Microsoft.com. Restore Deleted Messages When Using an IMAP Account, at https://office.microsoft.com/en-us/outlook-help/restore-deleted-messages-when-using-an-imap-account-HP010355557.aspx?CTT=1
Screenshots by the writer.