My Internet Explorer is Running Slow. How Do I Fix it?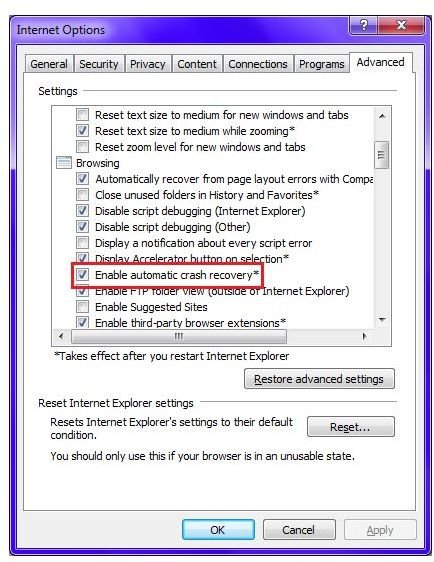 Check your Antispyware
Internet Explorer 7 and later versions come with plenty of prebuilt security features. Sometimes the anti-spyware on your computer may clash with one of these security components of the Internet Explorer. This clash may result in a slow browser.
To see if the antispyware on your computer is slowing down your browser, turn off or disable the antispyware. Work for a while on the Internet Explorer and see if there is any difference in speed. If you feel that IE is working faster with antispyware disabled, it is time to change your antispyware.
Plenty of free antispyware are available on the Internet. If you want a recommendation, I would say Microsoft Security Essentials. This antivirus cum antispyware is powerful and does not interfere with Internet Explorer in any way.
Turn off Crash Recovery
When you are using the Internet Explorer, it keeps on writing to the disk. Most of this writing is related to crash recovery. It keeps on noting down the websites' data every few seconds so that in event of a crash, it can recover the tab properly.
This constant writing to hard disk slows down Internet Explorer. If you turn off the crash recovery option, the speed of the Internet Explorer will increase.
To turn off crash recovery:
Close all instances of Internet Explorer
Open Internet Options from the Control Panel
Click Advanced tab
In the list under Settings, locate Enable Automatic Crash Recovery. It is selected by default
Click to uncheck the option and click on OK
Remove Unwanted Add-ons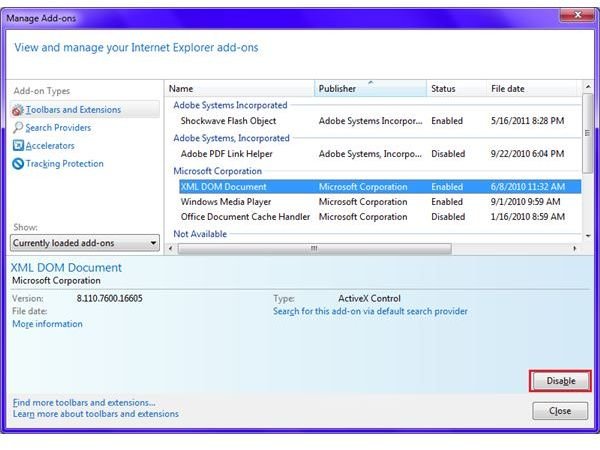 When you install IE (version 7 or later), it automatically installs a number of add-ons. Most of these add-ons are not useful to everyone. They are more of a burden on the Internet Explorer process and make it run slow.
Other than the default add-ons, several other Internet related software push in their own IE add-ons when installed. Your download manager, some security software, Adobe and Office products etc always try to install their own add-ons to the Internet Explorer.
Check out the add-ons in your copy of Internet Explorer and see which ones you don't need. For example, you can always remove add-ons for blogging, email, research etc.
To view the add-ons in the Internet Explorer, open Manage Add-ons window. You can get the Manage Add-ons Window by pressing ALT + T + A in the Internet Explorer window. To disable/remove an add-on, click on the add-on to select it and then click on Remove or Disable as applicable.
You will notice a good improvement in the IE speed after you disable/remove a number of add-ons.
Disable Toolbars When Not Using Them
Check the number of toolbars in your Internet Explorer. Most people generally use one but sometimes, there may be additional toolbars. The more the number of toolbars, the more slow would be the browser. Some programs deceptively install toolbars that you never wanted.
To increase the speed of Internet Explorer, remove the unwanted toolbars. If you think you might use a toolbar in future, you can disable it instead of removing it.
To disable a toolbar, right click in an empty area next to the address bar. This will present you with a context menu showing the toolbar names. Click to dis-select the toolbar. If you need it again, repeat the same process and click to select the toolbar you want.
Check the Number of Favorites
Sometimes people keep on adding new favorites but forget to remove the ones that they no longer need. Over time, this may result into too many favorites.
Too many Favorites increase the load on Internet Explorer and cause it to slow down. If this is the case, take some time to find out obsolete Favorites and remove them from the Favorites menu.
Disable Feeds And Slices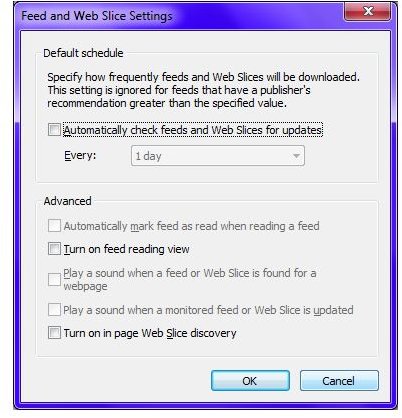 Internet Explorer 8 and later versions has a Feeds and Slices option. This option checks for updated versions of the feeds and web slices for which, you subscribed. Not everyone uses the option.
This option forces IE to go and check for web slice updates and new feeds every time you start it, making it slow.
It is often better to use third party readers than asking Internet Explorer to go and check for the updates. That way, you will be checking for updates only when you want to and not every time you are using Internet Explorer.
To turn off Feeds and Slices, open Internet Options window from Control Panel. Go to the Content tab. Under Feeds and Slices, click Settings and dis-select everything on the page. Click OK.
Disable Suggested Sites
Suggested Sites is an option that makes IE check the Internet for content similar to the one you are reading on a website. This means scanning the entire web as you are browsing. This slows down your Internet Explorer.
To disable the Suggested Sites option, open Internet Options from Control Panel. Go to the Advanced tab. Under the settings listed under Advanced, click to disable Suggested Sites.
Defrag and Clean
Performing all of the above steps will increase the speed of Internet Explorer. If your Internet Explorer is still running slow, go ahead and defrag your computer. Often defragmentation of the hard disk will help you recover speed. If you think the default defragmenter in Windows is slow, you can use SmartDefrag from IOBit.
I also recommend regular cleaning of the computer. Use a third party computer cleaner such as CCleaner or Comodo System Cleaner to remove the junk files. This makes your computer faster.
References
Screenshots by author, taken from Internet Explorer 9.
Microsoft Knowledgebase, Article: Tips to Boost IE Performance