Ashampoo Internet Accelerator review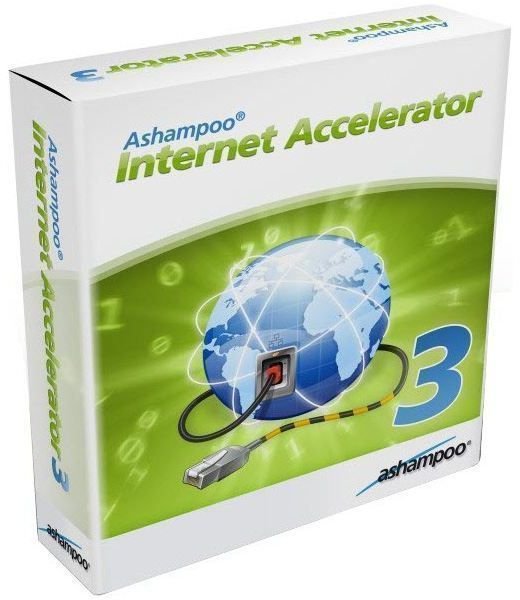 Ashampoo Internet Accelerator 3 is an Internet software package that provides a variety of options for customizing and optimizing your Internet connection. The software is not freeware software and is valued at $19.99. However, it should be noted that it does provide a 10-day trial for the full software package, which can also include a 30-day trial version as well.
Installation and Set-up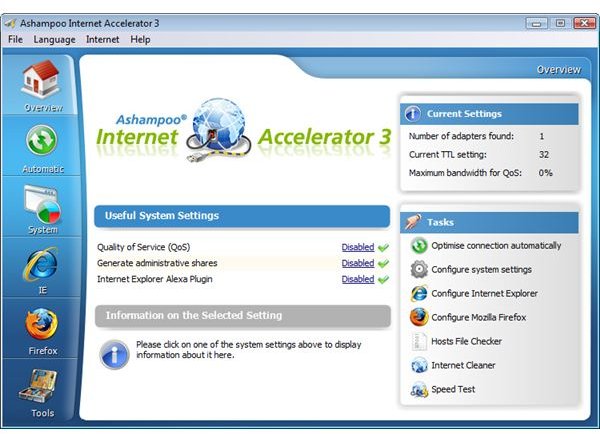 Ashampoo Internet Accelerator 3 has the following hardware requirements: Windows 7, Vista, or XP OS, minimum 512 MB of Ram, and 10 Mb of hard-disk are required for installation. So, all things considered the system requirements are indeed minimal.
The installation of Internet Accelerator was quick and effective. In addition to this, the set-up wizard also provided a few options to further configure the installation. For example, you could select whether you wanted to install further toolbars for your web-browsers or not.
Software Options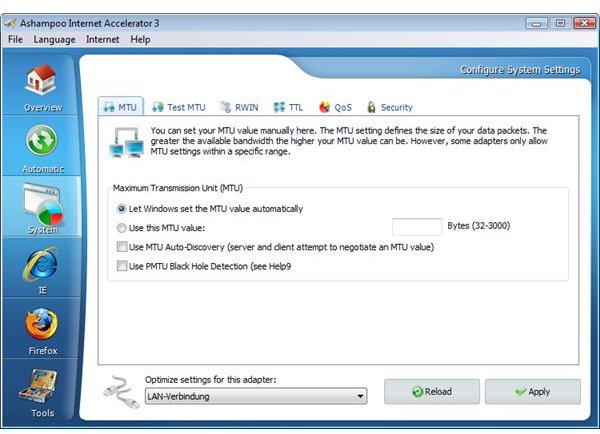 Ashampoo Internet Accelerator 3's primary option is the optimize connection setting option. This option will automatically optimize your system and browser for your Internet connection, and so boost the overall browser speed. Additional options for Internet Explorer can also optimize its security settings as well.
You can also configure system settings with Internet Accelerator 3. These include settings such as the MTU (maximum transmission unit), RWIN, TTL, QoS and security. If you are not familiar with these settings Internet Accelerator 3 does provide some brief explanations for them.
In addition to this, Ashampoo Internet Accelerator 3 provides options to configure the browsers of Internet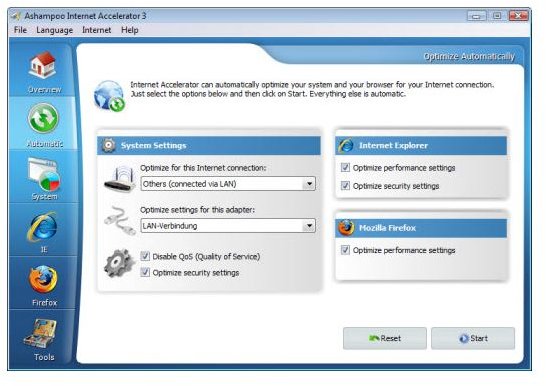 Explorer and Mozilla Firefox. For example, you can configure Internet Explorer downloads and look of Internet Explorer. Or can you? In fact, in this respect only two options are available for Internet Explorer which include adding text in the window title bar and only showing frequently used items in favorites. The other two are only relevant to Internet Explorer 6 or earlier, and so there are in fact precious few options to change the way Internet Explorer looks.
The options for the Firefox browser are marginally better, where you can adjust blinking and scrolling text. Then in addition to this display the sidebar on left or right of browser. There are also configuration options for tabbed browsing and operation.
Additional Tools
In addition to these options Ashampoo Internet Accelerator 3 also includes three additional tools: hosts file checker, Internet cleaner, and the speed test. Of these tools I was impressed with the Internet cleaner tool with which you can delete Internet files such as cookies and history. The speed test is also a good way to test the speed of your connection, and will provide results for download, upload, ping, and connections.
Connection Optimizer tests
To check whether the connection optimizer really does provide a notable speed boost I ran the software's very own speed test tool before and after optimizing. The results were as follows:
Before optimizing:
Download: 3467 kbs
Upload: 184 kbs
Ping: 150ms
Connections: 482 cpm
After optimizing:
Download: 3470 kbs
Upload: 205 kbs
Ping: 150ms
Connections: 518 cpm
Further to this, I also did the same at Speedtest.Net before and after optimizing. This checked the ping, download, and upload.
Before optimizing:
Ping: 45
Download: 3.57mbps
Upload: 0.58 Mbps
After optimizing:
Ping: 35
Download: 3.58 Mbps
Upload: 0.61 Mbps
As such, both displayed only the slightest of increases in most areas after selecting the optimization option with upload probably the largest. The ping actually remained the same with the Ashampoo speed test, but dropped on SpeedNet. So overall, the optimizer was not really that effective.
Value
Overall, Ashampoo Internet Accelerator 3 is a cheap software package. $19 dollars is little more than £10 pounds, although there may be a few comparable freeware software packages that provide similar options to Ashampoo Internet Accelerator 3.
Overall Rating (3 out of 5)
Ashampoo Internet Accelerator 3 does have a few good Internet options & tools. Its additional tools such as the speed test and Internet cleaner are both good tools. Although the speed test demonstrated that Ashampoo Internet Accelerator's 3 primary optimization option actually made little difference. The software is also only really limited to two browsers with nothing for other big browsers such as Opera and Safari. The browser customization options that are included also seem fairly limited in some areas. At least download the free-trial from the Ashampoo website, but as a commercial package it may be worth considering other potential alternatives.
References
Images from the following web pages:
Other sources: