Creating an E-mail Campaign with Your Outlook Contacts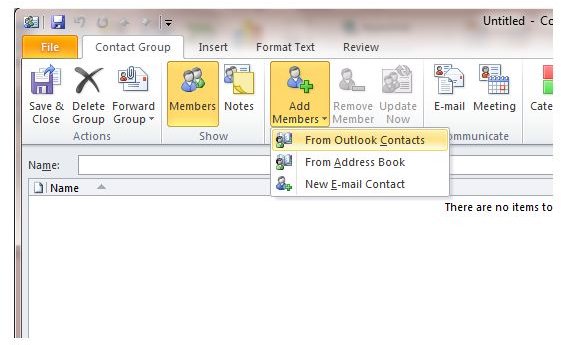 Creating an E-mail Group in Outlook
Promotion of your or your company's services can be difficult and not without expense in almost every situation. But what about e-mail?
With a vast collection of contacts saved in Outlook, you might think that this is a good opportunity to directly contact your customers with an orchestrated e-mail campaign. There are certainly advantages to this approach; it requires far less money than an advertisement of promotional stationery, and it has a more personal feel to it than a flyer or full-page ad in a local or trade publication.
Remember, however, that before you embark on an e-mail campaign with your Outlook contacts there are certain rules you should be keeping in mind.
The Dangers of Spam
While using your Outlook contacts to send promotional e-mails out might sound like a good idea, be aware that this might result in some difficulties.
For instance, if you are sending promotional material to e-mail addresses that you have stored on your computer this could be interpreted by one or more recipients as spam e-mail. Spam is unsolicited e-mail (you might have had some yourself from businesses supposedly selling certain alternative medications), and while your intended promotion is probably completely innocent, without the recipient's permission to send them promotional literature you are in effect "spamming" them. This could have a bad effect on your reputation.
As such you might wish to consider sending an initial e-mail and asking anyone who wishes to opt-out to let you know before you send the main e-mail campaign to your other Outlook contacts.
Note also that when creating a group distribution list in Outlook you can typically only include up to 150 recipients. If you wish to send to more than this you will need to speak to your e-mail administrator or create multiple contact groups.
How to Create an E-mail Campaign with Your Outlook Contacts
Using your Outlook contacts to create a promotional e-mail that can be used to canvass people whose e-mail addresses you have stored in your e-mail client is pretty straightforward.
The first thing you will need to do is create an e-mail contact group. This is a single e-mail contact that you enter in the To: field of your message. Rather than add each recipient individually you can use the group contact to send to every intended recipient.
This is created by going to Contacts > New Contact Group. Here, assign a name to the group ("e-mail campaign" would be good) and then use the Add members button to add members to the group either From Outlook Contacts, From Address Book or add a New E-mail Contact.
With your group created, click Save & Close, and then begin a new e-mail message, using the name of your group as the recipient!
After your e-mail is complete, click Send to distribute it to your intended Outlook contacts.
With Great Power Comes Great Responsibility
Using this method for sending e-mail messages to a large number of people will enable you to spend more time on other tasks rather than copying and pasting the same message repeatedly, or forwarding the e-mail to a large number of recipients that you have entered by hand.
As you can see, a group of e-mail addresses is a powerful tool, but not one that should be abused. The steps detailed above will save time and improve your efficiency, but misuse might lead to problems–so use this knowledge wisely!
References
Author's own experience.